U of T health-care collaborations share $3.5 million in new federal funding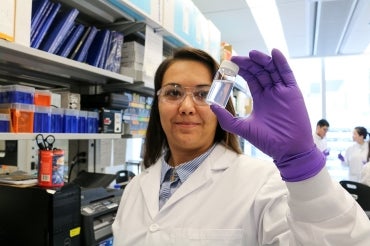 Imagine using stem cells from a baby's own umbilical cord to "patch" its damaged heart – one surgery that enables the implanted engineered tissue to grow with patients as they age.
"The goal is one operation and then a lifetime of normal heart function . . . it would be a normal heart," said Craig Simmons, a Distinguished Professor of mechanobiology in the University of Toronto's department of mechanical and industrial engineering and Institute of Biomaterials & Biomedical Engineering.
The project to repair infant congenital heart defects is among ten at U of T sharing $3.5 million in funding announced Thursday by the federal government to support research into new devices, therapies and procedures to tackle a range of health concerns. (For a full list of projects, see below.)
"U of T is grateful for the continued support for innovative research from the Government of Canada that fosters collaboration among our various faculties, departments and hospital partners to find ways to work together to find solutions that benefit the health of Canadians and those around the globe," said Vivek Goel, vice-president of research and innovation.
The Collaborative Health Research Projects are a partnership between the Canadian Institutes of Health Research (CIHR) and the Natural Sciences and Engineering Research Council (NSERC).
The CHRP program "is a wonderful example of teamwork between the life sciences and engineering communities, and the health sciences – both areas at which Canada excels," said Bill Blair, parliamentary secretary to the ministers of justice and health, in a statement. "I'm eager to see which new, life-changing projects come to fruition through the next round of funding through CHRP."
In Canada, congenital heart defects occur in an estimated one in 100 births. Simmons and his team, which includes cardiac surgeon Dr. Chris Caldarone at the Hospital for Sick Children, are focusing on the most common cases arising from tetralogy of Fallot, heart defects that occur when a valve linking the heart and lungs is defective.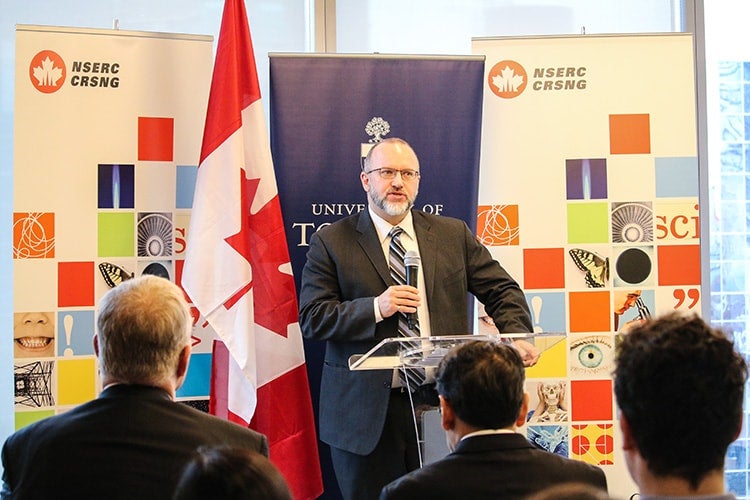 U of T's Craig Simmons discusses his innovative research project to help babies born with congenital heart defects at a federal funding announcement held at the Ted Rogers Centre for Heart Research (photo by Jennifer Robinson)
Currently, parents have two options. Surgeons can replace this defective valve in infants with a synthetic fabric or animal tissue but these materials are not ideal. "They don't grow with the baby," Simmons said. "They don't adapt or repair themselves as a [growing] baby's heart demands change" – and they ultimately fail due to scarring and calcification.
Alternatively, parents can wait until their child is fully grown to have the defective valve replaced, knowing it too will likely have to be replaced in the future. These patients can manage into adolescence but can develop heart failure and must be monitored closely.
If successful, the living tissue valve replacement under development by Simmons and his team would put an end to the need for multiple surgeries over the lifetime of the patient and improve their quality of life dramatically, he said.
"Our goal is to produce a living tissue that functions like a heart valve that a surgeon can use to repair the [defective] valve of a baby at six months of age," Simmons said. "That tissue would then grow and repair itself and be a normal valve."
The plan is to create the living tissue by placing stem cells from the infant's own umbilical cord on a polyurethane mesh. Once in the body, the mesh will eventually dissolve into harmless byproducts, leaving behind a living valve. To prevent failure of the valve, they will also inject nanoparticles loaded with an anti-scarring drug into the tissue prior to implantation.
The government funding will help the team advance the project to the animal testing stage, hopefully within two to three years, Simmons said.
"Our approach is highly translational, focused on getting tissues to patients quickly," he said. "In speaking with surgeons, the current available materials are so poor that anything we can do to improve upon them would benefit the patient."
In addition to the infant heart valve project, seven other U of T researchers are receiving funding for Collaborative Health Research Projects. They are:
David S. Guttman, a professor in the department of ecology and evolutionary biology, in partnership with SickKids Hospital for "Next-generation antimicrobial diagnostics: Speed and precision via whole genome sequencing."
Andreas Mandelis, a professor in the department of mechanical and industrial engineering, for "Development of a high-resolution photothermal coherence tomography clinical device for detection and 3-D mapping of early dental caries."
Joyce Poon, a professor in the department of electrical and computer engineering, for "Wireless neurophotonic probes for the interrogation of neurons in memory circuits."
Thomas Purdie, an associate professor in the department of radiation oncology and medical physicist with the University Health Network, for "Advancing personalized cancer care with an automated radiomics-based radiation therapy method."
Frank Rudzicz of the department of computer science and the Toronto Rehabilitation Institute-UHN and Vector Institute for Artificial Intelligence for "Automatic remote screening of speech features associated with Alzheimer's disease."
Paul Santerre, a professor in the Faculty of Dentistry and the Institute of Biomaterials & Biomedical Engineering, for "Degradable cardiac patch with immuno-modulatory function" and "Novel adhesive polymeric membranes for binding degradable composite materials to bone in craniomaxillofacial repair."
Craig Simmons of the department of mechanical and industrial engineering and Institute of Biomaterials & Biomedical Engineering for "Development of a physiological cardiac microtissue platform for drug development."
David Sinton, a professor in the department of mechanical and industrial engineering, for "Sperm Olympics: Selecting 1 in 100,000 for intracytoplasmic sperm injection."
UTC