U of T group offers support for PhD students writing dissertations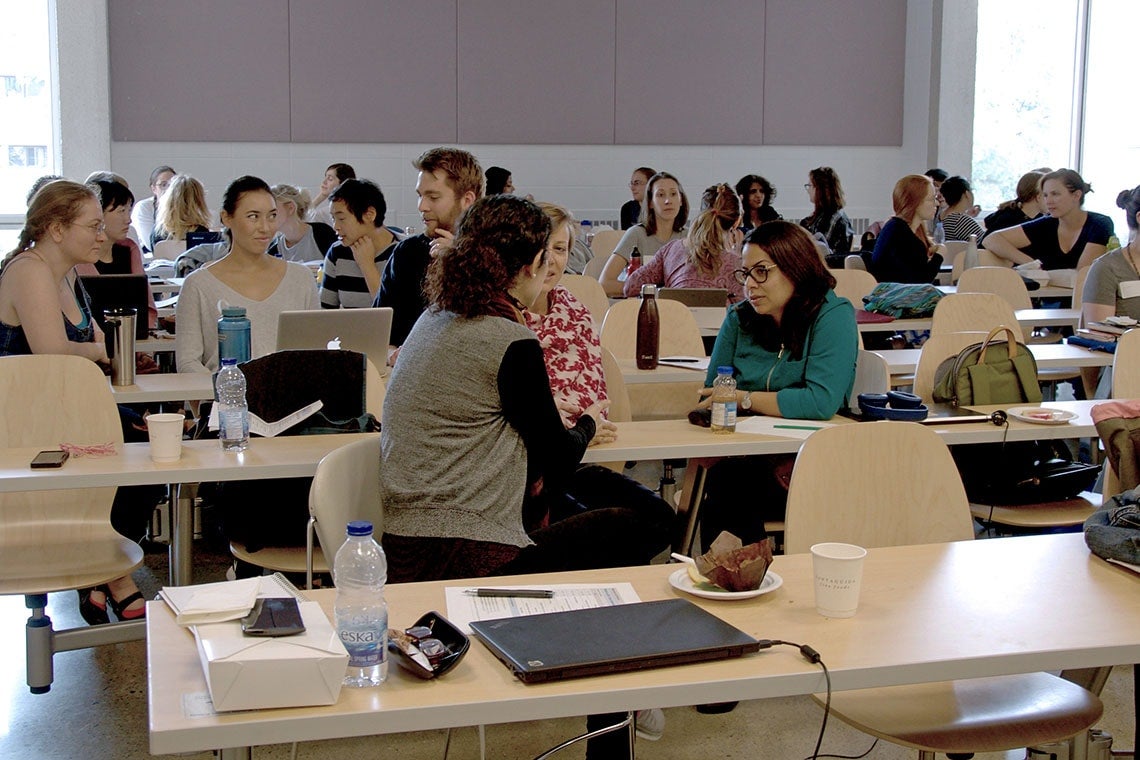 Writing a dissertation can feel incredibly isolating and bringing students together helps them see others are in the same boat (photo by Diana Tyszko)
An innovative peer support group method funded by the Faculty of Arts & Science is helping doctoral students grapple with the isolation and anxiety of writing their dissertations.
About 50 students across all disciplines are taking part in writing groups this fall, modelled on a successful pilot organized by English literature PhD student Joel Rodgers for approximately 20 doctoral students in the humanities this summer.
"Writing a dissertation can feel incredibly isolating," says Rodgers, who is helping to develop and co-ordinate activities through the milestones & pathways program.
"Bringing students together to share those difficulties helps them see others are in the same boat."
After years of required courses and assigned readings, writing hundreds of pages of their own opinions is a daunting task many doctoral students find overwhelming.
One purpose of the support group method is to set realistic expectations for how fast the writing will progress, and manage the project accordingly.
The pilot program saw the doctoral students gather in a room on campus once a week over the summer. Each meeting started with a goal sharing session, as students told each other what writing they wanted to get done that day.
Each member of the group would then write for 60 to 90 minutes – free of distractions such as email and social media – before taking a break, then resume writing for about the same length of time before finishing the meeting with a recap of what they had accomplished, and what they wanted to do next time.
Some students started using variations of the writing structure used by the group, such as the Pomodoro Technique, a time management method that uses a timer to break down writing work into even shorter intervals – usually about 25 minutes – separated by short breaks.
"I like it because it's as an easy way to trick yourself into doing the work, rather than trying to carve out giant swaths of uninterrupted writing time," says Ashley Williamson, a PhD student in drama, theatre and performance studies.
Poor work habits and deep-rooted insecurities gave way to optimism and resolve as the students in the group drew strength from their common purpose and lent each other support.
"I think one thing everyone tends to do is procrastinate and want to keep researching before they start," says Adil Mawani, a PhD student in religious studies.
"But you come to accept that you need to sit down and start to write, and there is something good in having that physical space, where you are sitting with other people, and things are under control. It's not something you can achieve alone."
The group sat in rows, and knowing the person beside them was writing, and those in the rows behind could see their screen, added an implicit layer of peer pressure that ensured nobody drifted off or got distracted, added Mawani.
The benefits had a ripple effect that extended well beyond the time spent with the group. By the end of the sessions, many students found they were not only being more productive by setting aside relatively small chunks of intensely focused writing time, but having a sense of balance with all the other tasks in their personal and academic lives.
"The writing group really helped with juggling demands, and with providing structure. Now, I don't even open my email until the end of the day. And I not only set aside focused time for my writing, but for different things at other times," says Susan Benson-Sokmen, a history PhD student.
Some of the dozen or so sessions held across the summer also included informal, student-led discussions about useful writing software tools like Scrivener and other campus resources they had learned about.
"Part of the writing group idea is connecting students to existing resources at U of T, which are so diverse," says Rodgers. "With a university this size, it's a matter of building a network of information sharing."
The milestones & pathways program launched only last year but has already provided a range of department-based activities to support graduate students.
In addition to dissertation writing groups and research conferences, the program has supported the Cities of the Future Symposium, bringing students, alumni and practitioners from a variety of disciplinary backgrounds together to explore the future of cities and the new professional skills demanded by rapidly changing urban contexts.