U of T grad student tracks 70 years of snow and ice data in the High Arctic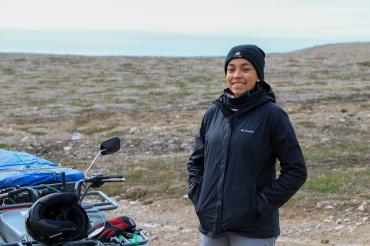 Brianna Lane, a second-year master's student studying physical geography at the University of Toronto Mississauga, is developing an accessible method for snow and ice data quantification using ground-based trail cameras in the Central Canadian High Arctic – making vital research underway easier for experts to assess. 
Working with Laura Brown, an associate professor in U of T Mississauga's department of geography, geomatics and environment, Lane is monitoring lake ice and snow in the Central Canadian High Arctic in Nunavut. 
Her research will provide insight into the historical changes in the region when compared with climate data from 1953 to the present day.  
"If the air temperatures are getting warmer, then we will expect that the lake ice duration is shrinking – so less time that the lakes are staying frozen," Lane says. "If it's staying the same, that may just be an indication that nothing has changed in the area." 
Lane is one of five recipients of the 2022 Black Graduate Scholar Award in Geography and Planning. The initiative, a partnership between the Black Research Network and the university's tri-campus Graduate Geography and Planning, recognizes the exceptional academic and professional achievements of Black graduate students.  
Lane is conducting research on five lakes: Hunting Camp Lake in the Nanuit Itillinga National Wildlife Area; Resolute Lake, Small Lake, Plateau Lake and North Lake near the community of Resolute/Qausuittuq, Nunavut.  
The lakes – each about one-square-kilometer – are located near the town of Resolute, one of Canada's northernmost communities. Typically, the lakes are used by local communities for fishing and, when frozen, transportation.  
In the Central Canadian High Arctic, lakes stay frozen for up to a 10-month period from September to June.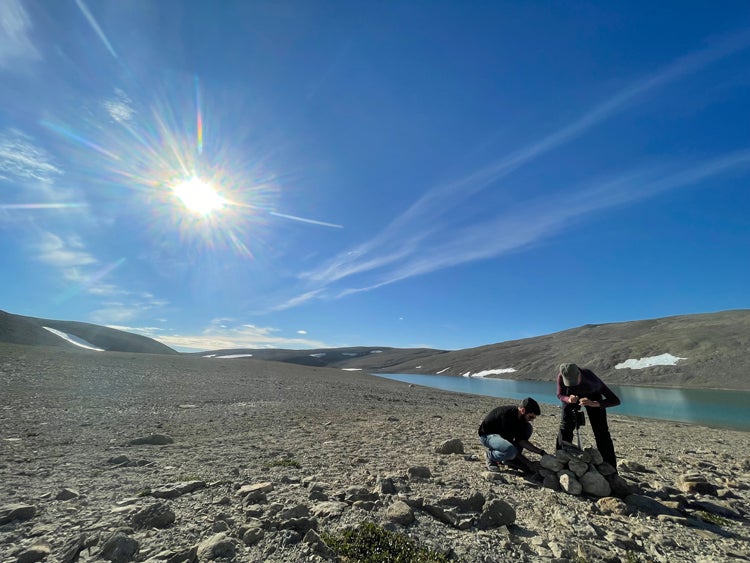 Students install a ground-based camera near Resolute, Nunavut (photo courtesy of Brianna Lane)
The ground-based cameras Lane is using allow researchers to determine how much of the lake is snow, ice or water. The cameras take pictures twice daily, which allows Lane to monitor when lake ice forms and melts, including the spatial distribution of the snow and the ice. Rather than manually reviewing images from the trail cameras, the method digitizes data. A Shallow Water Ice Profiler (SWIP) is also used to measure lake ice.  
"Ground-based cameras provide a way for us to consistently monitor the lakes," Lane says.  "The field sites we are looking at are inaccessible and hard to get to. A lot of recent research is using satellite imagery, but the lakes that I'm looking at are small and it's hard to distinguish what is happening on the lakes because the resolution isn't great." 
There are two vital periods that Lane is measuring – the freeze-up and break-up of a lake. Lane explains that lake features such as size and depth determine the freeze-up period, while the break-up period happens when temperatures rise above 0 C and is also controlled by lake features. 
With a surface area of 540 square kilometers, Lake Hazen, the High Arctic's largest freshwater ecosystem and the world's biggest High Arctic lake is rapidly responding to climate changes – experiencing warming and shorter lake ice coverage over the last 10 years.  
Lane says there haven't been dramatic changes at her research sites so far, but noted she is still sorting through data.  
"In the past few years, there haven't been any drastic changes," she says. "We aren't seeing that the timing is changing dramatically, which over a long period of time is what we expect with climate change and the warming temperatures." 
Black Research Network