U of T grad's AI startup raises US$1.5 million to accelerate cancer drug discovery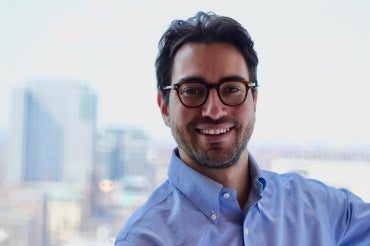 Oren Kraus took up coding because, by his own admission, he was not cut out for doing experiments in the lab. Now his artificial intelligence-powered startup has raised US$1.5 million to transform biomedical research and drug discovery.
Called Phenomic AI, the startup develops computer vision tools for a faster and more accurate analysis of microscopy data. Its name comes from the word "phenotype," which biologists use to describe how a cell – and its inner parts – look. The tools developed will help researchers spot subtle differences between cells that could be early signs of disease and identify promising drugs.
"We're able to apply deep learning to microscopy datasets," says Kraus, who will receive his PhD on Tuesday. His graduate research was co-supervised by University Professor Brenda Andrews, the director of the Donnelly Centre for Cellular and Biomolecular Research and a pioneer in large-scale cell microscopy research, and Professor Brendan Frey, of the department of electrical and computer engineering. Frey is also a founder of Deep Genomics, a startup using AI for interpretation of genome data.
"Our method can be used to distinguish between cells that are growing normally from those that are not, but also for finding out whether or not a drug is working when applied to cells in culture," says Kraus. "The great thing is that our technique can be widely applicable to almost any type of disease."
Launched in 2017, the company already has several partnerships with academia and industry. Working with Ran Kafri, a scientist at the Hospital for Sick Children and assistant professor in the department of molecular genetics, Kraus and the team are developing an algorithm that can recognize slight changes in cells as they become cancerous. They are also helping a major microscope manufacturer improve its widely used data analysis software.
In deep learning, a form of artificial intelligence, computers learn to recognize patterns from reams of data – millions of images in the case of computer vision. Images of cells hold clues about what makes them healthy and how they change during disease. However, advances in automated microscopy preceded those in computer vision, which means that researchers are able to acquire the data much faster than they can make sense of it. As a result, in many labs across the world researchers still analyze their data by eye, which can take months.
Phenomic AI seeks to bridge the gap between the time it takes to gather the data and draw insights from it. The company's technology is based on a software called DeepLoc, which Kraus created during his PhD. Faster and more accurate than the human eye, the algorithm can quickly sort cells into distinct categories based on how protein molecules are distributed inside the cells. For his research, Kraus won a prize for the best doctoral thesis in the Donnelly Centre.
"I am very thankful to my supervisors for providing me with the opportunity to work on exciting research problems at the intersection of computer vision, machine learning, cell biology, and genetics," says Kraus. "In Andrews and Frey labs, we really started the deep learning revolution in microscopy data and there's been a lot of interest from pharma and biotech companies since."
"Leaving that behind following my PhD seemed to be a waste, so the motivation was really to continue leading the field and to use these technologies to accelerate drug discovery."
After launching Phenomic AI, Kraus secured seed funding of US$500,000 and entered the mentorship program at the Creative Destruction Lab (CDL) at U of T's Rotman School of Management. Sam Cooper, another co-founder, joined Kraus in Toronto last October after completing a PhD at the Institute for Cancer Research in London, U.K. The pair had met in 2016 during a workshop at Harvard University that brought together the small community of researchers – about two dozen  – who were working at the crossroads of computer vision and microscopy.
Kraus and Cooper recently secured support from several AI and biotechnology investors to boost the total investments to US$1.5 million.
Phenomic AI, which started with a couple of guys working in Kraus' living room, now has nine employees, five of whom are recent U of T grads. In May, the company moved to JLABS, the biotechnology incubator founded by the pharmaceutical giant Johnson & Johnson, which provides research space and infrastructure to startups at the Toronto MaRS Discovery Tower.
"It's amazing to have the opportunity to continue developing the pioneering research conducted during my PhD," says Kraus. "Doing so with the talented interdisciplinary team we've built is even more rewarding. We're excited about the potential of these AI-based technologies to accelerate drug discovery and lead to much needed medicines for devastating diseases."
Donnelly Centre