U of T grad receives Governor General's Gold Medal for work in AI and health care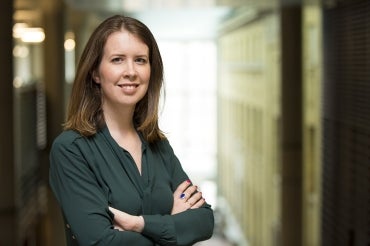 Katie Fraser's work in computational linguistics bridges artificial intelligence with health care. She and her startup colleagues at WinterLight Labs hope to improve Canadians' lives with tools for the early detection of dementia.
The PhD graduate is now being recognized with the Governor General's Academic Gold Medal, one of the most prestigious awards for a Canadian graduate student, for the significance of her research and its impact on Canadian society. 
Fraser is one of a handful of Governor General's gold medalists with ties to U of T. Doctoral graduates Brandon R. Sutherland, of the department of electrical & computer engineering, and Johanna Thoma, from the department of philosophy, are the other U of T winners.
 "I chose U of T for the strength of its graduate program in computational linguistics, but also for the city itself," she told U of T News. "I loved my time at the university, and Toronto."
Fraser, who is now pursuing postdoctoral studies at the University of Gothenburg in Sweden, discussed what's next in AI and health care and her best advice for graduate students.
---
How does your research in computational linguistics relate to AI? 
Computational linguistics and machine learning are both subfields of artificial intelligence, along with things like computer vision, and knowledge representation and reasoning. Researchers in these fields often work together towards a common goal of building intelligent computer systems. 
In my research, I use natural language processing to pull out a lot of information about a person's speech patterns. Then, I can use these speech variables to train machine learning classifiers to distinguish between people who have dementia, and those who don't.
Which health conditions do you think will be easily identifiable in future, with the help of AI? 
I think right now we're only scratching the surface of what's possible. One of the benefits of AI is that computers may be able to measure small changes and subtle patterns that are not apparent to human observers. 
In my current research, I'm looking at whether AI can be used to detect early signs of cognitive impairment that may indicate a higher risk of developing dementia sometime in the future. This work involves combining information about voice quality, grammar, vocabulary, reading ability and even eye-movements. It would be impossible for a human to quantify and link all these variables. In the future, these techniques could potentially be applied more broadly to conditions like stroke or traumatic brain injury, mental illness or childhood developmental disorders.
During your graduate studies at U of T, you became a co-founder of WinterLight Labs. What led to this, and how did you balance a startup with your three co-founders? 
I think we realized that this research could have many useful applications, and creating a company seemed like the best way to actually translate the research into something practical. I can't imagine starting WinterLight Labs without Maria Yancheva, Frank Rudzicz, an assistant professor in the department of computer science, and Liam Kaufman. We each have different backgrounds and perspectives, and that's part of our strength as a company.  Every new idea can first be discussed and vetted by three other people with expertise in language technology, software engineering, app development and business strategy.
What's next for you and WinterLight Labs? 
I'm still involved with WinterLight and speak to my co-founders almost every day. Since raising seed-round funding, we've had the capacity to hire some great new people and expand our pilot program. 
Right now, I'm happy to be able to focus on pure research and try to push the boundaries of how early we can detect potential health problems.    
What's the best advice you received while you were a graduate student?
I guess the best practical advice was to schedule time for focused, uninterrupted work and protect that time.  It takes time to get into the flow of writing, programming or thinking about a problem. If you're constantly interrupting that flow with meetings, emails and other tasks, then it's difficult to make progress on your research. Everyone has the same amount of time in the day, but how you use that time makes a big difference to productivity.   
Computer Science