U of T grad Malek Abdel-Shehid passionate about 'Black sense of place, African diaspora and urban planning'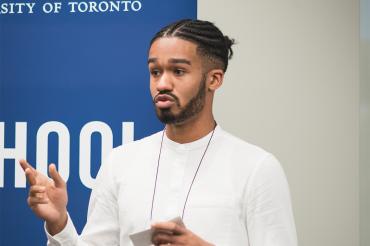 Malek Abdel-Shehid's path to convocation had plenty of twists and turns, including changing colleges and programs as well as a trip to Ghana.
"My university experience was kind of unconventional," he says. "I've made some amazing friends, met some incredible staff and faculty and learned so much about the world."
That unconventional road, his involvement in student organizations and a passion for helping marginalized groups has led Abdel-Shehid to a focus on urban design and planning, community outreach and education.
The Victoria College member will graduate from the University of Toronto tomorrow with an honours bachelor of arts degree in human geography and diaspora and transnational studies that includes a minor in African Studies.
"While it's a mouthful, they worked so well together," he says. "I'm pretty passionate about Black sense of place, the African diaspora and urban planning."
His interests led him to one of his undergraduate high points: a summer trip to Ghana between his third and fourth year where he took part in a month-long research project.
"The research trip was as an experiential learning opportunity," he says. "We travelled across the country, visiting a couple of universities where we met students and faculty, visited the Manhyia Palace and Cape Coast slave dungeon, and learned about the chieftain legal system."
Through his journeys – both close to home and abroad – Abdel-Shehid helped other students find their own paths as they transitioned to university life. He helped organize a conference in his second year for Black high school students from across the GTA that involved them visiting campus and getting a feel for university life. As a transition mentor, Abdel-Shehid also welcomed first-year students into Victoria College, providing guidance and resources. That led to him winning a U of T Student Leadership Award, which recognizes graduating students for exemplary contributions and having a significant impact on U of T and on the university experience of their peers.
Having helped and supported so many students, Abdel-Shehid has advice for anyone considering U of T and Victoria College.
"First and foremost, research all of your options prior to making such a big decision," he says. "Undergrad only happens once, so choose carefully where you think would work best for you."
However, once you're in your first year, he says, there's still time to make changes.
"Though I loved my programs, it took some time for me to find the right ones. In high school, I thought I wanted to study political science and economics. Only through trial and error with courses and speaking with my registrar and friends was I able to find what worked for me.
"If something isn't working for you, first year is the time to make mistakes and learn from them," he adds. "Believe it or not, I failed two courses in my first year. Though that was a pretty tough time for me, I was able to figure out what I excelled in and take those types of courses."
He also recommends getting to know your professors and TAs. "Visit their office hours if you have any questions about course content, build a rapport with them and don't be afraid to ask for references," says Abdel-Shehid.
He also highly recommends exploring non-academic opportunities available on campus such as orientation and student groups.
Abdel-Shehid says he found the community and connection he was seeking through student groups such as the Black Students' Association, the African Studies Course Union and the Caribbean Studies Student Union.
"When considering U of T, I would suggest thinking of how you can strive to make the campus a welcoming place for marginalized groups," he says, adding that he hopes the university takes steps to boost the presence of Black students, staff and faculty, support a better understanding of oppression and equity and increase the funding of programs related to Black people. 
"As a Black student, we have to deal with certain issues that negatively impact and disproportionately affect our educational experiences."
Abdel-Shehid is currently pursuing a geographic information systems (GIS) certificate at Ryerson University. He also has his sights set on completing a master's degree in urban planning in the next few years.
"Another one of my goals is to do social planning and advocacy work with community organizations towards supporting marginalized communities."
A&S