U of T grad Dariya Darvin overcomes obstacles to become a top science student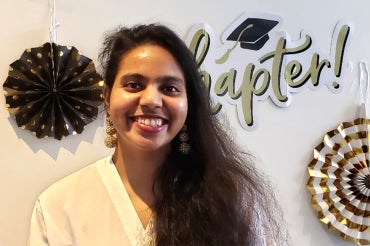 Dariya Darvin may have achieved top marks at the University of Toronto, but she knows first-hand how challenging – and unpredictable – the path to academic success can be.
The graduate from U of T Mississauga overcame financial hardship, held down a job while pursuing her degree, carved out time to volunteer on campus and in the community – and pursued a mix of courses that she managed to tie together in pursuit of her long-term goal of attending medical school. 
Now Darvin, who has been accepted to U of T's Faculty of Medicine, is being recognized with the Rose Sheinin Award, which is presented to the top female science student at the university.
"I knew I had good grades, but I didn't think I'd get an award like this," says Darvin.
It's not the only award Darvin has received. She was also the recipient of a U of T Student Leadership Award, which recognizes outstanding student leadership, service and commitment to the university. These are just the latest in a list of awards and scholarships the Mississauga resident has earned since she began her studies at the university.
Darvin came to Canada from India in 2015 at the end of Grade 12. As a new immigrant, she says she faced financial hardships, but received an entrance scholarship and other awards. "Any financial support made a difference, especially in first year," says Darvin, adding that she initially found it challenging to adapt to a different education system in a new country.
Nevertheless, Darvin says she found the period stressful, which is why she signed up for programs offered by the Centre for Student Engagement during her first two years. She says it gave her a chance to meet upper-year students, make friends and receive guidance from professional staff.
"It really helped me," she says, adding that U of T Mississauga became like a second home. "I have so many wonderful memories."
By her second year Darvin started working at the Office of Student Transition and Student Engagement. It was her first job on campus. She would go on to become a teaching assistant and later an academic don for the summer mentorship program at U of T's Faculty of Medicine.
Between her job and studies, Darvin still found time to get involved in other activities. She volunteered with the Health and Counselling Centre, Accessibility Services and the Robert Gillespie Academic Skills Centre. She also worked on policy issues for the student union.
Off campus she served as a mentor for the Indigenous Spirit Journey Program run by the Riverwood Conservancy and U of T Mississauga's Centre for Student Engagement. Darvin also mentored students from a high school alternative program in an effort to show them that university is a viable option. She called the work "one of the best experiences."
Between work and volunteering, Darvin still managed to maintain a 4.0 GPA. She says she never aimed for such a high standard, but once she got good grades, she was determined to keep it up.
Darvin credits her busy schedule for her academic success. By being so deeply involved, she found a support system, made friends, had fun, created ways to relieve stress and embrace the university experience. It also helped her schedule her time more efficiently.
"Having the right balance is extremely productive," Darvin says.
Her varied interests and activities are also evident in her multidisciplinary studies.
The first day Darvin stepped foot on campus, she had a clear goal in mind: to become a doctor. This fall she'll take the next step toward achieving that goal when she joins U of T's Faculty of Medicine. Her path to medical school, however, wasn't straight. Darvin let her interests and passions guide her academic journey.
Originally a life sciences student, she shifted direction after taking a first-year calculus class. Darvin says she enjoyed it so much that she took another math class over the summer and "fell in love."
She then switched her major to mathematics, but kept biology as a minor – mindful that her plan was still to one day attend medical school.
Meanwhile, her interest in geography led her to take a first year Geographic Information Systems (GIS) course. She soon discovered the field was applicable to her goal of working in public health since she could use GIS to improve health-care delivery.
"I did it because I like it, but once I was into it, it fell into place," Darvin says. "I saw the connections."
Darvin graduated with a major in mathematics and a double minor in biology and GIS.
Darvin says the multidisciplinary approach has allowed her to look at health through different lenses. "It looks like a mix, but it ties together."
Following medical school, her plan is to use that mix of knowledge to work with an interdisciplinary team of public health experts dedicated to reducing inequalities in access to health care.
UTM