U of T grad and her prof share a research history that spans provinces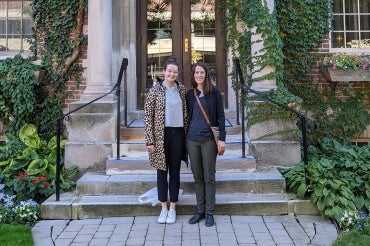 Julia Rickard was the very first student to join Amy Kirkham's lab at the University of Toronto – and this week, she became the first student to graduate from it, too.
The pair first ran into each other at the University of Alberta, where Rickard was wrapping up a bachelor of science degree in kinesiology and Kirkham was pursuing her post-doctoral research. After completing a practicum under Kirkham's supervision, Rickard followed Kirkham to U of T, where Kirkham had accepted the position of assistant professor in the Faculty of Kinesiology and Physical Education (KPE). 
She says being part of Kirkham's U of T lab was an eye-opening experience.
"I came in with a mainly breast cancer, cardiovascular disease and exercise background, but projects in the Kirkham lab cover a wide range of different populations with chronic disease, lifestyle behaviours, interventions and data collection techniques," says Rickard, who earned a master of science degree in kinesiology from U of T.  "Everyone has a different perspective and expertise to bring to the table, which makes for some very interesting and cutting-edge projects."
For her thesis project, Rickard looked at the relationship between a history of breast cancer and the role of lifestyle behaviours such as physical activity, diet and smoking in risk of cardiovascular disease in women.
Using data from an existing database, Rickard's research project led to two major findings. 
The first was that the Framingham Risk Score, a common clinical tool used by physicians worldwide to estimate a patient's cardiovascular disease risk, significantly underestimated the actual cardiovascular disease risk in breast cancer survivors.  "We found that the Framingham Risk Score did not predict different levels of risk among breast cancer survivors and women without cancer, but the breast cancer survivors experienced significantly more cardiovascular disease events, including death, over the following 13 years," says Rickard. 
The second finding was that the role of physical activity, diet and smoking in risk of cardiovascular disease events was the same in all women, regardless of whether they had a prior breast cancer diagnosis. Rickard's research also showed that lifestyle behaviours were some of the strongest predictors of cardiovascular disease events in breast cancer survivors. 
 
"Breast cancer is the most commonly diagnosed cancer in women worldwide and, due to improvements in both early detection and cancer treatment, the survival rate for early-stage breast cancer has improved by over 40 per cent in the last 40 years," says Rickard. "However, this increase in survivorship has been accompanied by an increased awareness of the excess risk of cardiovascular disease in this population. 
"Breast cancer survivors are at greater risk for cardiovascular disease at all time-points following their diagnosis compared to the general population."
The findings from her thesis could have significant implications for cardiovascular disease risk management in breast cancer survivors in Canada and around the world. 
"The results of my research show that lifestyle interventions focused on physical activity, diet and smoking cessation would likely be just as effective at reducing cardiovascular disease risk in breast cancer survivors as they are in women without cancer, and that they are important components of risk reduction beyond traditional medical management," says Rickard. 
"They also show that the Framingham Risk Score is not an accurate tool in this population and breast cancer survivors are at a higher risk for cardiovascular disease than predicted."
The implication is that some survivors at high risk are missing out on receiving adequate cardiovascular risk management care, something that Rickard is hoping to rectify by working with Kirkham on an adjustment to the Framingham Risk Tool that can be used by physicians to more accurately predict cardiovascular disease risk in women who have had breast cancer.
Kirkham says she is incredibly proud of Rickard's accomplishments, especially given all the ups-and-downs of trying to do in-person research during the COVID-19 pandemic and then having to pivot to an entirely new thesis project requiring advanced statistical modelling techniques.
"Thanks to her persistence and adaptability, Julia's master's thesis is not only complete, but will be an exceptional contribution to the literature," she says. "I am continually impressed by the passion and determination of the trainees who join my lab, and it's a huge part of my daily motivation." 
As she works on publishing her thesis results, Rickard is enjoying having a little more free time. 
"I'm not sure what's to come but I know it will be focused on health promotion and chronic disease prevention," she says.
KPE