U of T first in Canada, second among North American public universities in latest QS World University Rankings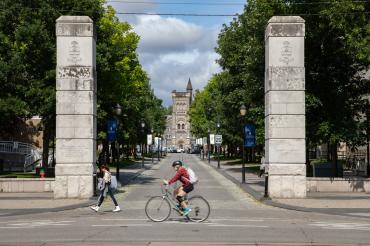 The University of Toronto ranked first in Canada, second among public universities in North America and among the top 15 public universities globally in the latest edition of the QS World University Rankings.
It is the second consecutive year that U of T has held all three positions in the highly regarded annual ranking of the world's top 1,000 universities by Quacquarelli Symonds, a London, U.K.-based analytics firm.
U of T's overall performance in the ranking – which includes both private and public schools – was 26th in the world, down one spot from a year earlier.
"Our strong global standing has remained incredibly consistent over the years," said U of T President Meric Gertler.
"These rankings reflect U of T's continued excellence in research and scholarship, as well as our outstanding reputation worldwide among students and employers."
The QS World University Rankings are determined based on each school's performance in six different weighted measures. They are academic reputation, reputation among employers, faculty-student ratio, citations per faculty, international faculty ratio and international student ratio.
Of all the measures, academic reputation carries the greatest weight, accounting for 40 per cent of an institution's overall score. It's calculated using a survey of more than 100,000 individuals associated with academic institutions.
In an effort to gauge employers' views on which universities produce the most "competent, innovative and effective graduates," Quacquarelli Symonds reviews nearly 50,000 responses to its QS Employer Survey, which is the largest of its kind in the world. Citations per faculty, meanwhile, measure a university's research output.
U of T earned particularly high scores in academic reputation and reputation among employers, as well as international faculty and student ratios. According to QS, U of T's academic reputation ranked 13th in the world, up two spots from last year.
The top two spots in this year's ranking went to the Massachusetts Institute of Technology (MIT) followed by the University of Oxford. Stanford University and the University of Cambridge shared the third-place ranking.
In addition to U of T, two other Canadian universities ranked in the top 100: McGill University (27th) and the University of British Columbia (46th).
Overall, U of T continues to be the highest-ranked Canadian university and one of the top-ranked public universities in the five most closely watched international rankings: Times Higher Education, QS World University Rankings, Shanghai Ranking Consultancy, U.S. News & World Report's Best Global Universities and National Taiwan University World University Rankings.
UTC