U of T Associate Professor Ana Andreazza is one of Canada's Top 40 under 40 (photo courtesy of Faculty of Medicine)
Ana Andreazza's research explores how mood disorders and brain diseases can be affected by malfunctioning mitochondria – the part of a cell that converts food into the chemical energy people need to live. A malfunction can wreak havoc across the body, disrupting the work of major organs.
Andreazza, who is an associate professor at the University of Toronto's department of pharmacology and toxicology in the Faculty of Medicine, has been named one of Canada's Top 40 under 40 – celebrated for her pioneering work and for creating a national research network to bring this poorly understood area of medicine out of the shadows.
Canada's Top 40 Under 40 is an annual list of leaders compiled by the recruiting firm Caldwell and the accounting, tax and business consulting firm MNP. The top 40 were selected from more than 800 nominees by an independent advisory board of business leaders from across Canada. They were judged on: vision and innovation; leadership; impact and influence; and social responsibility.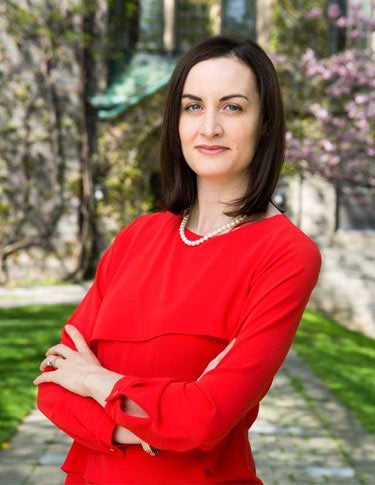 Along with Andreazza, two other U of T faculty are among the top 40: Dr. Vipan Nikore, a lecturer at the Faculty of Medicine, and Laura Rosella (pictured left), an associate professor of epidemiology at the Dalla Lana School of Public Health (DLSPH).
"Laura is quickly becoming a research powerhouse and this recognition is incredibly well deserved," says Adalsteinn Brown, the dean of DLSPH.
Rosella's research helps answer questions posed by provincial decision-makers by analyzing population-based health data and providing health system feedback to researchers, policy-makers and hospital administrators. Her lab develops a range of prediction models designed to support the way health data is used for a more proactive approach to health system decision-making.
Her team is now embracing artificial intelligence by expanding current data and methods used to develop predictive models for health applications. As a new faculty member in U of T's Vector Institute for Artificial Intelligence, she is looking to make machine learning and artificial intelligence applicable and useful to guide a more equitable, sustainable and effective health system.
In Andreazza's field, meanwhile, researchers are increasingly recognizing the role of  mitochondrial dysfunction in a variety of conditions. These include: rare but severe mitochondrial disease, which often proves fatal to children; heart disease; diabetes; cancer; amyotrophic lateral sclerosis (ALS); bipolar disorder and schizophrenia.
 "It's a common thread in a growing list of diseases, including brain disease, but we still don't know precisely how mitochondrial relates to each of these," Andreazza says.
To help change that, Andreazza is collaborating with scientists, clinicians, industry experts, the patient advocacy group MitoCanada Foundation and families across Canada to establish a national research network – the Canada Mitochondrial Network (mitoNET) – where she serves as scientific director.
"Through mitoNET, we aim to transform our understanding of mitochondrial dysfunction in disease, and learn how to treat, prevent or even reverse a number of very serious conditions."
Andreazza's own research is focused on the brain. Because neurons depend on their mitochondrial power plants, researchers suspect mitochondrial dysfunction could be playing a central role in brain diseases and mood disorders. Andreazza is determined to understand how mitochondrial function might be affecting neurotransmission in conditions such as bipolar disorder.
"If we can connect these dots, we might be able to actually restore neurotransmission by repairing the energy generating system."
It would be a life-changing development for many patients and families – providing answers for those who have lost children to mitochondrial disease or who struggle to support others with mood disorders or other conditions.
Andreazza started her scientific career early.
As a 17-year-old in southern Brazil, Andreazza showed up at the laboratory of a professor at the Universidade de Caxias do Sul holding grape seeds in her hand. Her family had immigrated to Brazil from Italy, producing wine in their new country, but they weren't satisfied with the end result. She wanted to know if her family's grapes had an antioxidant called resveratrol, about which, she says, the professor had been quoted.
"It was completely ridiculous," Andreazza says. "But the professor – Mirian Salvador – was phenomenal. She saw how curious I was and said, 'why don't you come work with me?' I worked there through my undergraduate degree, and learned so much about science – from learning how to pipette to understanding the role of antioxidants and oxidative stress. It gave me the foundation for my career."
In the early 2000s, while attending a lecture by Brazilian psychiatry Professor Flavio Kapczinski focused on side effects of psychiatric medication, she asked if he thought oxidative stress might be involved. He was intrigued, and became her biochemistry PhD supervisor. Through a series of studies, they discovered that patients with bipolar disorder had high levels of oxidation in their blood DNA, lipids and proteins – and this was related to the disorder itself, not the medication.
At the time, the field of mitochondrial dysfunction research was relatively small. But it soon gathered momentum, with more studies relating it to a variety of conditions. When given the opportunity to study internationally through a government-funded award, Andreazza reached out to Trevor Young, a psychiatry professor who is now dean of U of T's Faculty of Medicine and had made pioneering discoveries related to mitochondrial dysfunction within the brain of people with bipolar disorder.
After working with him on several studies and through a post-doctoral fellowship, Andreazza went on to launch her own laboratory. In addition to her role at U of T, Andreazza is a collaborator scientist at the Centre for Addiction and Mental Health and a Canada Research Chair in Molecular Pharmacology of Mood Disorders.
While Andreazza never did solve her family's grape woes, she went on to become a force in a promising new field of research.
"Ana has made crucial connections between mitochondrial dysfunction in mood disorders, and she's played a key role in advancing this area of medicine," says Young. "She is a true collaborative scientist who shares ideas and findings that help move the whole field forward."
This is precisely what she is setting out to do with mitoNET.
"We're now in the era of connecting and collaborating," she says. "The data is there – what we really need now is to make the connections and develop cross-disciplinary solutions that will put the puzzle pieces together."