U of T Faculty of Law hosts screening of film celebrating 'the supreme life of Rosalie Abella'
"Rosie has been motivated by the pursuit of justice and a steadfast, infectious belief in the power of individuals, institutions and the law to be forces for the good"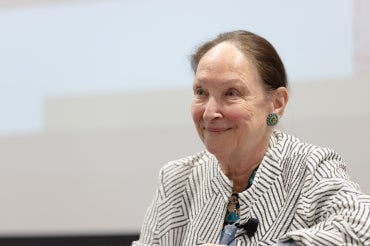 Equal rights champion. Innovator. Icon.
For her many accomplishments, retired Supreme Court of Canada justice Rosalie Silberman Abella, a dual graduate of the University of Toronto's University College and the Faculty of Law, is the focus of a new documentary about her life, Without Precedent: The Supreme Life of Rosalie Abella.
U of T Law will host a special screening of the film Thursday, which had its debut premier at Hot Docs International Film Festival this spring. The event will be held at the Jackman Law Building in the room that honours Abella: The Rosalie Silberman Abella Moot Court Room.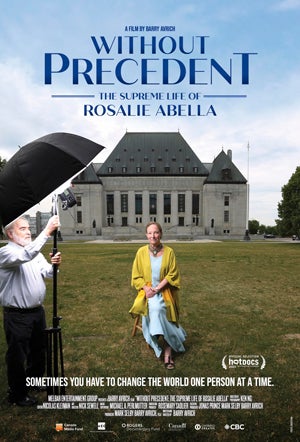 "Rosie has been motivated by the pursuit of justice and a steadfast, infectious belief in the power of individuals, institutions and the law to be forces for the good," says University Professor Jutta Brunnée, dean of the Faculty of Law and James Marshall Tory Dean's Chair. "She's inspired generations of students and young lawyers."
Abella's is an especially storied legal career.
Her father graduated with master's degree in law from Jagiellonian University in Kraków, Poland, but war broke out before he was ever able to practise. Her parents were married on Sept. 3, 1939 – the day Britain declared war on Germany following the invasion of Poland – and both survived several years in different concentration camps during the Holocaust.
Abella was born after the war on July 1, 1946 in a displaced persons camp in Stuttgart, Germany. The family came to Canada as Jewish refugees in 1950. But as a non-citizen, her father could not practise law.
"It's one of my earliest memories in Canada, of his coming home and saying, 'I can't be a lawyer here'. I remember saying – 'Then I'm going to be a lawyer' – I had no idea what it meant. But I was four years old and could see how disappointed he was," she told a U of T audience in 2019 when she received U of T's Rose Wolfe Distinguished Alumni Award.
"I just stayed on that course. I was going to be what he couldn't be. What was amazing was that he never complained. Neither of my parents or grandmother ever complained. They thought that this is a country of opportunities, but you have to make them happen."
True to her vow, Abella graduated from U of T Law in 1970. She was one of only seven women in a class of 150 law students.
She became the first pregnant woman appointed to the judiciary in Canada at age 29. She was also the first refugee appointed to the bench in Canada, as well the first Jewish woman appointed to Canada's Supreme Court.
Among her many contributions to legal thought and jurisprudence, Abella created the term and concept of employment equity when she was the sole commissioner of the 1984 federal Royal Commission on Equality in Employment. Her definition of equality was adopted by the Supreme Court of Canada in its first decision under Section 15 of the Charter of Rights and Freedoms.
"Our generation revolutionized how the law worked for people," says Abella in Without Precedent.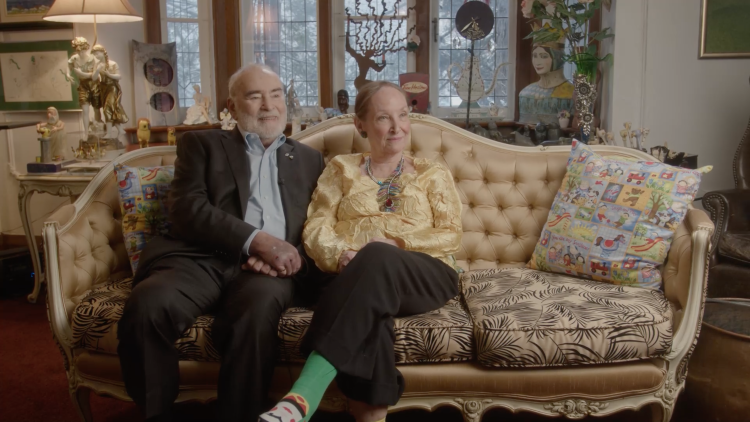 Following the screening, Abella, the distinguished jurist-in-residence at U of T Law who received an honorary degree from the university in 1990, will be joined in conversation with the award-winning filmmakers of Melbar Entertainment Group.
"In a long career of documenting the famous and the infamous, the rare opportunity to focus on an individual with the insight, humanity and power to change history and lives was one of the great highlights of my career," says director and producer, Barry Avrich, a graduate of Woodsworth College whose previous credits include Prosecuting Evil: The Extraordinary World of Ben Ferencz and David Foster: Off the Record.
"This film is a testament of an infinitely inspiring journey that will be remembered for generations."
Producer Mark Selby, a graduate of the cinema studies program in the Faculty of Arts & Science, says he's thrilled to have the documentary screened at U of T.
"Canada does not make celebrities out of its Supreme Court justices, but if ever there was someone who should be renowned across the country for her incomparable achievements and devotion to helping people, it's Rosalie Abella," Selby said.
Law