U of T experts tapped to help lead COVID-19 Immunity Task Force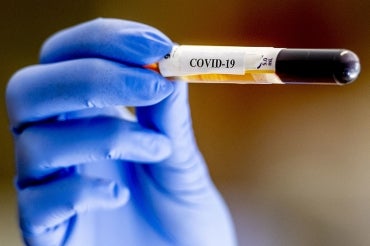 Experts from the University of Toronto will help lead a federal task force charged with obtaining reliable estimates of COVID-19 cases in Canada – and therefore potential immunity levels – and improve understanding of the disease's impact on different groups and regions.
The task force's pan-Canadian leadership group includes President Emeritus David Naylor, a professor in the department of medicine in the Faculty of Medicine who is co-chair of the task force, and Vivek Goel, vice-president, research and innovation, and strategic initiatives, and a professor at the Dalla Lana School of Public Health. It also includes Allison McGeer, a professor at the Dalla Lana School of Public Health and in the department of medicine, who is also the director of the Infectious Diseases Epidemiology Research Unit at Mount Sinai Hospital.
Announced by Prime Minister Justin Trudeau on April 23, the COVID-19 Immunity Task Force will glean its insights from at least one million blood tests to be collected over the next two years. The tests will look for the presence of COVID-19 antibodies, which indicates prior exposure to the coronavirus.
"Many people have limited symptoms or no symptoms – that's clear from the literature and from Canadian evidence this far – and most of those individuals would never be tested through diagnostic swabs for active COVID-19 disease," said Naylor, a renowned health-care policy expert and former dean of U of T's Faculty of Medicine.
"Therefore, we can only figure out if they have been infected by looking back, and that means using serology tests that look for antibodies in the blood indicative of past COVID-19 infection."
The task force comprises experts from many Canadian post-secondary institutions in addition to U of T, as well as representatives from government and health agencies. They include Theresa Tam, Canada's chief public health officer, and Mona Nemer, the chief science adviser to the prime minister.
"The University of Toronto takes very seriously its responsibility to contribute to our understanding of COVID-19 and generate knowledge surrounding this disease's impact on diverse populations across Canada," said Goel, a noted public health expert and founding head of Public Health Ontario, which was set up in response to the 2003 SARS outbreak.
"The task force will dedicate itself to providing high-quality data on degree and duration of immunity to inform policies surrounding, among other things, physical-distancing measures and related restrictions on social and economic activity."
Naylor said the task force's first priority will be to carry out broad, population-level sampling across Canada before honing in on specific groups of interest such as rural, northern and Indigenous communities. Work with Indigenous populations will be developed and led by those communities. 
One of the key endeavours will be to measure the level of "background immunity" in the population, which can help authorities figure out how to navigate a path out of the epidemic and develop an effective vaccination strategy.
The surveys will piggyback on the work of blood banks, public health agencies and other studies for maximum efficiency and speed.
"Members agreed on an accelerated process that, by mid-May, will enable the scale-up of existing fieldwork on immunity," task force members said in a press release. "The Group also began setting an agenda for new immunity analyses to meet the needs of Canadian decision-makers and the general public."
Such immunity assessments could go a long way towards informing public health policies and approaches.
"If the background level of immunity is particularly high in some regions, there may be greater comfort with starting to allow more interchange and reduce the requirements for physical distancing," Naylor said.
He added that immune status will be key to informing vaccination strategies.
 "When you think about vaccinations and what strategy you want to deploy, you would normally focus on two groups: those at highest risk of adverse effects from the illness – that's obviously going to be the elderly, with comorbidity – but you also want to focus on people who have higher risks of exposure such as health-care workers who are not immune," he said.
UTC