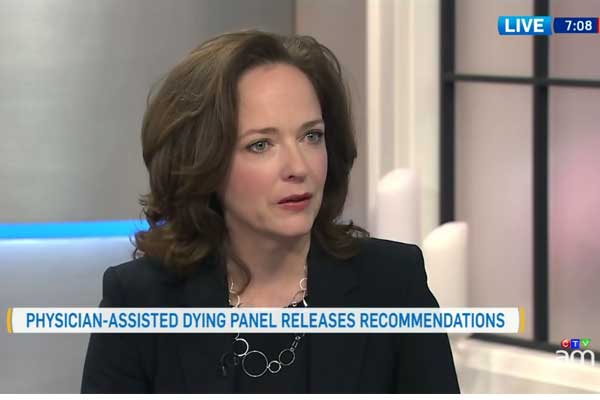 U of T experts offer recommendations on physician-assisted dying
As of February 6, 2016, Canadian healthcare institutions must provide access to physician-assisted dying, the Supreme Court of Canada has said – a move that represents a profound change to Canada's healthcare system.
Scholars from the University of Toronto Joint Centre for Bioethics have been actively engaged in developing and informing the policy and practice of physician-assisted dying, or PAD.
"We want to avoid a patchwork of approaches and develop aligned policies where Canadians know what to expect if they choose to request a physician-assisted death, regardless of where they live," said Professor Jennifer Gibson, director of the Joint Centre for Bioethics (JCB), located at U of T's Dalla Lana School of Public Health.
Two reports published this week on PAD emphasize a collaborative, equitable approach that is part of a continuum of end of life care options, said Gibson, who co-chairs the Provincial-Territorial Expert Advisory Group on Physician-Assisted Dying. The advisory group was created by 11 Canadian provincial and territorial governments in August 2015 to provide advice PAD in Canada.
The group's final report, released on Dec, 14, covers issues such eligibility criteria, protection of vulnerable people, the role of conscientiously objecting health care providers, and the role of health institutions, professional regulatory bodies, and governments in providing access to PAD.
Earlier this year, Gibson commissioned a JCB task force on physician-assisted death. Chaired by Philip Hébert, an emeritus professor of family and community medicine at U of T, the JCB task force brought together JCB-affiliated faculty, ethicists, health professionals and other experts to inform thinking on key ethical dimensions and implications of PAD.
"PAD should be considered as a last resort when other, less ethically challenging, alternatives have been exhausted, failed, or are considered unsatisfactory by the individual," the JCB task force wrote in its report, published on Dec.16.
The JCB task force strongly recommended that the introduction of PAD begin cautiously, with a robust process that promotes equitable access to PAD as one of a comprehensive range of alternatives for responding to suffering and providing end-of-life care.
The aim of the report was to identify key ethical issues in PAD policy and provide recommendations for practice. The report covers inclusion and exclusion criteria – including those with a mental illness – the responsibility for assessing, approving and administering PAD, among many other recommendations.
 "Some people think having access to PAD is just about patient autonomy. It isn't. It is about terrible suffering and offering patients the best possible care at the closure of their lives," said Professor Hébert.
Nicole Bodnar is a writer with U of T's Dalla Lana School of Public Health