U of T expert in children's pain wins million-dollar CIHR grant for work reducing fear of needles in youth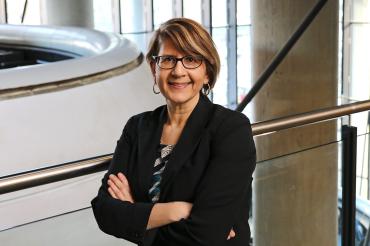 In health care, needles are used to prevent, diagnose, treat and monitor illness. Despite their critical importance, needle procedures are one of the most frightening and painful aspects of health care for children.
"Not managing pain and fear can have serious long-term consequences, including less uptake of vaccines and avoidance of health care throughout life," says Anna Taddio, a professor at the University of Toronto's Leslie Dan Faculty of Pharmacy and a senior associate scientist at SickKids hospital. "Making people afraid can cause a lifelong problem."
Taddio is an internationally recognized expert in children's pain whose current work is centred on improving the experience of children and youth undergoing needle procedures in order to improve overall health.
In previous research, Taddio showed that up to 20 per cent of unvaccinated youth aged 6-18 refuse vaccination due to fear of needle-related pain, leaving them at greater risk of acquiring and spreading disease to others.
"Vaccine refusal makes people vulnerable and it can also spiral beyond an individual's health when disease is spread in the broader community," she says.
This month Taddio received more than $1 million from the Canadian Institutes of Health Research (CIHR) to support continuing research and targeted efforts to reduce fear of needles in youth.   
So how do we get needles to hurt kids less?  Start with identifying best practices for injection techniques so that health providers delivering needles know how to prevent avoidable pain, she says. Next, work with kids themselves to develop effective strategies that will reduce fear and pain.

"We typically don't involve youth in a meaningful way in these procedures," says Taddio. "We decide what to do and we don't give them choices. But they are often the best sources for what strategies will work best. Engaging youth in their own health care is also empowering and builds trust."
Over the last two years, Taddio and her team led a small implementation project that showed incorporating evidence-based interventions and accommodating preferences of youth receiving school-based vaccines reduced pain, fear and dizziness associated with getting the needles. Developed for youth by youth, CARD (Comfort, Ask, Relax, Distract) is a game where students select interventions they want to "play" from within each category and then share them with adults who help support their choices. For example, a student may wish to play from category "A" and ask to be vaccinated in a private place, or "D" and bring an electronic device to serve as a distraction.  
"CARD is a major breakthrough," says Taddio. "It is the first knowledge translation tool to integrate all that is known about pain, fear and fainting mitigation into a simple, low-cost, appealing training approach for youth." 
The newest CIHR grant will help Taddio expand her investigation of CARD in schools across Ontario and Alberta with the aim of standardizing a new approach that would update current practice guidelines to be used across Canada and internationally.  
The skills youth learn through CARD can reach beyond the immediate needle procedure and help them better manage other stressful situations. Taddio says those skills can translate into more positive health behaviours overall. 
"School-based vaccines occur at a time in life when kids start to make their own decisions about their health and health care. If they have a good experience with vaccinations and public health they will bring that into adulthood," says Taddio.
 "My vision is to make children all over the world healthier by improving their experiences during needle procedures."
Pharmacy