U of T expands support for trans and nonbinary employees with $10,000 gender affirmation benefit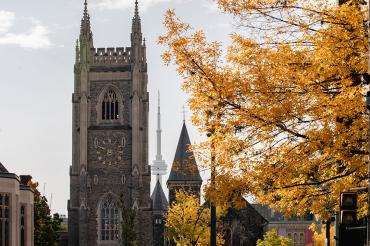 In what is an important step for the health and well-being of the trans and nonbinary community, the University of Toronto recently adopted gender affirmation care benefits coverage for both non-unionized employees and staff who are members of the United Steelworkers Union.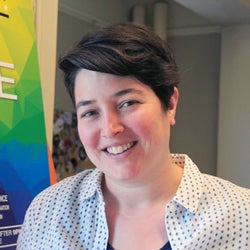 Through benefits provider Green Shield Canada, U of T now offers a $10,000 lifetime gender affirmation benefit. This additional coverage, which took effect July 1, comes two years after Green Shield worked with U of T's Sexual & Gender Diversity Office to co-ordinate community outreach and consultation on how best to provide gender affirming care to its plan members.
Allison Burgess, director of the Sexual & Gender Diversity Office, recently spoke to U of T News about the evolution of this benefits coverage and how the addition may impact members of U of T's trans and nonbinary community.
---
What is gender affirmation coverage?
Gender-affirming care, as defined by the World Health Organization, includes a range of interventions – be they social, behavioural, psychological or medical – that are designed to support or affirm an individual's gender identity when that may conflict or not align with the gender assigned at birth. These interventions can be quite expensive depending on what range of care is accessed.
 
While some elements, such as hormone care, have been covered by our benefits packages in the past, many other medical procedures, surgeries or items have not been covered. The expansion of gender-affirming coverage means that employees have access to financial support for what isn't covered by OHIP and, ultimately, this means that our employees and/or their eligible dependents can access care that they may not have been able to otherwise.
Does this coverage fill a lot of gaps?
Yes, the coverage does fill a lot of the gaps that were previously not covered under our benefits plan.
For example, OHIP recently added coverage for top (or "chest") surgery, but only the surgery itself is covered – not chest contouring, even though that is a very common need.
Then there are many, many other kinds of surgeries, supports and devices that are needed that have not been covered. Green Shield's offering also includes reimbursement for core surgeries not covered by provincial or territorial coverage – services that assist in the physical alignment of the individual's transitioned gender, and surgical enhancement of the individual's features that follows their accepted gender ideal (examples include vocal surgery, chest contouring/breast construction, laser hair removal, and nose surgery).
The range of care that each individual needs is so vast that for some, this could cover everything while for others it will not, but $10,000 have a really positive financial impact.
Overall, this is a really big improvement. Does it cover everything? No. Some items such as shapewear are not considered medical items and are traditionally sold in sex toy stores or other non-medical settings. Or sometimes an item might not be medical grade, even though it serves the person's needs in terms of gender affirmation. This is not about Green Shield not wanting to cover the costs for the items, but rather reflects a systemic limitation within our health-care and insurance systems more generally.
 
We know there is always more to do, but this is a truly significant change and step forward in terms of being able to affirm our trans and nonbinary staff.

What did people do prior to this coverage? Why is it so important?
In the past, people paid out of pocket or they simply didn't have access to the care. I've seen lots of people doing fundraisers for surgeries. Some have also fought for coverage. They've argued for items to be covered by a Healthcare Spending Account, for example. But having to make a case for this is a lot of exhausting work.

When someone has to argue for things that are essential – things that are critical to the core parts of who they are and that can significantly impact their experiences of navigating through the world and coming to work – it can be an extraordinary burden. There are corners of the medical profession that are thinking about how to do better with trans-affirming care, but so many of our institutions are steeped in a gender binary. There are multiple layers of institutional and historic transphobia that play out in these individualized moments of an employee seeking the care they need for themselves or their family.
 
 What consultation was undertaken before this change occurred?
In 2019 Ian MacEachern, director of benefits, pension and payroll, the Benefits team and I completed a landscape assessment to see what was available. I knew that a framework for trans-affirming care existed but did not see a lot of companies offering it.
  
That summer we were contacted by individuals from Green Shield Canada who were deeply committed to adding trans-affirming care to their coverage. They were trying to figure out how to get it done and wanted community feedback on what needed to be included to make the coverage meaningful. So, in collaboration with Queer U of T Employees (QUTE), we sent a call out to our community and the Sexual & Gender Diversity Office facilitated three focus group sessions: one for trans and nonbinary employees and faculty; one for employees and faculty with trans and nonbinary dependents (children, partners etc.); and a third for both.

Green Shield Canada asked a series of questions about the gaps in services, what was needed, how people felt about their interactions with Green Shield and any issues that had surfaced relating to gender – and so on. Their goal was to improve both what they offered and their service orientation.
 
 The staff at Green Shield were incredibly grateful for the feedback they received from the U of T community. These sessions set them up for success by giving them a significantly more informed perspective and allowed them to relay people's real stories and make a convincing case for change. The staff at Green Shield have told me directly how deeply grateful they are to all those who participated in that consultation.
Where should employees go to find out more information about this?
For specifics around your coverage, it's best to contact Green Shield. For questions about or challenges with seeking gender-affirming care, any member of the U of T community is always welcome to reach out to the Sexual & Gender Diversity Office. While we don't administer this coverage, we're always happy to help investigate and hopefully resolve any concerns, systemic or otherwise, related to gender or sexuality.  We're here to support our community and recognize that even with this tremendous change, there is still more work to do. We look forward to hearing feedback on this care and learning whether it is meeting our community's needs.
PSEC