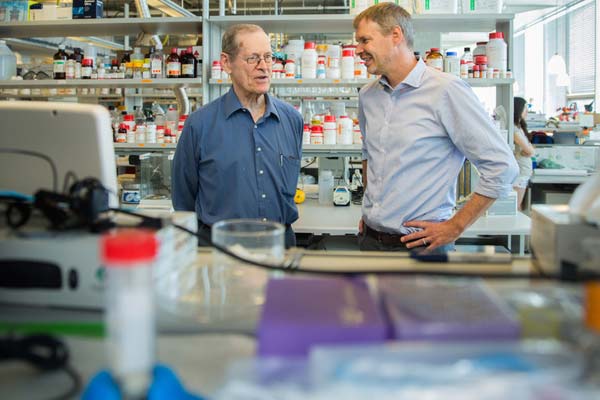 U of T expands research facilities in new partnership with MaRS
The University of Toronto has acquired four floors in the new west tower of MaRS and will be taking a 20 per cent equity share in the building.
"This is a big step in our overall commitment to support our students, faculty and researchers in their work solving the most complex and devastating diseases of our time," says Scott Mabury, Professor & Vice-President of Operations for the University of Toronto.

The partnership solves an urgent need for new research space at the university by capitalizing on the existing building that is ready for occupancy. 
 
"U of T is committed to translating our research into lifesaving technologies, and the move to these excellent facilities comes much faster and at less cost than any alternative," said Mabury
U of T's longer term plans involve renewing existing research space as well as building new facilities.

MaRS is also an ideal location – integrating the university even further into the fabric of one of North America's largest biomedical research hubs. The space brings together researchers from a variety of biomedical and engineering specialties, clinicians, entrepreneurs and industry partners.
"It is fitting and very exciting that the University of Toronto should become a co-owner of the MaRS West Tower, and a major presence in the building," said President Meric Gertler. "We are a founding partner in MaRS, and U of T faculty, staff and students play a crucial role in the Toronto region technology cluster and innovation ecosystem."
(Read more: understanding U of T's expanded partnership with MaRS)
(Scott Mabury, Professor & Vice-President of Operations for the University of Toronto, speaks at the MaRS announcement.)
"It's amazing the innovation and creativity that happen when you bring people together under one roof," says Michael May, President and CEO of the Centre for Commercialization of Regenerative Medicine (CCRM). His team is currently spread across different locations and he's eager to bring everyone together in the new MaRS tower.
May knows how even casual conversations among researchers and industry leaders can lead to innovation. He once invented a new biomaterial, which became a core product of his first spin-off company, based on a chance encounter with a U of T professor while on Via Rail. Years later, his work with CCRM involves bringing diverse researchers and an industry consortium of nearly 50 companies together to harness stem cells, biomaterials and molecules to tackle a range of diseases.
The not-for-profit centre takes a collaborative approach to overcoming manufacturing challenges and commercialization bottlenecks in the regenerative medicine field. Its first spin-off company,
ExCellThera
, will soon be expanding stem cells in cord blood to improve stem cell transplants for leukemia patients.
"We're making connections that weren't possible in the past – bringing together biologists, engineers, clinicians, manufacturing specialists and business professionals," says May. "We're building a critical mass that is putting Toronto on the radar as a top-tier biomedical research centre."  
Faculty of Medicine Dean Trevor Young says he is excited by the boost this will give to the university's fundamental science researchers. "This is a great opportunity to help the basic science sector thrive," he says. "Our researchers will benefit from working closely with the other great organizations at MaRS, and they'll also be able to contribute their expertise in the design of new therapies."
The state-of-the art facilities are also a way to showcase the university's research momentum.
"When people come to our floor in the MaRS building," says May, "they'll see highly qualified technicians in 'space suits' manufacturing cells in one corner, academic researchers analyzing data in another, and business professionals launching new companies in another. That's an impressive scene, and it will help us attract and retain the best researchers, companies and investors."