U of T epidemiologist leads study tracking COVID-19 immunity of 10,000 Canadians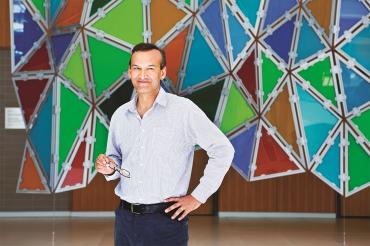 A world-renowned epidemiologist at the University of Toronto is leading a large-scale study that will use blood-based antibody testing to track the immunity of thousands of Canadians to COVID-19. 
The study, led by University Professor Prabhat Jha of U of T's Dalla Lana School of Public Health, will track up to 10,000 Canadians over a period of six months to improve our understanding of the duration of COVID-19 immunity.
Its results could prove crucial to informing public policy around measures like physical distancing while the search for a vaccine continues.
"This study will establish a national platform to assess interventions and progress, stand as a model for nationwide epidemiological studies, and inform public health decision-making and the general public," said Jha, who is also the director of the Centre for Global Health Research, in a statement.
Called Action to Beat Coronavirus (Ab-C), the study is the first of its kind in the country and is a collaboration between U of T, the Centre for Global Health Research at Unity Health Toronto and the Angus Reid Institute.
More than 10,000 Canadians drawn from a nationally representative panel maintained by the Angus Reid Forum will be sent an online questionnaire about their experience with COVID-19. Starting this week, those who consent to being tested will then be sent kits so they can take their own blood samples at home. The samples can then be mailed to St. Michael's Hospital, where antibody tests will be administered.
This first phase of the study is expected to result in a national estimate of the number of people infected with COVID-19, helping to shed light on the fatality rate.
Four to six months later, a second round of questionnaires and antibody testing will be carried out with the same individuals – a step Jha says will "document the short and medium-term immune profile of Canadian communities as well as ongoing transmission."
UTC