U of T Engineering, "Speaking Up" team recognized among world's best in communications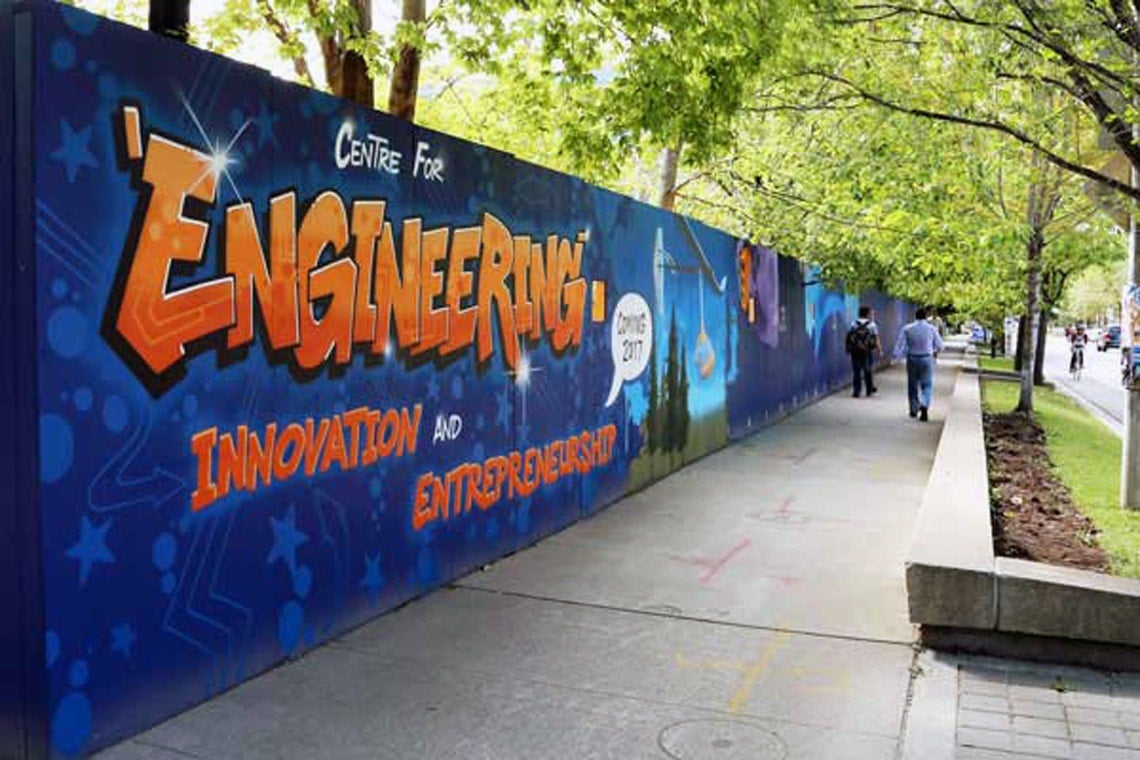 CEIExSKAM, Toronto's longest single graffiti installation, was one of the four initiatives that won Gold Quill Awards from the International Association of Business Communicators (IABC) (photo by Roberta Baker)
The University of Toronto's Faculty of Applied Science & Engineering Communications and the project team behind the 'Speaking Up' Staff & Faculty Engagement Survey have received a total of five Gold Quill Awards from the International Association of Business Communicators (IABC).
U of T Engineering, which won four awards, is among a cross section of public and private sector organizations from 12 countries recognized in the 2016 program.
"The Gold Quill Awards are unique in the industry because they recognize work that makes a significant contribution to business or organizational outcomes," said Monika Lancucki, ABC, chair of the IABC Awards Committee. "Unlike many other awards programs, evaluators review each entry against IABC's standard of excellence rather than against other entries. This encourages the pursuit of excellence rather than competition."
Evaluators particularly look for innovative and unique entries where communicators demonstrate the impact their work had on business goals.
"The winning work in this year's program demonstrates these traits and truly reflects a world class standard. It is the pinnacle of achievement in communication," said Lancucki. "It's not just about the latest technology or the creativity of campaign materials, but the impact the work has on the business need."
U of T Engineering received two Awards of Excellence for its Annual Report on Performance Indicators and Centre for Engineering Innovation and Entrepreneurship (CEIE) Graffiti Wall Installation, and two Awards of Merit for its "Say Yes to Engineering" undergraduate student recruitment campaign for women and CEIE groundbreaking event.
 
"Collaboration is at the heart of all of the winning entries," said Catherine Riddell, executive director of Engineering Strategic Communications. "These awards are shared with our colleagues in the Dean's office, communications, recruitment, outreach, advancement and alumni relations. They speak to the culture of excellence that is alive and well among faculty and staff under the leadership of Dean Cristina Amon."
 
In the past year, Engineering Strategic Communications has been recognized for excellence in communications in awards programs at the local, national and international level hosted by IABC (Ovation and Silver Leaf Awards) and the Council for the Advancement and Support of Education (CASE).
 
U of T's 2016 Gold Quill awards winning entries include:
 
CEIExSKAM Graffiti Wall Installation — Award of Excellence
 
This bold, colourful and unconventional collaboration with street artist Jason Wing (also known as SKAM) is the longest single graffiti installation in Toronto. The imagery reflects the rich history and global impact of engineers from the University of Toronto. It also illustrates the Faculty's vibrant student experience, pioneering research, transformative education and the game-changing commercialization that will take place within the CEIE.
 
Learn more about CEIExSKAM
 
2015 Annual Report of Performance Indicators — Award of Excellence
 
The Faculty's seventh annual report of performance indicators was described by IABC evaluators as "a masterpiece of well thought through statistics" that "leaves no question unanswered."
 
Read the Annual Report of Performance Indicators
 
"Say Yes to Engineering" Women in Engineering Recruitment Campaign — Award of Merit
 
This campaign, which ran from January through June 2014, featured a comprehensive multimedia strategy including creation of a unique microsite, proactive media relations and targeted marketing collateral. The latest fall 2015 enrolment figures demonstrated its continuing effectiveness, as women made up 31.4 per cent of the U of T Engineering first-year class — the highest percentage of any entering engineering class in Canada.
 
Learn more about women in engineering at U of T
 
Centre for Engineering Innovation & Entrepreneurship (CEIE) Groundbreaking Event — Award of Merit
 
The CEIE groundbreaking event, held June 24, 2015, united faculty members, students, staff, alumni, industry partners in celebration of this exciting capital project. The event channelled the spirit of enthusiasm surrounding the new building: a vibrant hub that will harnesses the boundless energy and creativity of our engineering community by fostering experiential learning and advancing opportunities for cross-disciplinary collaboration.
 
Read more about the CEIE
Read about the goundbreaking ceremony
 
'Speaking Up' Employee Experience Survey at the University of Toronto — Award of Merit
 
The 'Speaking Up' project, a joint initiative of the Offices of the Vice-President & Provost, and Vice-President, Human Resources & Equity was honoured in the category of Digital Communication for its online resource for employees and project team members about the survey: uoft.me/speakingup.
 
"Understanding our employees experience is essential to maintaining their continued engagement," said Katy Francis, Director of Strategic Communications with the Division of Human Resources & Equity. "One way U of T gets at this information is through its Speaking Up faculty and staff engagement survey."
 
While over the past three editions of the survey participation scores have consistently averaged 50 per cent, this time the survey sponsors wanted to see improvement in post-survey engagement. "In building this online resource we wanted to improve the way survey results and divisional action plans were shared. We know the resource was well received within the U of T community which made us happy," said Francis, "Receiving external recognition with a Gold Quill Award is the icing on the cake."
Learn more about the Speaking Up initiative and resulting data-driven action