U of T Engineering launches 3D-printing course to prepare students for booming field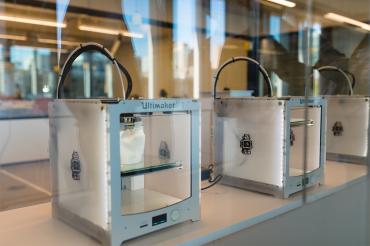 Students at the University of Toronto now have access to a course focused entirely on 3D printing, a fast-growing $13-billion industry.
The graduate-level course, which is open to all U of T students, is being offered by the department of mechanical and industrial engineering (MIE) in the Faculty of Applied Science & Engineering. MIE1724: Additive Manufacturing in Engineering Applications focuses specifically on the rapidly evolving and lucrative field, which has applications for numerous sectors of the economy.
The course is the creation of alumnus Ali Radhi, who wanted to provide a graduate-level specialized class that looks at the process of designing and building cost-effective and timely products using novel materials and hardware.
Radhi recently spoke to writer Kendra Hunter about the new course and the importance of preparing today's students for the design and fabrication of complex structures.
---
What inspired you to create this course?
At MIE, I have been involved in the design of lightweight structures and saw there was room to further bridge the fields of materials and manufacturing through a new course. A recent trend in 3D printing is to produce complex structures using materials with properties not usually found in nature, such as invisibility cloaks, and I wanted to address this while giving singular focus to the field of additive manufacturing, 3D printing and their respective applications. Associate Professor Tobin Filleter's MIE1744: Nanomechanics of Materials provided inspiration in expanding this area of knowledge. From there, MIE1724 took shape.
 What can students expect from this course?
The course introduces various types of additive manufacturing approaches, including multi-material 3D printing, micro/nano additive manufacturing and 3D bioprinting. MIE1724 is also designed to show the limitation of selected additive manufacturing methods. Characterization of additive manufacturing parts is included as a major course outcome. It helps students to integrate design for additive manufacturing aspects in industry product fabrication.
Students get to learn about new 3D printing technologies and how they are applied to solve problems in security, automation and more.
The course will first introduce the concept of 3D printing and then will move into computer-aided design (CAD) for additive manufacturing. Currently, students can request parts to be 3D printed through the Myhal Centre's fabrication facility. Once it is safe to do, they will be able to receive training to use the facility for their own education and research.
How does this course benefit degree and career options?
3D printing is now the primary method of prototyping. More recently, it became the sole method for end-use part production for highly complex structures and/or material content. Dedicated post-secondary education in 3D printing helps fill the talent gap in additive manufacturing as global revenue from these technologies has jumped from $4 billion to $13 billion between 2014 to 2018.
Additive manufacturing shortens design and production processes by enabling companies to streamline prototyping activities, alter supply chains and evolve end-product manufacturing. The market is growing at a rapid pace and people with a specialization in additive manufacturing will be in demand.
Did you design MIE1724 strictly as an engineering course for engineering students?
No, in fact this course is open to all U of T students. 3D printing is of great interest to many fields such as medicine, architecture and dentistry. The course is structured to highlight the technology's potential, process and applications in those fields and much more. The course also addresses unique fields, such as textiles and cosmetics, and how this technology can be applied. Additionally, the areas of information science, education and graphic design also benefit with over 250 applications of additive manufacturing that can be incorporated into their daily use of technology.
How did your PhD studies at MIE help you develop the skills to create MIE1724?
The PhD program provided a lot of exposure to state-of-the-art fabrication technologies. 3D printing was one of those avenues and I took part in design projects and competitions that employed such technologies within the facilities at U of T. Furthermore, the teaching assistant and instructor opportunities from the university helped me to identify the knowledge gap in 3D printing from U of T's broad list of advanced courses. During my PhD studies, collaboration with fellow research groups aided my own research through sharing of knowledge with my network as well as training in high- tech research facilities.
MIE1724 was inspired by Associate Professors Filleter's and Eric Diller's research – both were helpful and supportive in providing insights for a proper scope and delivery for the course.  Professor Murray Thomson, who is associate chair of graduate studies for MIE, provided support to address student expectations and Maximiliano Giuliani, senior facility supervisor at the Myhal Centre for Engineering Innovation & Entrepreneurship, provided input on expected knowledge and training for students before using his facilities for 3D printing.
Engineering