Meet Dr. Toni Zhong: U of T plastic surgeon restores hope to patients in Canada and abroad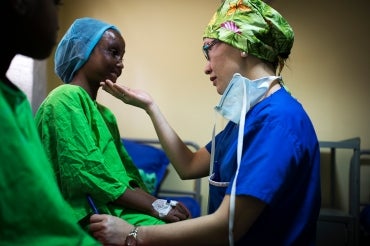 It was while travelling through Bangladesh on a medical mission in 2016 that Dr. Toni Zhong met Popi Rani Das. 
Das, then 27, had spent several years in hospital recovering from an acid attack. Her husband – angry that she didn't bring a bigger dowry – gave her a glass of odourless, colourless liquid. The acid burned away her whole esophagus and most of her stomach, also damaging her throat and airway, the Toronto Star reported. Her husband was not charged with a crime. 
Das required treatment that was beyond the capabilities of her hospital in Dhaka, Bangladesh, so Zhong promised to take her case to the best surgeons she knew. "I promised: I will try to find a way to help you," she said. 
Zhong, a plastic surgeon at Toronto General Hospital and assistant professor in U of T's Faculty of Medicine, kept her word.
She learned that, while a fund exists to bring critically ill children here for treatment, there's no equivalent for adult international patients. So she created one, calling it the Popi Fund – it still exists today, though its official name is now UHN Helps.
Zhong and others raised money for Das's travel, medical care and living expenses so that she could come to Canada for corrective surgery. In 2017, a team of top surgeons rebuilt her damaged esophagus using skin from Das's arm.
Although her specialty is reconstructive surgery usually on breast cancer patients, Zhong is part of Women for Women, a group of socially conscious female plastic surgeons who treat women in the developing world who are suffering from physical injuries as a result of domestic abuse, war or other socio-cultural reasons. On that medical mission to Bangladesh two years ago when she met Das, she and a team of surgeons treated patients at a makeshift hospital, completing 60 surgeries on women injured in grease fires.
"Hope plays such a large role in all of our lives," she tells U of T News. "I hope for my patients that they will recover and be able to restore the sense of normalcy they felt before all this."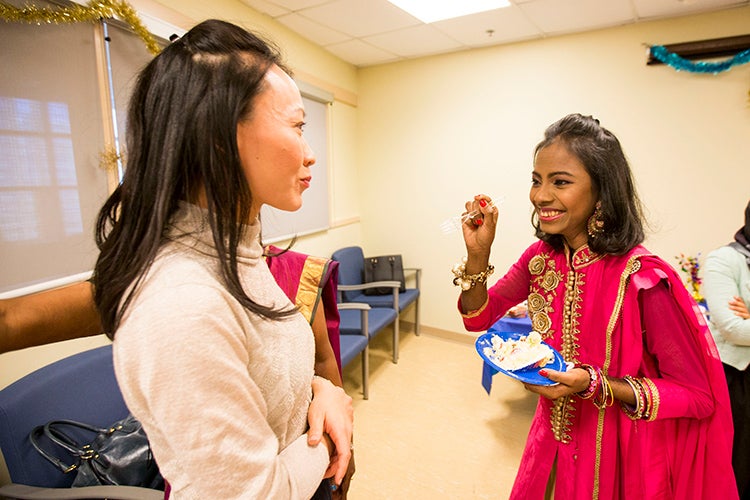 Acid-attack survivor Das (right) smiles after feeding cake to Dr. Toni Zhong during a party thrown for Das at Toronto General Hospital (photo by Carlos Osorio/Toronto Star via Getty Images)
UTC