U of T doctoral candidate explores legal landscape of transgender conversion bans 
In Banning Transgender Conversion Practices: A Legal and Policy Analysis (UBC Press 2022), the University of Toronto's Florence Ashley aims to set the stage for future discussions about what current laws do, how effective they are and what further work needs to be done.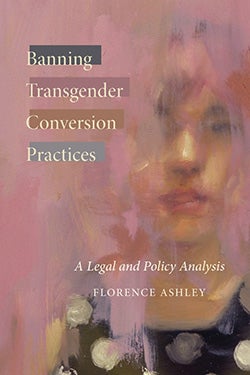 "We can develop an affirmative professional culture to really bolster bans because bans alone are not enough to make conversion practices unthinkable," says Ashley, a doctoral candidate in the Faculty of Law and U of T's Joint Centre for Bioethics who received this year's Adel S. Sedra Distinguished Graduate Award for outstanding leadership and commitment to academic excellence, part of the university's Awards of Excellence.
From a legal standpoint, Ashley defines conversion practices as any treatment practice or sustained effort that aims to change, discourage or repress a person's sexual orientation, gender identity, gender expression, or any behavior associated with a gender other than a person's sex assigned at birth.
"For an everyday definition, I'd go with practices that attempt to change sexual orientation, gender identity or gender expression," they say. "There are lot of legal variances around the world in terms of definition, but also how these bans work. Are they about disciplinary measures? How are they enforced? What is the legal mechanism? For example, does the statute enable lawsuits?"
Ashley, who investigates clinical approaches to trans care from both a bioethics and legal perspective, took as an example Ontario's Bill 77, Affirming Sexual Orientation and Gender Identity Act, which was passed by the legislature in 2015.
"Historically, gender identity and expression have been an afterthought in many bans on conversion practices. What are the differences in the ways survivors experienced conversion practices? How do these experiences impact how the law is written? Bill 77 was very much concerned with centering on the experiences of trans people, which is unique," says Ashley, who gave expert testimony at Québec's National Assembly on Bill 70: An Act to protect persons from conversion therapy provided to change their sexual orientation, gender identity or gender expression.
"Bill 77 also provides a lot of insight as to the importance of grassroots movements leading the way in getting the legislature and the legal system to eradicate conversion practices."
While critics of legistlation banning conversion practices have argued that parents could be unfairly targeted for providing advice to their children, Ashley says such concerns are overwrought given the way the laws have been written. 
"It's unrealistic [since], as for the most part, they're not deploying any systematic approach meant to prevent a person from being trans or gay. [If they did deploy such an approach], they would indeed fall under the law, but it takes much more than being homophobic or transphobic," they explain.
"In terms of Ontario law, which applies non-criminal approaches, the good thing here is that the power ultimately rests in the hands of the survivor."
Others have argued against bans on constitutional grounds – and Ashley's book provides an in-depth analysis of U.S. constitutional challenges based on religious freedom or freedom of speech.
"There's nothing fundamentally religious about conversion practices, nothing integral to freedom of religion," says Ashley. "Religion does not include the right to harm others and these arguments have thankfully been dismissed by courts.
"Arguments based on free speech are a bit of political maneuvering. As I point out in the book, it's not communicative – at least not centrally. Yes, conversion practices involve speech in the same way that writing a prescription is words on paper. But it's about the act of prescription, not the words. The words are just the vehicle," adds Ashley, noting some judges in the U.S. have nevertheless struck down legislation on free speech grounds even though most courts have found such laws to be constitutional.
Ashley says we must also acknowledge the law's limits, noting that litigation is costly and out of reach for most survivors. For example, their book notes how the southeastern Australian state of Victoria allows complaints to be investigated by the state's Equal Opportunity and Human Rights Commission.
The book culminates in a how-to annotated model law.
"I'm doing this work to really foster policy conversations and offer a path forward," Ashley says.
Law