U of T dentistry prof volunteers in ICU as hospital grapples with COVID-19 third wave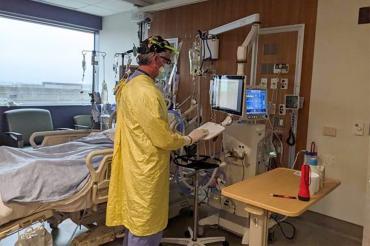 When Humber River Hospital asked for volunteers in the intensive care unit to treat COVID-19 patients, the University of Toronto's Marco Caminiti jumped at the opportunity.
"When the call came out, it got my attention right away," says Caminiti, an assistant professor, teaching stream, and graduate program director of oral and maxillofacial surgery in the Faculty of Dentistry. "I was drawn to it as something I can do rather than sitting passively."
In Humber's ICU, many badly needed beds were sitting empty because of a lack of nurses to care for potential patients. As a result, volunteers such as Caminiti have allowed many patients who would have otherwise been relocated to Ottawa and Kingston to stay in Toronto. That not only eliminates the need to transfer sick patients, but also keeps them closer to their families.
"Humber River Hospital has the largest number of ICU beds, and, with our help, we are able to make sure as many of those beds as possible are filled with patients who require care," Caminiti says.
Caminiti underwent three days of intensive training before assisting in the ICU. His days at the hospital are long, beginning with an hour of preparation, followed by a 12-hour shift and another hour of paperwork. His job is to provide one-on-one care to patients and provide feedback to doctors on staff.
"Working in the ICU is a unique opportunity for all of us volunteering," says Caminiti. "While we aren't ICU doctors or nurses, we each bring in a special skill set that can help look at situations with a different lens."
For example, many patients are intubated and need to be rotated, which can place their heads in awkward positions. Caminiti, like other oral and maxillofacial surgeons experienced in upper airway management, helped the unit use a novel halo device to help safely cradle patients' heads.
Being in the ICU has been an eye-opening experience for Caminiti. His floor has 30 patients on ventilators due to COVID-19 and he's witnessed first-hand the burnout experienced by nurses.
"I've gained such an appreciation of the work the ICU staff do," says Caminiti. "It really highlights my frustration of some public perception of the disease. I would invite any skeptic to walk through the ICU. When you see the number of sick people, it's undeniable how serious this is."
Caminiti says he will continue to volunteer his time until operating rooms open back up, likely within a few weeks. He credits his colleagues at the faculty for enabling his work at the hospital.
"Trying to balance my time in the ICU on top of everything else has been overwhelming at times," he says. "My colleagues that can't volunteer are busy keeping the programs running at the faculty. I couldn't do it without their support."
Dentistry