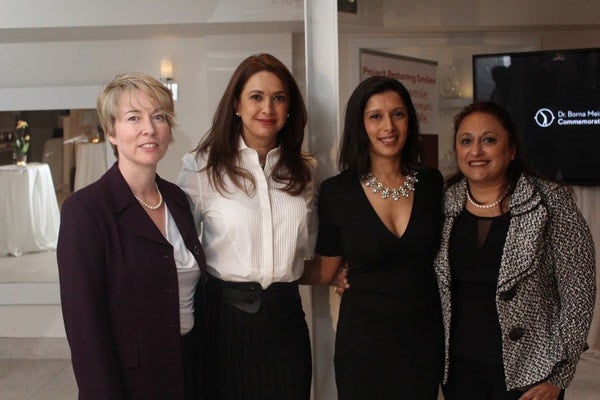 U of T dentistry alumnae restore smiles for domestic abuse survivors
"Restore a smile. Empower a woman. Reclaim her life."
Women who escape violent domestic situations for the safety of shelters have few reasons to smile. But one non-profit started by alumnae of the University of Toronto's Faculty of Dentistry is offering abused women across southern Ontario the prospect of renewed confidence and well-being.
The Restoring Smiles Project is a charitable network of dentists and physicians who provide free treatment to survivors of domestic violence. Patients are usually referred by shelters and are handled by the Dr. Borna Meisami Commemorative Foundation on a case-by-case basis. (The Foundation is named in honour of the deceased brother of founder Dr. Tina Meisami. Her brother was an orthopaedic surgeon and graduate of the U of T who died suddenly just months after turning 40.) 

"As a woman, I felt as though I needed to stand up for their rights," says Dr. Meisami. "As a human being, I felt their pain. As a surgeon, I wanted to fix their oral and facial pain," she says.

Launched five years ago on International Women's Day, the project has provided over $200,000 worth of restorative treatment to more than 45 patients, most of whom live in shelters in the GTA. The project's motto – "Restore a smile. Empower a woman. Reclaim her life." – speaks to the founders' desire not only to improve oral function, but to restore self-confidence in women who have survived abuse. 
  
"It is truly an honor to treat this group of patients," says Meisami.

In addition to her charitable work as founder and chairwoman of the foundation's board, Meisami is also the director of Dental Sleep Medicine at the U of T's Faculty of Dentistry, and operates a private practice in Toronto.

In fact, it was Meisami's U of T connections that helped get the project started. In its formative stages, she invited four friends from the Faculty of Dentistry to launch the project: Shiva Shadmand, Maureen Fenn, Renu Varshney and Yasmin Mawji.

When the project began, there were just five volunteer treatment providers in Toronto. The operation has since grown to include 18 providers in private clinics in Toronto, Ottawa and St. Catharines.

Patients receive a full scope of dental treatments such as cleanings, fillings, crown and bridge, dental implants, orthodontics, root canals, extractions and surgical facial reconstruction, as well as medical treatments, such as scar revisions. Volunteers focus on eliminating pain and disease and reconstructing the patients' function in an attempt to improve their health. True to their name, volunteers also focus on rebuilding the patients' smiles by providing state of the art implant, orthodontic and cosmetic dentistry.

The project has not only brought smiles back to its patients, but to its founder as well. "I am deeply touched by their kindness, their gratitude, their grace, and the connections we make with them," Meisami says. Her patients might say that those same qualities describe the volunteers of Restoring Smiles.