U of T dance scholar searches for art that captures the beauty of ballet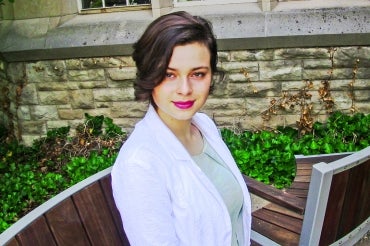 Anna Paliy grew up loving Isadora Duncan, an American dancer who dazzled audiences throughout Europe and Russia in the early 1900s – not only for how she moved, but for what she said: "It has taken me years of struggle, hard work and research to learn to make one simple gesture, and I know enough about the art of writing to realize that it would take as many years of concentrated effort to write one simple, beautiful sentence."
"I just love that," says Paliy, a PhD candidate in the University of Toronto's Faculty of Arts & Science and a former competitive gymnast who views dance as a form of communication.
"This quote inspired me to apply to the Centre for Drama, Theatre & Performance Studies for a PhD. I feel it expresses the parallels I'm trying to explore between dance, art and language."
Paliy is currently researching the connection between dance and visual art. Her dissertation examines art inspired by traveling eastern European ballet dancers in the early 20th century, with a focus on the period between 1910 and 1930.
"A group of dancers came to western Europe from primarily St. Petersburg and Moscow, though many of them were born in Poland, Ukraine, Georgia and other surrounding countries," says Paliy.
"As the situation became more and more unstable in the Russian empire, many Slavic dancers toured, were exiled or defected to cities such as Paris and London. Coincidentally, so did those emigrating from North America, such as Duncan. They formed a cross-cultural hub of creativity."
Paliy is now on the hunt for artwork that celebrates the dancers' encounters, and she hopes to learn more about the performers themselves as well as the artists who depicted their movements through sketches, prints and paintings.  
"To me visual art is a window into dance which can show otherwise undiscernible details of its transformations across cultures and generations," says Paliy. "The artists demonstrate this moment in the history of dance. Their works are so dynamic and they seem to have so much intention behind their craft … and many of them are women."
Most of these women artists are not terribly well known – nor is their art included in what Paliy calls "the larger encyclopedias of ballet."
"And that's why I feel the need to study them, to make them known," she says.
Paliy is especially intrigued with a collection of sketches that are now scattered around the world – from Australia to Russia.
"These artists drew in ways that were really funky – that's the word I think of," says Paliy. "It was very experimental. The artists liked to try different things, and they didn't take themselves too seriously even though what they created was aesthetically pleasing."
Before becoming a dance scholar, Anna Paliy was a competitive gymnast (photo courtesy of Anna Paliy)
With Toronto as her home base, Paliy hopes to become somewhat of a global art hunter now that pandemic restrictions are easing. She has plans to travel to New York, London and Paris to find more sketches. Some pieces are in art galleries or museums, while others may be collecting dust in family attics.
Some of these archives are passed down by children and grandchildren of the dancers who settled there, she says.
While pursuing her research, Paliy's fondness for dance and dance-related artwork has taken her to a new and unexpected direction: She was recently selected as the Jackman Humanities Institute (JHI) Amilcare Iannucci Graduate Fellow for the 2021-2022 academic year. She will join a group of scholars working in diverse ways on the theme of pleasure.
"This fellowship will allow me to view my dissertation project in a new way, expanding my view of the sketches created by women artists specifically in their capacity as dance spectators," says Paliy.
She believes there's a misconception around artists' appreciation of ballet, which is often regarded as an elitist, aristocratic form of entertainment.
"The scholarly value of the work of the women artists that I've found is very serious," says Paliy. "I believe they need to be considered in a serious way in terms of their contribution to the wider field of dance history.
"But then I thought to myself: there's something so joyful about the things I'm studying, there's something so playful about the sketches. They make a solid artistic corpus, but also reveal an energetic history of having fun – of spectators just enjoying themselves and then demonstrating their passion and pleasure for the things they saw on stage."
Spectators derived such pleasure out of ballet, says Paliy, that they themselves felt inspired to pursue their own creative, artistic outlets that celebrate and reflect the joy of their viewing experiences. 
"These artists proactively used their intuitive visual abilities to interpret dance," she says.
"They didn't necessarily try to create impressive grand scale works of art from the outset, though many of their sketches later became paintings now living in museums. They just went with their gut. And I think that's where the pleasure aspect comes in. These women artists came to the ballet and just genuinely loved and enjoyed what they saw, translating pleasure into art."
Arts & Science