U of T to cover tuition for students from nine First Nations communities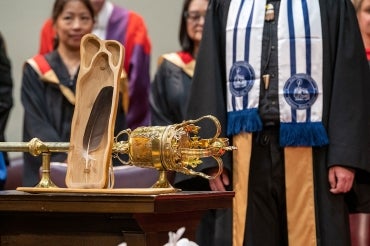 The University of Toronto will cover the cost of tuition for students from nine First Nations as part of its efforts to make the university more accessible and inclusive for Indigenous students – and strengthen relationships with Indigenous communities.
The initiative, which launches Oct. 11, will support members of First Nations communities whose territories include or are adjacent to U of T's campuses. They are: Alderville First Nation, Curve Lake First Nation, Hiawatha First Nation, Nation Huronne-Wendat/Huron-Wendat First Nation, Mississauga First Nation, Mississaugas of the Credit First Nation, Mississaugas of Scugog Island First Nation, Mohawks of the Bay of Quinte (Tyendinaga Mohawk) and Six Nations of the Grand River.
In addition, Indigenous or Native American students from the continental United States will be charged the domestic Ontario tuition rate in recognition of the Jay Treaty of 1794, which acknowledges the colonial nature of the border between the U.S. and Canada.
In May of 2022, U of T began applying the domestic Ontario tuition rate to Indigenous students living elsewhere in Canada.
The initiatives apply to current and future Indigenous students enrolled in most undergraduate, graduate and professional credit-based programs across the three campuses – part of a suite of programs available to Indigenous students as part of U of T's commitment to increasing access and support services.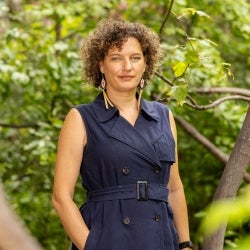 Shannon Simpson, senior director in the Office of Indigenous Initiatives, says the changes aim to make U of T more accessible to Indigenous students in keeping with the 34 calls to action outlined in Answering the Call: Wecheehetowin, the final report of the Steering Committee for the University of Toronto Response to the Truth and Reconciliation Commission of Canada.
"I'm proud that U of T is reducing barriers to education for these nine First Nations," says Simpson. "I think it's really going to help strengthen our relationships with our neighbouring communities, which is so important to building those pathways to U of T that will increase recruitment."
Simpson says each of the nine First Nations was engaged in consultations and is supportive of the initiative. Each community will verify their students' eligibility and communicate that information back to the university.
Throughout its development, the initiative has benefited from the "full and complete buy-in" of U of T's senior leadership, Simpson adds. "I'm proud to work for a university that is committed to investing in meaningful action to work towards Truth and Reconciliation."
U of T President Meric Gertler called the tuition initiatives an important step on the university's journey to reconciliation and thanked Indigenous leaders for providing guidance and support.
"The University of Toronto is committed to strengthening the recruitment and inclusion of Indigenous students while building strong and lasting relationships with our neighbouring Indigenous communities," President Gertler says. "We know much more remains to be done. We're grateful to Indigenous community members for their engagement as we learn from them and work to redress historical injustices and create a better future."
He added that the tuition changes complement other efforts led by the U of T steering committee on Truth and Reconciliation, including: incorporating Indigenous content into curricula; supporting Indigenous research programs; creating physical spaces to honour and acknowledge Indigenous Peoples, traditions and histories; and expanding the presence of Indigenous students, staff, faculty and librarians across U of T's three campuses.
Cheryl Regehr, U of T's vice-president and provost, says the tuition programs aim to facilitate the exchange of knowledge, culture and experiences that is at the core of U of T's mission.
"We are dedicated to making U of T a place where Indigenous knowledge, traditions and perspectives are not only valued but tightly woven throughout our academic community," Regehr says. "We hope Indigenous students accept this invitation to come to U of T, share their insights and make new discoveries that benefit us all."
Simpson says she hopes to see more universities create similar programs to give Indigenous students as many academic options as possible.
"I'm excited for U of T, and I'm excited for what will happen beyond U of T," she says. "I want to see this for so many other institutions, so that we're really increasing access to education across the board."
Details about the program and application process will be shared with prospective and current students on Oct. 11 via the website of the University Registrar's Office.
UTC