U of T community gathers to remember, support victims of gender-based violence
Dec. 6 is the Day of Remembrance & Action on Violence Against Women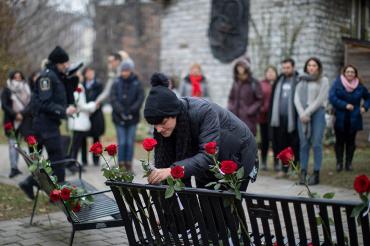 Members of the University of Toronto community will be placing roses on two benches across from Hart House this afternoon – each with a tag inscribed with the name of a victim of gender-based violence.
For participants, the gesture is moving – and often personal. A victim of violence could be someone they know and love – a friend, a colleague, a parent.
Today is the National Day of Remembrance and Action on Violence Against Women, which marks the anniversary of the murders of 14 women at the École Polytechnique de Montréal in 1989.
On that day 29 years ago, a man entered the engineering school and shot and killed 14 women, and injured 14 others, before turning the gun on himself. The shooter proclaimed his hatred for feminists, targeting female engineering students for pursuing a career he believed should be occupied exclusively by men.
Every year, U of T faculty, staff and students on all three campuses reflect on those horrific events and remember and support all women who experience gender-based violence.
U of T Scarborough and U of T Mississauga held memorials on Nov. 29 and Dec. 4, respectively. The downtown Toronto campus will be holding an event in Hart House's Great Hall today, followed by the rose-laying ceremony.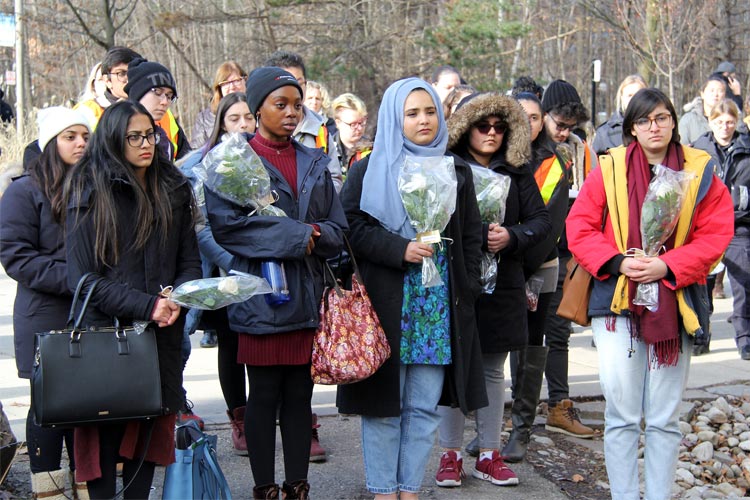 The Sexual Violence Prevention & Support Centre and the Equity & Diversity Office held an event at U of T Mississauga commemorating the Day of Remembrance (photo by Blake Eligh)
The Hart House event will feature speakers from across the university, including a keynote address by artist, writer, and anti-oppression and equity educator Rania El Mugammar.
El Mugammar says mass acts of gendered violence are no longer a rare occurrence, pointing to the April van attack that killed ten people in North York and the alleged driver's links to the incel movement, a misogynist and sometimes violent online subculture.
"[These acts of violence are] terrifying – not only for people whose gender identities make them vulnerable in that particular way, but they're terrifying for all our communities who are feeling a sense of urgency around our political climate," says El Mugammar.
Events like the Dec. 6 memorial are opportunities to remember and mourn collectively, she says.
"We can use those moments to galvanize support, thinking critically about our current ways of doing things and our current interventions and to think about how to mainstream this kind of knowledge so it doesn't seem like a niche feminist conversation, but it's a conversation we all have a role in and a stake in."
In many ways, the #MeToo movement has pushed this conversation into the mainstream, she says, but it's important to remember that the way women experience violence is complicated and nuanced.
"It doesn't happen to all women in the same way and it doesn't happen to all women equally and some of us pay a higher price for disclosure and some of our violence looks different," says El Mugammar. "How do we make sure they don't leave the most vulnerable people in our community behind?"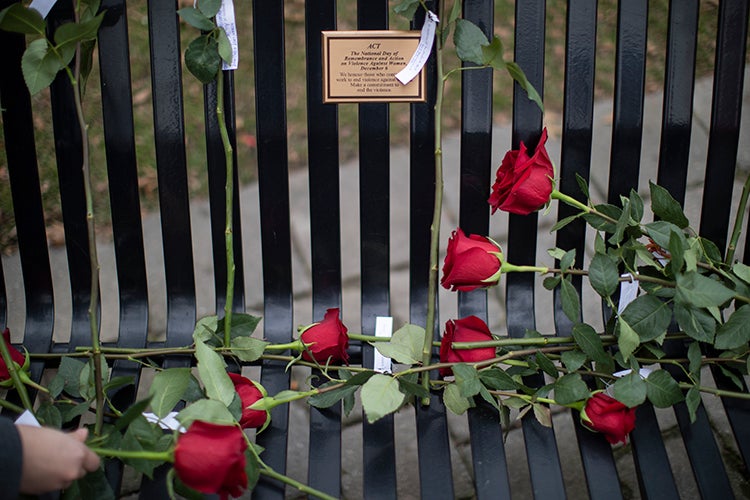 A plaque commemorates the National Day of Remembrance and Action on Violence Against Women on U of T 's downtown Toronto campus (photo by Nick Iwanyshyn)
Awards will be given out at the Hart House event for scholarly achievement in the area of gender-based violence to one undergraduate and one graduate student.
"We want to show that there is reason to be hopeful, and we thought what better way to do this than to establish an award that honours our students' research and community work that is helping us find solutions to diminish gender-based violence," says Sandy Welsh, who is vice-provost, students and co-chair of the award committee along with Kelly Hannah-Moffat, U of T's vice-president, human resources and equity.
"In terms of U of T, we have a social responsibility to conduct research that may help us in areas where our research can provide solutions to issues like gender-based violence," says Welsh. "It's also a way we can demonstrate and show our commitment to creating a supportive space for all while we're remembering those who lost their lives and experienced gender-based violence."
Attendees link arms during the Dec. 6 ceremony on U of T's downtown Toronto campus (photo by Nick Iwanyshyn)
This year's graduate award recipient is Jessica Elaine Wright, a social justice education PhD candidate at U of T's Ontario Institute for Studies in Education whose research centres on the revised Ontario sex-ed curriculum from 2015 and how it relates to trauma experiences. Innis College student Taylor Irvine is the undergraduate award recipient in the department for the study of religion and diaspora and transnational studies in the Faculty of Arts & Science.
"I approach challenging gender-based violence issues by writing policy briefs that dissect laws, prejudices, and perspectives and shed light on the detrimental effects that they have on the well-being of women and girls," says Irvine of her research. 
For current engineering students, the Day of Remembrance is an opportunity to address the need for improvement in gender equity, but it's also a time to recognize the great strides taken to promote change for the better, says Shivani Nathoo, president of the U of T Engineering Society and a student in the Faculty of Applied Science & Engineering.  
For the past two years, more than 40 per cent of the incoming U of T engineering undergraduate cohort have been women – the highest of any engineering school in Canada, according to the faculty's most recent annual report. 
"I definitely think that every year things are getting better, partially because of the incoming class of students, partially because the faculty of engineering is putting such a large focus on diversity, inclusion and equity," says Nathoo, who will be speaking at today's event.
"I think there's really a strong focus now on improving that not just for women but for all marginalized communities – which is really great."
---
If you or someone you know is a victim of gender-based violence, here are resources available to you near your campus.
UTC