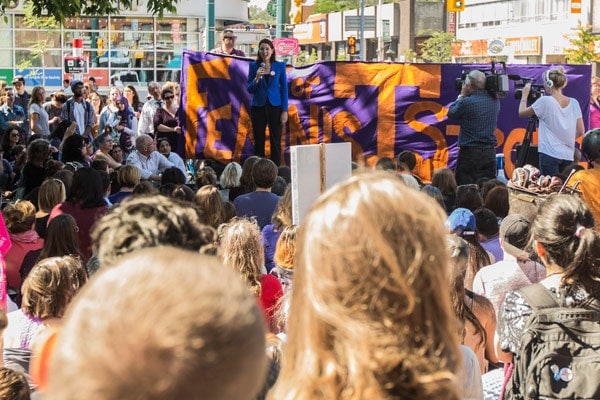 U of T community comes together to fight violence against women
Students, faculty and staff at the University of Toronto are rallying around members of the community after anonymous threats of violence against women and feminists at U of T earlier this month. 
"Violence against women is a despicable reality in Canada and around the world," President Meric Gertler said, "We must take every opportunity to condemn it and work tirelessly to bring it to an end." 
Gertler said the university has taken a number of measures to respond to the threats even though Toronto Police have said the risk of violence is low.
(Read more: police investigating online threats) 
"We take the security of our students, faculty and staff very seriously," he said, adding that Campus Police presence was increased over the course of last week and continues this week, and the University is working with the Toronto Police Service to support their investigation. 
Over the weekend, Vice-President and Provost Cheryl Regehr convened a meeting of academic and administrative leaders to discuss additional safety measures.
"The online threats made against feminist scholars and in particular the Women and Gender Studies and Sociology disciplines are an inexcusable act of violence," Regehr wrote in a message to chairs of departments. 
Instructors may request campus police presence near their classrooms by contacting their department chairs, and chairs have been provided with safety resources that instructors can share with students, including contact information for campus police, the Community Safety Office and the WalkSmart and WalkSafer and Scarborough Patrol programs.       
Scott Prudham, professor in the department of geography and planning and president of the University of Toronto Faculty Association, also denounced the threats. In a message to UTFA members, he urged all faculty members to "take a moment to reflect on the broader significance of these threats to the academic mission of the University and to demonstrate solidarity with our feminist colleagues."
"U of T Feminist" buttons have begun appearing across the university in support of those targeted, and on Friday, some professors began posting signs on their office doors reading "A Feminist Professor Works Here."  Several took to Twitter to spread the word.
(Below, President Meric Gertler is joined by senior administrators including Vice-President and Provost Cheryl Regehr on the left, Vice-President of Human Resources & Equity Angela Hildyard on the right in U of T Feminist buttons.)
The women's caucus of CUPE 3902, the union representing U of T teaching assistants and course instructors, organized a rally to speak out against gendered violence on September 14 outside the department of sociology on the St. George campus at 725 Spadina Avenue.
Hundreds turned out and joined in a march through the downtown campus as onlookers cheered and honked car horns. Campus police (pictured at right) wore U of T Feminist badges in solidarity. 
President Gertler noted in his statement the university's long history of contributions to the women's movement and to feminism: "Our university holds the distinction of having one of the oldest programs in Women and Gender Studies in Canada. Women's Studies has been part of the curriculum at the University of Toronto since 1971.
"We owe a great debt to the visionary women who provided that leadership more than 40 years ago."
In the wake of the threats, scholars rallied to show their support for students, faculty and staff.
The Canadian Sociological Association issued a statement saying it is "alarmed and saddened by the news of violent and misogynistic threats against feminist faculty and students affiliated with and teaching in the Women and Gender Studies Institute and the Department of Sociology" at U of T and "stands in full solidarity" with those students and faculty.
"Such threats are unacceptable in an open and democratic society and fly in the face of the pursuit of knowledge," the statement reads. "Differences in perspective should be met with debate and reason, not violence."
In a statement, Ryerson University's Provost and Vice-President, Academic Mohamed Lachemi, said: "I join with my colleagues at Ryerson in condemning in the strongest terms the statements that were made and want to let you know that even though they were not directed at our university, these kinds of threats strike at the very heart of our academic enterprise, and are profoundly troubling."
York University's Graduate Student Association of the Gender, Feminist and Women's Studies program at York University (GWSSA) called the threats "a dangerous and violent manifestation of insidious cultures of sexism, racism, misogyny, homophobia, transphobia, and ableism," adding: "let us never forget that Canada has a long and painful history of violence against Aboriginal, Trans*, queer, and racialized women-identified folks that continues into the present day. 
"We have been targeted specifically because of our beliefs, politics, and identities. What happens at York, as well as at UofT, École Polytechnique Montreal, University of Ottawa, Dalhousie University, and Saint Mary's University, affects us all. 
"Recognizing that threats themselves do real and lasting harm to people's lives, we stand in solidarity with staff and students at the University of Toronto. The GWSSA is also looking to collaborate with CUPE 3903, TFAC, and other campus groups to resist and mobilize against these abhorrent acts and attitudes."