The John H. Daniels Faculty of Architecture, Landscape, and Design celebrated the official opening today of its new home – the Daniels Building – at historic One Spadina Crescent. 
Located on the western edge of the U of T downtown Toronto campus, the iconic, neo-gothic building with its stunning contemporary addition, currently nearing completion, is now poised to become an international focal point for education, research, and outreach on architecture, art, and the future of cities.
U of T President Meric Gertler, Dean of the Daniels Faculty, Professor Richard Sommer, and Chair of the Governing Council Claire Kennedy welcomed donors, alumni, faculty, students, and other esteemed guests to commemorate the Daniels Faculty's new home – which the Globe and Mail's architecture critic has called "one of the best buildings in Canada of the past decade" – with an official ribbon cutting ceremony and reception.
Referring to Canadian and international reviews of the building, President Gertler said, "This global standing ovation for the Daniels Building is contributing to U of T's reputation as a world-leading centre for the study of architecture, landscape architecture, and design, as one of the world's greatest universities, and as a city-building institution of the first rank. And it heralds a new era of local, national, and international impact on the part of our professors and students, whose work is already helping to redefine urbanism in the 21st century." 
The proceedings took place in the heart of the new building in the Principal Hall, a prismatic, polychrome and multi-dimensional space that will become one of Toronto's premier public venues for public discussion and events showcasing leaders in the fields of art, urbanism, and the built environment.
In addition to housing the expanded undergraduate and graduate programs in architecture, visual studies, landscape architecture, and urban design, the new Daniels Building will allow for enhanced interdisciplinary research and greater public outreach and engagement, elevating the role that the design arts and visual thinking can play in addressing the critical challenges of our time.
"Toronto, like many cities around the world, has to contend with unprecedented growth. How we develop a compelling set of visions for the future, stage better discussions and debate about how to grow, and model ways for a diverse set of actors to work together to realize these visions, is vital to the success of our city, and every city" said Sommer.
"Over its 127-year history, our faculty has made many creative and intellectual contributions to this city and the profession, but the school has never really had a home worthy of its ambitions. Thanks to our community of generous supporters, we now have a major platform."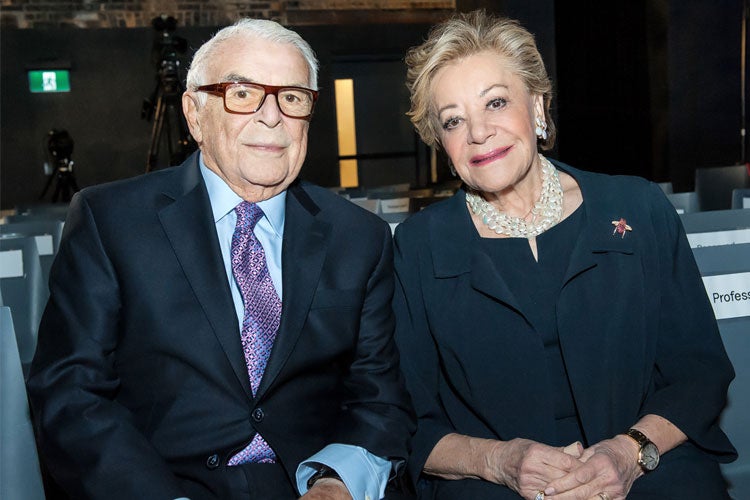 John H. Daniels and Myrna Daniels (photo by Lisa Sakulenski)
Following the announcement of a historic $14 million benefaction in 2008 (the largest of its kind in Canada to a school of architecture) and another $10 million in 2013, John H. Daniels and Myrna Daniels today witnessed the vision for U of T's architecture and design students become a reality. The new Daniels Building is named in their honour.
Toronto architecture firms, development and business leaders, faculty, friends, and alumni have also come together to support the project through philanthropic gifts totaling more than $30 million. To date, 85 per cent of the fundraising goal has been met. With a number of naming opportunities still available, the faculty plans to announce additional gifts from donors in the coming months.  
Key spaces in the Daniels Building include the Graduate Design Studio, with a column-free span of over 34 metres that incorporates an undulating ceiling with 11 clerestory windows; the Eberhard Zeidler Library, with collections in architecture, landscape architecture, art, and urban design that are unrivalled in Toronto; an extensive workshop and double-height Fabrication Lab, and the Commons, an interior "main street" and gathering space that runs east-west through the centre of the building, linking "town and gown."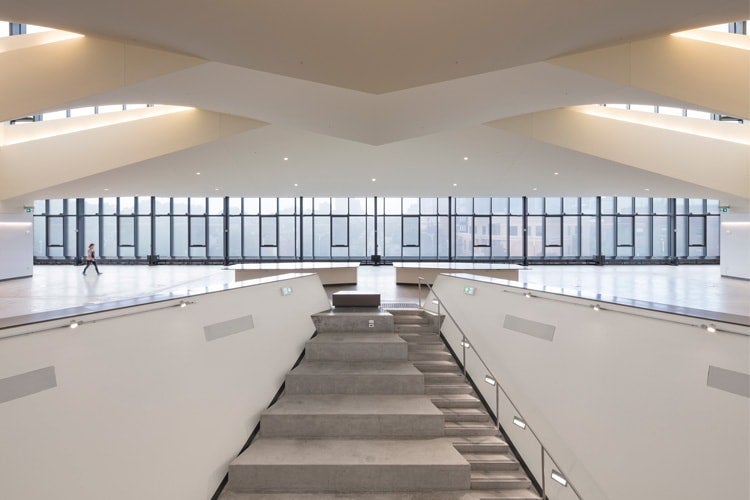 Photo by John Horner
The Daniels Faculty's award-winning Green Roof Innovation Testing Laboratory (GRIT Lab), whose work helps inform the City of Toronto's green roof standards, will open a second site on the roof of One Spadina, where it will study the integration of rainwater harvested on site, while a new 8,000-square-foot Architecture and Design Gallery – the only exhibition space devoted exclusively to architecture and design in Ontario – will be complete by next year.
Designed by Nader Tehrani and Katherine Faulkner, principals of the internationally acclaimed firm NADAAA, in collaboration with architect-of-record Adamson & Associates, landscape architects Public Work, and heritage architects ERA – the building has already received broad critical acclaim.  
The main phases of the One Spadina project will be completed in 2018. Future phases and additions are planned. For more information, visit the Daniels Faculty's website.