U of T celebrates official opening of Robarts Common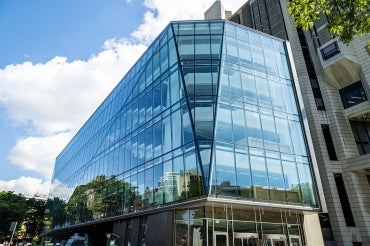 The University of Toronto community recently gathered at a special ceremony to formally open Robarts Common, the new five-story addition to Robarts Library that was designed as a dedicated space for students.
With ample natural light, room for 1,200 students to study in quiet or socialize in soundproofed rooms and accessible spaces for the entire U of T community, Robarts Common is a human-centred, collaborative area. Opening in advance of the 50th anniversary of Robarts Library, Robarts Common is part of a wider revitalization of the iconic building in the heart of U of T's downtown campus.
The stunning new space was made possible through the support of a generous gift from the late Russell and Katherine Morrison, along with support from more than one thousand other donors.
"Russell and Katherine Morrison understood well the library's central place in a student's intellectual development and educational experience," said U of T President Meric Gertler at the official Robarts Common opening ceremony on Sept. 9. "They were profoundly dedicated to ensuring that U of T students would have access to the very best library and study spaces – state-of-the-art, comfortable and beautiful. And through their vision and generosity, they have done just that, together with the many other donors who have made these light-filled spaces possible."
A dream to create an amazing space for students
"Dedicated spaces like the new Robarts Common are vital not just for the student experience but also as a way to encourage more open inquiry and research, more democratic debate and more civic engagement – all critical factors in the future success of our country and, indeed, our world," said Chair of U of T's Governing Council Janet L. Ecker.
"Robarts Common is the realization of a dream shared by my late parents, along with so many others who gave generously to help create this amazing space," said Robert Morrison, the son of Russell and Katherine. "This glorious new building will highlight the importance of the library in student life, and will inspire discovery, daring creativity, and a life-long thirst for knowledge."
The Morrisons, who donated $40 million to U of T, were both ardent supporters of U of T Libraries. Katherine Morrison was among the first generation of students to use Robarts, which opened in 1973, and she recalled spending most of her time there during her graduate studies – a key factor in the Morrisons' inspiration to support Robarts Common. The university awarded Russell and Katherine Morrison honorary degrees in 2004 in recognition of their tremendous dedication to students and higher education.
Devoted entirely to student use, the new addition is a "campus living room" and is available to anyone from across U of T's three campuses. Robarts Common includes hundreds of spots for quiet reading, eight dedicated group study rooms, ample, comfortable seating and full connectivity. The addition represents a significant enhancement for the nearly 18,000 daily visitors to Robarts Library.
A campus jewel, Robarts Common was supported by more than a thousand donors
"Robarts Common reflects U of T Libraries' global stature, and our special place at the heart of the U of T community," said U of T Chief Librarian Larry Alford. "It is a crown jewel for the university libraries, a much-needed element of the revitalization of the historic Robarts Library, and an extension of our work not just in supporting our community – but building it."
"[Robarts Common] will only amplify Robarts Library's role as U of T's heart," said Rion Levy, who is a third year Faculty of Arts & Science student at Victoria College studying literature and critical theory and material culture and semiotics, as well as co-editor-in-chief of The Strand newspaper. "Its student-centred architecture and design has already drawn students in, and I'm sure it will quickly become a favourite spot for all kinds of scholars here."
The official opening of Robarts Common comes during the first year of U of T's Defy Gravity campaign, which aims to raise $4 billion towards the university's highest priorities as well as inspire 225,000 alumni to get involved as volunteers, mentors, donors, participants and leaders, and contribute their time and talent to the university one million times collectively.
"Robarts Common embodies the spirit of Defy Gravity and how U of T and U of T Libraries continue to re-imagine the role of the modern library as a symbol of free and open inquiry," said David Palmer, U of T vice-president, advancement. "This is a people-focused place for scholars at every level, who will forge bold new ideas and life-long connections – impacting not only their lives, but the wider world."
Advancement