U of T to celebrate 'truly extraordinary' grads at virtual fall convocation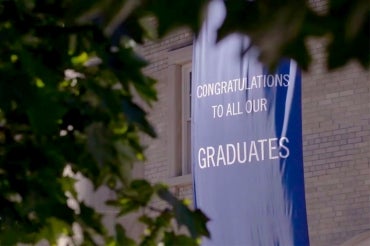 In an unusual year shaped by the COVID-19 pandemic, the University of Toronto is gearing up for its second-ever virtual convocation to celebrate graduating students as they move on to the next chapter of their lives.
As was the case in June, the fall convocation event on Nov. 21 will take viewers inside Convocation Hall for a virtual ceremony that incorporates many of the university's cherished traditions. They include formal regalia and a procession led by the bedel carrying U of T's gold-plated silver mace, a symbol of the university's history and authority.
The Class of 2020 will be addressed by U of T President Meric Gertler, Chancellor Rose Patten and U of T Scarborough Professor Maydianne Andrade, the convocation speaker. There will also be congratulatory messages delivered by students and senior leaders representing faculties and divisions across the university.
"You've been a source of inspiration to all of us during these challenging times and I'm delighted to celebrate your remarkable achievements – even if the current circumstances mean we can't be together in person," President Gertler said.
"At every step, you have shown great resilience and strength of character – traits that will serve you well as you prepare for what comes next and help build a better future for all of us."
More than 5,200 graduating students from more than 59 countries will receive their U of T degrees in absentia this fall. The virtual event will be available for public viewing at U of T's Convocation Hub at 12 p.m. EST on Nov. 21, a Saturday. It will remain available for several months for those who are unable to view it on the day.
Graduating students are encouraged to connect with friends, family and fellow graduates on social media, using the hashtag #UofTGrad20. Faculties and divisions are making plans to host in-person graduation celebrations once it is safe to do so.
To add another element of tradition to watch parties with family and friends, all members of the Class of 2020, regardless of whether they graduated in the spring or fall, have the option to rent a gown and hood. Graduands can also buy a cap (mortarboard) with tassel, although caps are not part of the official U of T regalia and aren't worn for in-person ceremonies. The gown and hood rentals are available until Dec. 31.
Similar to the spring event, the fall convocation program includes an original composition by Faculty of Music alumnus Aaron Tsang and a recording of the national anthem. This time, however, the recording of O Canada was performed by 69 student musicians from the Faculty of Music's symphony orchestra and wind ensemble. Since they couldn't perform in person because of COVID-19, the student musicians recorded their parts individually – from kitchens, bedrooms and living rooms across the Greater Toronto Area.
As convocation speaker, Professor Andrade said she is using the opportunity to remind students of their power to make the world a better place. The vice-dean faculty affairs, equity and success, at U of T Scarborough and a Canada Research Chair in Integrative Behavioural Ecology said she thought of her students and their families during her speech.
"I really hope they find a way to celebrate," she said of the Class of 2020. "Even if they're feeling a bit anxious about what comes next – more so than in other years – I hope they're able to recognize that they have accomplished something truly extraordinary."
While graduating students may be moving forward during a time of great uncertainty, Professor Andrade emphasized that they are particularly well-equipped to create a better and more just world.
"We are in a unique moment," she said. "Sitting at home during COVID-19, you might feel powerless. You are absolutely not powerless. There will be a world on the other side and you're going to shape it."
At Simcoe Hall, meantime, a team of dedicated volunteers is once again working behind the scenes to prepare parchments for shipping to addresses on six continents. Along with their parchment, each graduating student will receive two copies of their convocation program.
Silvia Rosatone, director of the Office of Convocation, said organizing a virtual convocation is no small feat, involving many different partners across the university and beyond.
"This is an 'all hands on deck' situation," she said. "Everyone is committed to ensuring that our graduands have the best possible experience under the circumstances."
UTC