U of T brings prestigious Amgen Scholars program to Canada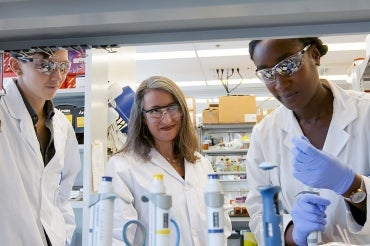 The potential for biomedical research to advance human health is huge – with stem cell science, immunotherapy, genetic technologies and other areas transforming the way we understand and treat disease. In today's complex research landscape, diverse expertise, fresh ideas and cross-disciplinary collaboration are key to innovation.
Yet many aspiring scientists face barriers, whether due to socioeconomic status, geographical location, or belonging to historically marginalized groups. Securing work or studies in research, for instance, often hinges on prior research experience.
The Amgen Scholars Canada program aims to change that by ensuring talented, motivated students from across Canada have access to top research facilities and mentors. Beginning in 2019, 15 Canadian undergraduate students will be welcomed to Toronto for a fully funded, 10-week, hands-on research placement at the University of Toronto's Faculty of Medicine and Leslie Dan Faculty of Pharmacy.
"We're thrilled to be launching the Amgen Scholars Canada program here at U of T," says Professor Vivek Goel, U of T's vice-president of research and innovation. "By offering valuable research experience to undergraduate students and prospective researchers across the country, and fostering connections with our leading investigators, this program is fuelling tomorrow's innovations."
While 2019 will be its first year in Canada, the Amgen Scholars program has operated since 2006, based at top research universities in the United States, Europe and Asia, including Harvard University, the Massachusetts Institute of Technology and the Karolinska Institutet in Sweden. Close to 4,000 Amgen Scholars have participated to date, gaining laboratory experience and mentorship by leading scientists, as well as attending seminars, workshops, networking events and regional summer symposiums – career development features that are crucial components of all Amgen Scholars programs.
Many Amgen Scholars have gone on to pursue advanced graduate degrees, with alumni accolades including the NIH Director's New Innovator Award, the Rhodes Scholarship, and selection to the Forbes 30 Under 30 list in health care.
Through a total commitment of more than US$21 million over four years, Amgen Foundation is bringing the program to Canada and Australia for the first time, and to eight new partner institutions, including Johns Hopkins University and Yale University. The U of T Amgen Scholars Canada program will be one of 24 worldwide, and the only one in Canada.
"As the pace of innovation increases, so too does the need to educate the scientists of tomorrow," says Robert A. Bradway, chairman and chief executive officer of the biotechnology company Amgen. "We look forward to further expanding the reach of the Amgen Scholars program, which has already provided research opportunities to thousands of talented undergraduates at premier institutions around the globe, and now has the potential do much more."  
Not only will the program help talented and academically strong undergraduate students get a foot in the laboratory door, it will also lead to new networks and set the stage for future collaboration – aligning with the Amgen Foundation's mission to empower tomorrow's innovators and advance excellence in science education.
"Students and trainees bring so many fresh ideas and perspectives to our work," says Stéphane Angers, associate dean of research at U of T's Leslie Dan Faculty of Pharmacy and professor at both Leslie Dan and the Faculty of Medicine.  "We often keep in touch long after they move to other institutions, and the connections often lead to research collaborations down the road."
As an Amgen Scholars Canada program supervisor, Angers will be welcoming scholars into his lab to help study the genetic circuitry involved in diseases such as high-fatality cancers, using advanced proteomic and genomic tools.
"It's really exciting work, especially with the advanced technologies like CRISPR-Cas9 that speed up the discovery process enormously," says Angers. "Now that we're able to pinpoint specific genes and proteins at play in disease processes, we are able to start developing new therapies to target them."
Canada's Amgen Scholars will also have the chance to experience Toronto's unique biomedical ecosystem. U of T is the research and educational hub within Toronto's vibrant network of world-leading hospitals and health-care sites, and the only medical school in the diverse Greater Toronto Area of six million people.
"We have this incredible ecosystem of collaboration," says Professor Leah Cowen, who is chair of the department of molecular genetics and will also be a supervisor in the program. "We have outstanding students, world-leading researchers and a strong interdisciplinary network that all come together to catalyze imagination, innovation and discovery."
In her MaRS Discovery District-based lab, Amgen Scholars will help discover and develop molecules with the potential to tackle deadly fungal pathogens – estimated to kill close to 1.5 million people around the world every year.
"The world needs more talented scientists who are continually innovating, and Canada is an ideal incubator for thought leadership and scientific discovery," says Francesco Di Marco, Amgen Canada vice-president and general manager. "We are excited to foster science education in Canada, and to collaborate with the world-class researchers at the University of Toronto through the expansion of this proven, successful Amgen Foundation program."
By helping aspiring scientists delve into leading biomedical research, the Amgen Scholars Canada program is poised to inspire and equip a new generation of health leaders and innovative researchers.
U of T is now accepting applications for the 2019 Amgen Scholars Canada program, until Feb. 1, 2019. For more information, or to apply, visit the website. 
Medicine