U of T bridging program helped grad Faraz Khoshbakhtian 'find a future for myself'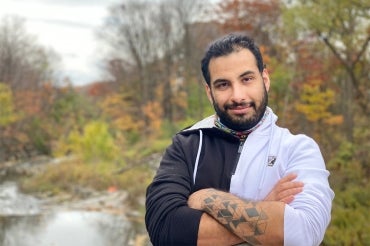 "When my family escaped from Iran in 2012, the goal was always for my sister and I to attend university," says Faraz Khoshbakhtian.
Now, Khoshbakhtian is fulfilling that dream as he takes part in the University of Toronto's fall convocation.
A member of Woodsworth College and a recipient of the college's Brookfield Peter F. Bronfman Scholarship, Khoshbakhtian studied philosophy, computer science and statistics with a special focus on artificial intelligence (AI) and the intersection of technology and society.
Khoshbakhtian was born in Iran where he and his sister didn't have the same educational opportunities available in other countries because they were from a Bahá'í family. What's more, he faced conscription into the military and so he, his mother, sister and grandparents left.
They left for Turkey and stayed there as refugees for two-and-a-half years until – through the United Nations High Commissioner for Refugees – they finally made their way to Canada.
"We came in the winter," says Khoshbakhtian. "It was hard to talk to people, to find our community. It was hard financially and I was on welfare for a while. I used food banks and worked as a banquet server and security guard."
Khoshbakhtian looked into ways of attending university without the normal education credentials. Some entry programs took years, but an aunt suggested a program she had gone through in order to attend U of T: the Millie Rotman Shime Academic Bridging Program at Woodsworth College.
The program is designed to bridge the gap between a student's prior education and entry into a degree program in the Faculty of Arts & Science – even if students don't meet the usual academic requirements.
"It was a lifesaver," says Faraz. "I had no other way of getting into university and it made it possible for me to attend and find a future for myself. It was a really good program and I couldn't have done it without its financial assistance.
"What's more, my professor in the program was Thomas Socknat, the academic director of the [academic bridging] program at Woodsworth College. I will always remember him because he helped me get on my feet academically. Plus, he encouraged me to work hard on my English to make sure it was university-level."
Khoshbakhtian's interest in technology was kindled as a teenager by video games and movies like The Matrix.
"I was always thinking about things like AI for sure," he recalls. "Also, I was brought up in a family that was very science-oriented. So, from an early age, I started coding and had an interest in math and software."
But Khoshbakhtian's perspective as a refugee also sparked an interest in political philosophy and questions about inequality and oppression.
"These experiences prompted me to change course a bit and explore these different ideas," he says.
"In my first-year philosophy course, we had to read Nietzsche and it just clicked for me. It changed my worldview and helped me to live my life as a person who has struggles and aspirations – some of them achieved and some not."
Khoshbakhtian's path to Canada and university also led to thoughts of where the two domains – technology and philosophy – intersect.
"Where the two meet is interesting to me because of the way technology is changing our worldview and the way we're living," he says. "It requires us to rethink our philosophy of life – our political philosophy, our metaphysics. And, at the same time, the way we think about these issues informs the way we develop technology as a society."
As for advice he would to first-year students?
"I would say, don't take marks or GPA or other evaluative numbers too seriously," he says. "You come to university having done very well academically, but then you get to university and you don't do as well. Firstly, you shouldn't think less of yourself. And secondly, remember that you're not alone – you're not the only one struggling."
As for his post-convocation life, Khoshbakhtian plans on finishing his master's project, which focuses on developing and applying machine learning solutions in health-care planning and policy. Also, he plans to continue to better understand "how machine learning, AI and data science can help us be a better society and be more civil, rather than attacking each other."
He also intends to be engaged with his communities: the university, Toronto and the Iranian-Canadian community – a continuation of what he's done ever since making Canada his home. For example, he is co-founder of the CineIran Film Festival of Toronto, which was held at the TIFF Bell Lightbox and which has since grown into the Cyrus International Film Festival.
"I'm happy and proud that all these communities take in new people from all over the world and give them a chance," he says. "And for myself, I feel I've achieved something I was looking forward to all my life. This year has been a very happy one for me."
Arts & Science