U of T breaks ground on student residence at Spadina and Sussex Avenues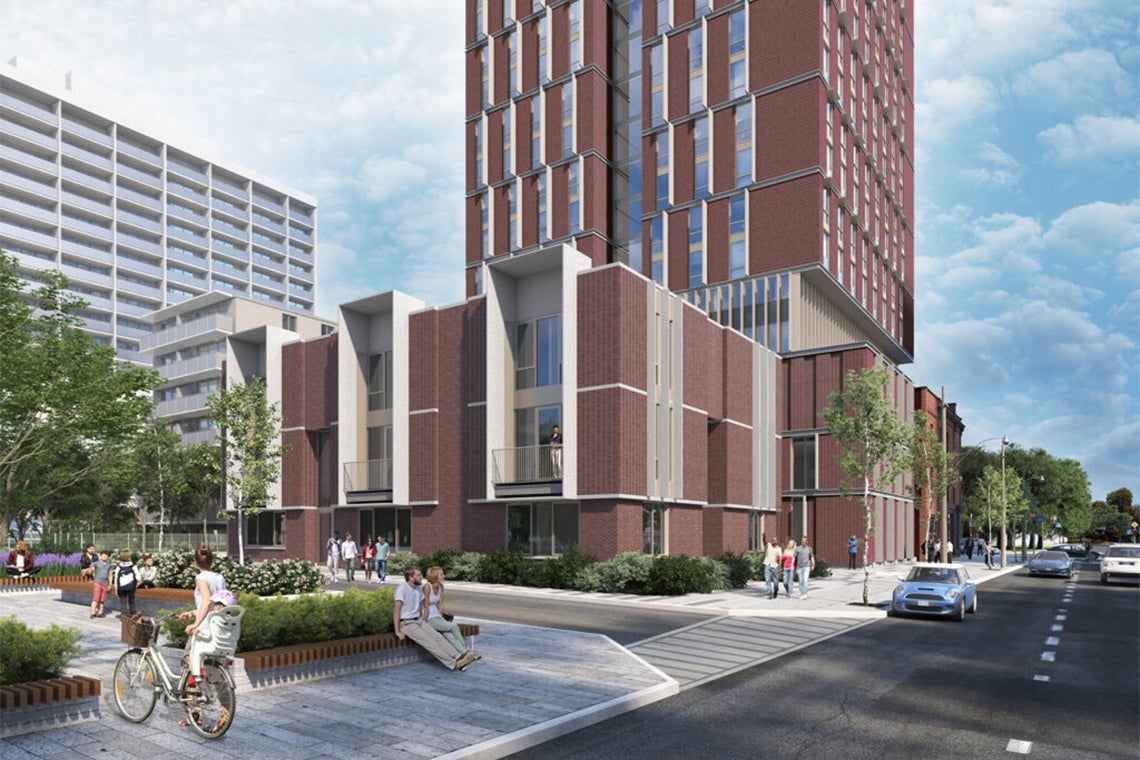 The University of Toronto has kicked off construction of an innovative and sustainable student residence at the northwest corner of Spadina and Sussex Avenues.
With Toronto facing a housing crunch, the 23-storey tower will enable more students to live where they study and socialize. The Spadina-Sussex residence is due to open in the fall of 2024 with 509 beds.
"As this campus has come back to life over the past few months, our students have shown that being here is an absolutely crucial part of their educational experience," said U of T President Meric Gertler, noting a high demand among students for on-campus housing.
"This outstanding new residence will do much more than meet a core need; it will also help realize our aspirations. It will give future students a beautiful, innovative and sustainable home on campus, one that's designed to foster the many informal interactions that are part of a rich university experience."
A groundbreaking ceremony for the new residence 509-bed residence at Spadina and Sussex Avenues was held on Dec. 2.
"The Spadina-Sussex Student Residence represents everything to which the team at Operations and Real Estate Partnerships is dedicated: advancing the academic mission of the university while simultaneously providing quality housing, innovative space and retail opportunities for our community," said Scott Mabury, U of T's vice-president, operations and real estate partnerships. "We call this our 'Four Corners' strategy, which creates commercially viable developments that deliver returns for future academic investment.
"Thank you to everyone involved – to the teams at U of T, at The Daniels Corporation and at Diamond Schmitt Architects – your hard work made this development possible."
President Gertler and Mabury attended the groundbreaking ceremony on Dec. 2 with Brian D. Lawson, chair of the university's Governing Council, and Mitchell Cohen, president and CEO of The Daniels Corporation – the socially conscious developer that led the redevelopment of Regent Park with Toronto Community Housing and that is now U of T's partner on the Spadina-Sussex residence.
"This new residence is a vote of confidence in the university and a great sign of hope for the city of Toronto and province of Ontario as we slowly and safely navigate our way out of the pandemic," Lawson said. "It also reaffirms our commitment to our students and the quality of their undergraduate experience."
Great city building is based on thoughtful collaboration between all stakeholders, said Cohen, adding the residence exemplifies "a highly collaborative approach" to development.
"The provision of heating, cooling and hot water through a virtually emissions-free geo-exchange system also reflects an exemplary approach to sustainability," he said.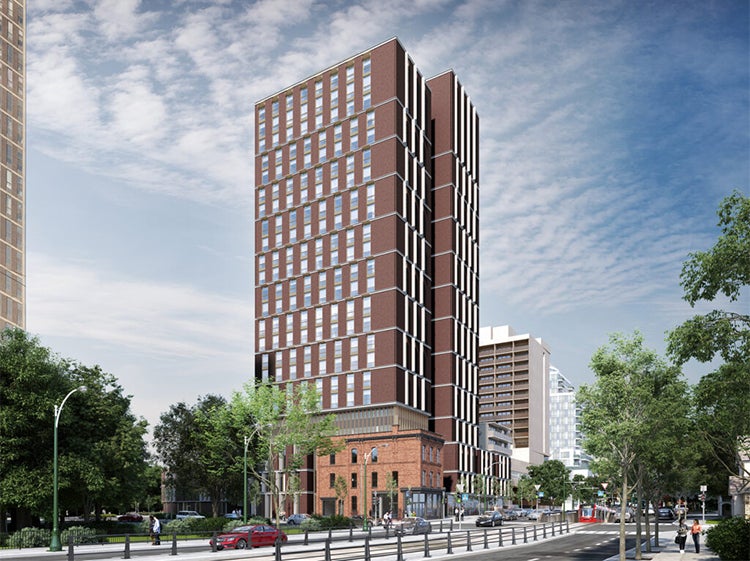 The Spadina-Sussex residence is due to open in the fall of 2024 (rendering by Diamond Schmitt Architects)
Vishar Yaghoubian, a full-time undergraduate representative on Governing Council and Woodsworth College student, said on-campus housing is essential to support academic success, extracurricular engagement and a sense of community.
"It is gratifying that the University of Toronto continues to demonstrate its commitment to quality of the undergraduate experience with a holistic approach that takes academic, social and mental well being into consideration," she said at the groundbreaking. "This new residence is further proof of that commitment."
UTC