U of T astronomer Bryan Gaensler wins mid-career achievement award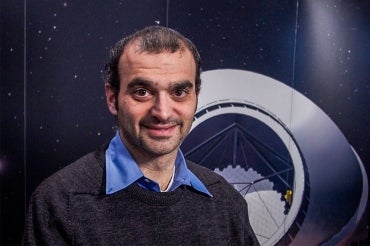 For years, it has been Bryan Gaensler's job to decipher astronomy's biggest questions, train the next generation of astronomers and foster public engagement in science.
Now the director of the University of Toronto's Dunlap Institute for Astronomy & Astrophysics is being honoured for those efforts by the Canadian Astronomical Society (CASCA) with the 2019 Peter G. Martin Award for Mid-Career Achievement.
The annual award recognizes Canadian astronomers, or astronomers working in Canada, who have made significant contributions to astronomical research. Winners are usually within 10 to 20 years of receiving their PhD degree.
CASCA named Gaensler the winner at the organization's annual general meeting at McGill University on June 19.
Gaensler is a leading expert in cosmic magnetism, supernova explosions and interstellar gas. He has produced more than 360 publications with 16,000 citations. 
U of T News spoke with Gaensler about the award, his research and a humbling recent experience involving his son's math homework that he shared on Twitter.
---
What does receiving this award tell you about the work you do and what it means for your work to come?
Magnetism is often thought of as the ugly duckling of astronomy. A lot of astronomers don't like to talk about magnetism or wish it weren't there. Receiving this award is a statement that magnetism and studies of magnetism are important. It's given me a chance to explain to the community why the work of my team matters to our understanding of how the universe works, and hopefully will let me create new collaborations and partnerships. 
What work are you most proud of?
I'm most proud of the work my students have done. There's nothing more satisfying as a professor than coming up with some half-baked idea, giving it to a student to run with and then turning it into an elegant, compelling, exciting result. Combining my experience with their cleverness and dedication is a fantastic and rewarding partnership.
What are you up to now? 
There are several new telescopes or projects that we're now turning on, like ASKAP [Australian Square Kilometre Array Pathfinder], CHIME [Canadian Hydrogen Intensity Mapping Experiment] and VLASS [Very Large Array Sky Survey], which are producing a tsunami of new data and which are revealing the sky in ways never seen before. I'm excited by the discoveries we will make with these data – both the low-hanging fruit that we'll scoop up right away, and also the subtle but more profound discoveries we'll find later by sifting through thousands of terabytes of data and looking for hidden statistical signatures. We're about to learn a whole bunch of unexpected new things about cosmic magnetism, and after years of planning for this. I cannot wait.
Back in December you generated some buzz after you posted on Twitter that, despite a PhD in astrophysics, you had been stumped by your son's math homework. How did that feel? 
It's very humbling! My son is not particularly excited by science or math, so helping him with his homework is a useful reminder that different people value different things, and that everyone has their unique strengths and passions.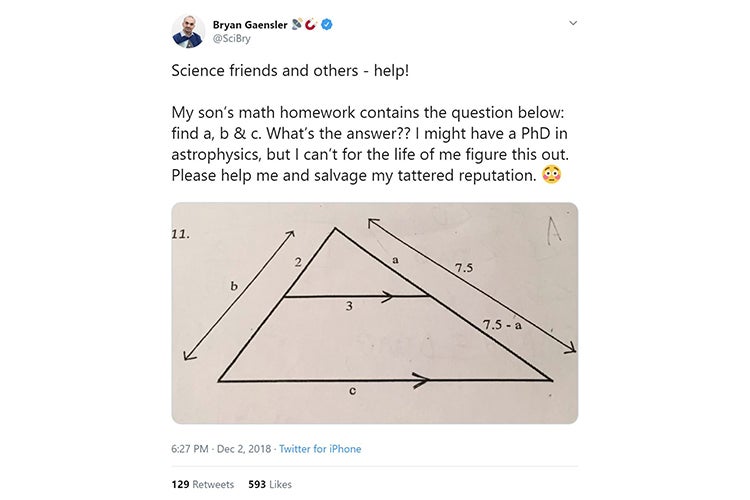 UTC