This is U of T: Architect and production designer Jay Pooley helps students build ideas from ground up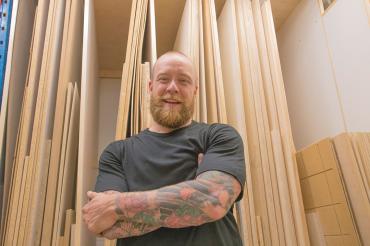 Jay Pooley has long had a passion for making things.
He was a construction worker and did welding and plumbing before attending architecture school. Now, among his many other hats – architect, production designer and art director – he is also a lecturer in the University of Toronto's John H. Daniels Faculty of Architecture, Landscape, and Design.
He has plied his trade on elaborate sets for the SickKids VS Limits ad campaign and the Drake Hotel. At U of T, he co-ordinates first- and fourth-year design studio courses in which he encourages students to work as a team to bring their ideas to life. 
"It's absolutely empowering for a student to tell them, to say, that thing you're drawing, you can build that," he tells U of T News in a video by Lisa Lightbourn. "You can absolutely build that. Go make it."
UTC