U of T appoints Christine Szustaczek vice-president, communications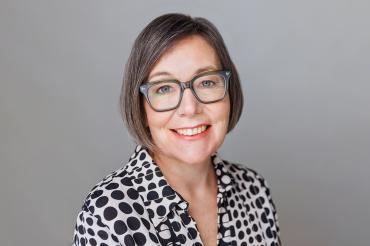 The University of Toronto has appointed Christine Szustaczek, an award-winning public relations and communications leader, as vice-president, communications for a five-year term.
Szustaczek's appointment, which takes effect May 15, 2023 through June 30, 2028, was recently approved by the university's Governing Council following a comprehensive international search. As head of University of Toronto Communications (UTC), Szustaczek will be charged with enhancing internal communications and sharing U of T's story – including the wide-ranging impact of its world-leading research and scholarship – with a global audience.
An alumna and former U of T administrator, Szustaczek currently serves as vice-president, external relations at Sheridan College Institute of Technology and Advanced Learning, where she is responsible for strategic communications, public relations, institutional events, marketing, brand strategy, government relations, community engagement, advancement and alumni relations.
"On behalf of the entire University of Toronto community, I am delighted to welcome Christine Szustaczek to the senior leadership team," said U of T President Meric Gertler. "As leader of the tri-campus University of Toronto Communications, Ms. Szustaczek will play a critical role in advancing strategic external and internal communications and public engagement for the university.
"She brings to this important position a communications approach that combines academic rigour with real-world practice – and a remarkable record of leadership and accomplishment in higher education and the broader public sector."
A trusted adviser to Sheridan's president and vice-presidential colleagues, board of governors and deans and directors, Szustaczek previously held the position of chief communications officer at the college. During that period, she advanced internal communications, guided the institution through multiple complex issues and oversaw an important rebranding effort. Prior to that, she served as Sheridan's associate vice-president, communications, public affairs and marketing, where she integrated the three distinct teams to advance institutional objectives. She began her time at Sheridan in the newly created position of director of corporate communications and external relations. 
"I'm thrilled to be taking on the role of vice-president, communications at the University of Toronto, one of the world's top-ranked public universities," said Szustaczek. "The opportunity to return to U of T and help lead an institution that fuels individual, economic, and societal transformation is both humbling and exhilarating. I look forward to working across the three campuses to serve our constituents and stakeholders, showcase people's inspiring and game-changing work, and to explain to the public how U of T continually lives up to its character and delivers on the promise of its Defy Gravity brand."
Szustaczek is widely regarded as an agile and collaborative leader who is highly skilled in managing relationships and developing people. Her work has been recognized by her peers with more than 50 prestigious awards, including the Heather Pullen Memorial Award for Ethical Public Relations and multiple awards from the Canadian Public Relations Society, the International Association of Business Communicators and the Council for Advancement and Support of Education. She has also published in the Journal of Education Advancement and Marketing and the Journal of Professional Communication.  
Before joining Sheridan, Szustaczek spent eight years running her own consultancy, helping a range of broader public sector agencies – including many colleges and universities – share their unique stories and communicate their impact.  
She also spent six years working at U of T – first as a senior development officer and senior donor relations officer in the division of university relations and the Rotman School of Management, and then as director of communications and associate director of development in the Faculty of Applied Science & Engineering. She also served as U of T Engineering's acting executive director of advancement. 
Szustaczek holds an honours bachelor of arts degree in international relations and a minor in economics from U of T, and a master's degree in communications management from McMaster University. She is accredited in public relations by the Canadian Public Relations Society and is a member of the board of directors of the Alice and Murray Maitland Foundation and Sheridan College's Screen Industries Research and Training Centre at Pinewood Studios in Toronto. 
President Gertler thanked the advisory committee for its advice and guidance. He also thanked David Palmer, U of T's vice-president, advancement, who has served so ably as interim vice-president, communications since Oct. 1, 2022.
UTC