U of T and Merck Canada partner to advance and share vaccine knowledge and research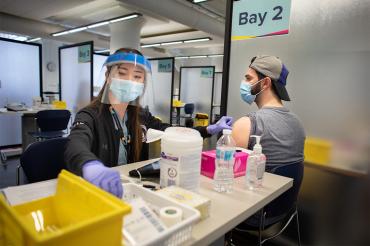 As Canada marks National Immunization Awareness Week, a new investment from Merck Canada to the University of Toronto's Centre for Vaccine Preventable Diseases at the Dalla Lana School of Public Health (DLSPH) will support research, education and knowledge translation around vaccine science and help communicate the importance of immunization as a cornerstone of public health.
Merck Canada's $3-million investment will help the centre's diverse mix of public health researchers to better understand the decision-making of individuals and communities around whether and when to receive immunizations. With expertise in vaccine science, social and behavioural health, equity and health systems, the centre's faculty members will produce scientific research to aid the Ontario government, policy-makers and public health advocates around the world in increasing public knowledge of and access to immunizations.
"As two historic leaders in the research, development and advancement of vaccines, the University of Toronto and Merck Canada understand how immunization has contributed significantly to the prevention and control of infectious diseases in Canada and internationally, particularly for our most vulnerable citizens," said U of T President Meric Gertler. "While the world turns to widescale immunization as a key tool in bringing the COVID-19 pandemic to an end, Merck Canada's investment will help to ensure that the Centre for Vaccine Preventable Diseases becomes a major hub for innovative research in vaccine education."  
The Hon. Christine Elliott, deputy premier of Ontario and minister of health, joined President Gertler, Merck Canada President Anna Van Acker and DLSPH leaders to announce the funding in a virtual ceremony.
"The COVID-19 pandemic has reinforced the critical role vaccine research and education play in protecting the health and safety of Ontarians now and in the future," said Elliott. "Merck Canada's generous contribution to the University of Toronto's Centre for Vaccine Preventable Diseases will have a tremendous impact on the Centre's work, ensuring that it continues to be a global leader in innovative vaccine science."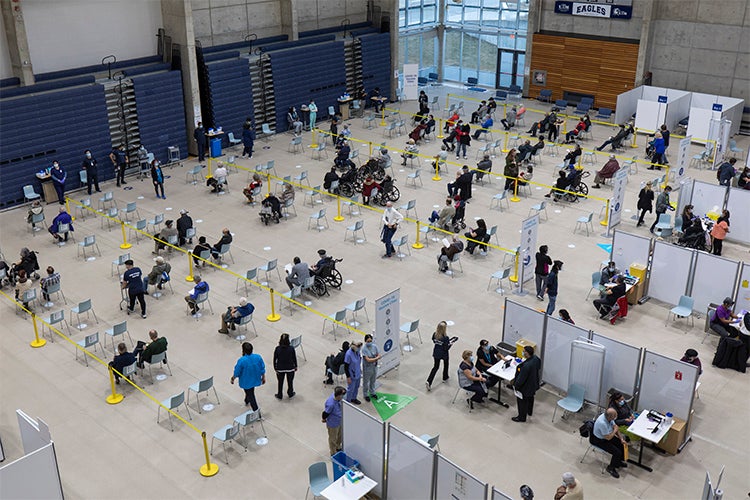 (photo by Nick Iwanyshyn)
Established at the DLSPH at U of T in 2020, the Centre for Vaccine Preventable Diseases contributes locally and globally to healthy communities through excellence in interdisciplinary vaccine-preventable disease and immunization research and education. The centre's vision is to catalyze cutting-edge research and education that maximizes the health benefits of immunization for everyone. A collaboration between the Dalla Lana School of Public Health, the Factor-Inwentash Faculty of Social Work, the Lawrence S. Bloomberg Faculty of Nursing, the Leslie Dan Faculty of Pharmacy and the Temerty Faculty of Medicine, the centre also addresses knowledge gaps not just in public understanding of vaccine science but among the many health science fields whose members deal with vaccination.
"The COVID-19 pandemic has shone a light on the critical importance of immunization and innovative collaborations such as this one," said Anna Van Acker, president and managing director at Merck Canada. "As a science-based company with a long-standing legacy in vaccines, we are very pleased to be teaming up with the Dalla Lana School of Public Health to support our common goal of advancing vaccine science. We are confident that this invaluable collaboration with an institution that is driven by principles of equity and engaging in top-quality research made freely available to the world, will help strengthen the city, province and country's standing as a world-leading home to scientific innovation."
Already, the centre has become a hub for continuing education training to help health providers improve their understanding of the science behind vaccines. The centre's membership spans basic, social and applied sciences, creating cross-pollination in the fields of public health, pharmacy, medical science, nursing, sociology and social work. Given the built-in interdisciplinarity of public health, and its century-long history developing vaccine science, the DLSPH is the centre's ideal home.
"The University of Toronto and the Dalla Lana School of Public Health have played a major role in the development and distribution of vaccines that rid the world of terrible diseases such as smallpox, polio and diphtheria," said DLSPH Dean Adalsteinn (Steini) Brown. "Merck Canada's funding allows us to pursue critical research and education that will strengthen this legacy and improve public health."
U of T and Merck share a historic legacy in vaccine development, research and knowledge advancement. The university traces its work in vaccine research to Dr. John G. Fitzgerald, who led the world in the development of diphtheria and tetanus anti-toxins and established Connaught Laboratories. Today, many U of T and DLSPH faculty members are part of World Health Organization (WHO) Collaborating Units, including the Joint Centre for Bioethics, as well as working with the Global Alliance on Vaccination and Immunization (GAVI) on issues ranging from ethics and Ebola, measles and rubella elimination to reducing pain from immunization.
Merck has been a leader in health innovation for the past 130 years, bringing forward medicines and vaccines for many of the world's most challenging diseases in pursuit of the mission to save and improve lives. Today, Merck continues to be at the forefront of research to prevent and treat diseases that threaten people and animals, including cancer, infectious diseases, such as HIV and Ebola, and emerging animal diseases.
David Palmer, U of T's vice-president, advancement, said: "We are pleased to thank and welcome Merck Canada as a major partner, helping advance U of T's global leadership in the development and advancement of cutting-edge vaccine science and disease prevention, critical to ensuring the health and well-being of people in Ontario, Canada and around the world."
DUA