U of T and France's national research institution partner on joint research centre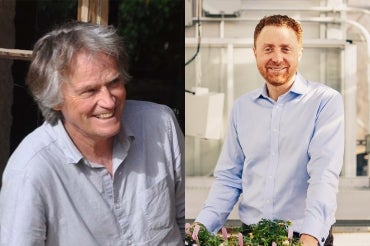 The University of Toronto and France's Centre national de la recherche scientifique (CNRS) are developing a joint CNRS International Research Centre (IRC) – expanding a seven-year-old partnership that allows researchers to work across continents and a wide range of fields.
When created, the new centre will operate as a hub for U of T-CNRS collaborations, bring in new resources for global collaborations, offer opportunities for network-building and provide strategic guidance for growing projects.
U of T President Meric Gertler and Jean-Luc Moullet, CNRS deputy CEO for innovation (signing on behalf of Antoine Petit, CEO and chairman of CNRS), will meet at U of T this week to sign a letter of intent during a visit by Sylvie Retailleau, France's minister of higher education and research.
"CNRS is one of the world's leading research institutions – they represent and support so many different areas of research and science, and that breadth and depth has been critical to our partnership," said Alex Mihailidis, associate vice-president for international partnerships.
"This IRC will expand that collaboration to further develop existing and promote new areas of research and deepen collaborations between our two countries."
For more than 80 years, CNRS – one of the most renowned public research institutions in the world – has been nurturing interdisciplinary research projects in France, Europe and internationally. Encompassing over 33,000 researchers and more than 1,000 laboratories in partnership with universities and other higher education institutions, CNRS brings together more than 120,00 employees and 200 professions that advance knowledge by exploring the living world, matter, the universe and the functioning of human societies.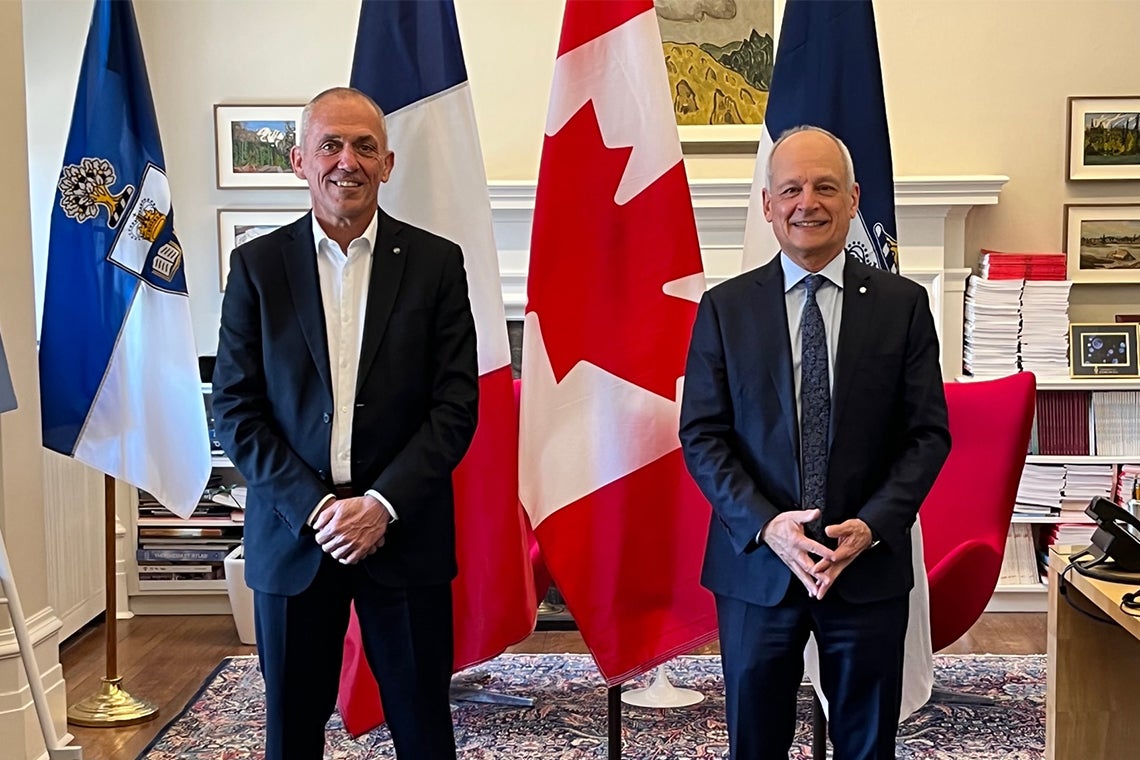 "The CNRS and U of T strategic partnership aims to tackle global challenges of the 21st century. We are thrilled to work together in order to create an international research centre," said Alain Schuhl, deputy CEO for science at CNRS. "It will further enhance the scientific co-operation by catalyzing new innovative collaborations between researchers and fostering interdisciplinary research to address social challenges."
The existing partnership between U of T and CNRS was first established in 2016, and has resulted in 30 jointly funded PhD student exchanges, 11 joint research projects and a Twin Research Scholars program to date.
Marc Johnson, a professor of biology at U of T Mississauga and director of the Centre for Urban Environments, has been working on a joint project with CNRS since 2019 that studies adaptation in white clover – a plant species native to Europe but invasive in North America – in four garden sites in Canada, the U.S., France and Sweden.
"To do this type of work, you need to do it at a large scale – you need to be able to work across continents," Johnson said. "And this collaboration with CNRS has made all of this possible – we would not have been able to do it without them."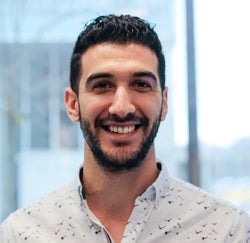 As part of the project, Lucas Albano, a PhD student in Johnson's lab, travelled to Montpellier, France, last year to work with CNRS researchers Cyrille Violle and François Vasseur of the Centre D'Ecologie Fonctionnelle et Evolutive, who are experts in the functional ecology of plants.
Albano called the experience "very rewarding," noting that it came on the heels of nearly three years of remote collaboration due to the pandemic.
Denis Walsh, a professor in the department of philosophy in the Faculty of Arts & Science who focuses on biology, has also been working on a successful research collaboration with CNRS colleagues. Focused on the notion of biological agency, the project involved Université Paris 1 Panthéon-Sorbonne PhD student Louis Virenque travelling to Toronto and U of T PhD student Auguste Nahas visiting Paris.
"It's been absolutely indispensable to [Nahas's] research – he has spent quite a bit of time in Paris and there's a tradition in France of studying the philosophy of science historically," Walsh said. "So, spending time there exposes him to this really distinctive, very vibrant and productive way of doing the philosophy of science."
The expansion of the partnership between U of T and CNRS will help to grow the scope of future collaborations within more fields of study, Walsh adds.
"When meeting with CNRS recipients a while ago, there was fantastic enthusiasm from everybody about the richness of these interactions. So, it's generally understood that this is a really unique kind of project where we draw connections across cultures, and there are many disciplines that could benefit from this kind of partnership."
The deepening of ties between U of T and CNRS comes as Retailleau visits Ottawa on April 24 to meet with François-Philippe Champagne, the federal minister of innovation, science and industry, to revive the France-Canada Joint Committee on Science and Technology. In each of the next three years, the committee will be identifying areas of bilateral strategic importance to fund joint calls for proposals.
"This type of partnership is essential for creating the next generation of leaders – these are the people that are going to be leading science and policy and our economy for decades, and we need to invest in them properly," Johnson said.
"The first round of the CNRS investment showed the benefits of trying to increase the mobility of PhD students – and if we double down on that, I think both of our institutions can become leaders in the innovation economy."
UTC