U of T among six universities globally to rank in top 30 across all subjects: Times Higher Education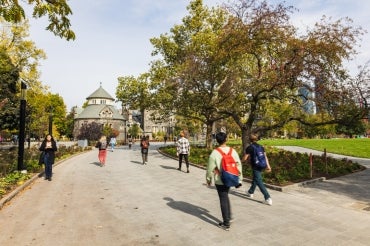 The University of Toronto is ranked first in Canada – and is among a handful of schools to rank in the top 30 globally – across all 11 subjects tracked by Times Higher Education in the 2024 edition of its international subject rankings.
U of T scored in the top 10 worldwide in three subjects in the closely watched ranking, which was released Oct. 26. They are education, psychology and clinical and health, which encompasses medicine, dentistry and other health fields.
The university was also among just six post-secondary institutions to rank in the top 30 globally across all 11 subjects in the World University Rankings 2024 by Subject. The other schools include University of California, Berkeley, University of Cambridge, Harvard University, Stanford University, and University of California, Los Angeles.
"The University of Toronto's success across such a wide range of fields is a testament to the shared commitment to excellence that unites our faculty, librarians, staff and students across the three campuses," said U of T President Meric Gertler. 
"It's immensely gratifying to see such an impressive spectrum of research, teaching and scholarship consistently recognized on a global stage."
To compare universities, Times Higher Education considers an array of performance indicators across five pillars – teaching, research environment, research quality, international outlook and industry – and assigns different weightings depending on the subject. For its 2024 edition, the U.K.-based publication updated its methodology, expanding its research-related metrics, while adding a new indicator for patents. 
U of T climbed through the global ranks in six subjects, including a nine-spot leap to place 10th in psychology and rising four positions to 9th in education. It also made gains in the arts and humanities (to 13th from 15th), social sciences (to 24th from 26th), business and economics (to 24th from 25th) and engineering (to 25th from 26th).
The university maintained high scores in the remaining five subjects: clinical and health (9th), law (21st), computer science (25th), physical sciences (25th) and life sciences (27th).
Last month, U of T was ranked the top university in Canada, 21st globally and third among North American public universities in the Times Higher Education World University Rankings.
Overall, U of T continues to be the highest-ranked Canadian university and one of the world's top-ranked public universities in the five most closely watched international rankings: U.S. News & World Report's Best Global Universities, Times Higher Education's World University Rankings, QS World University Rankings, ShanghaiRanking Consultancy's Academic Ranking of World Universities and National Taiwan University World University Rankings.
UTC