U of T among 29 universities pledging to reduce emissions, enhance access to climate education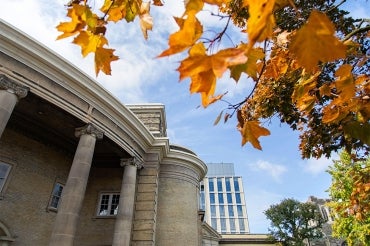 The U7+ Alliance of World Universities, of which the University of Toronto is a founding member, says it will take action on climate goals coming out of the COP26 conference in Glasgow.
In a recent statement, U of T President Meric Gertler and the presidents of 28 other universities from 12 countries declared that the alliance "recognizes that climate change is a global challenge that presents serious threats to natural environments, human health, security, and economic stability."
The alliance also emphasized the disproportionate impact climate change is having on vulnerable communities, leading to displacement, lost livelihoods, food insecurity and adverse health impacts – and the need to engage youth in finding solutions.
"We recognize that actions taken now will determine the lives of young people far into the future," the statement reads.
The universities' commitment to climate action, which U of T developed in collaboration with the University of Edinburgh and Université PSL, rests on two main pillars: pursuing ambitious action to reduce and offset their greenhouse gases emissions; and ensuring that more students have access to sustainability courses and co-curricular activities engaging diverse perspectives.
"We are proud to work in collaboration with U7+ partners to take collective action on climate change and enhance sustainability across our institutions," U of T's presidential adviser on the environment John Robinson said in a statement. "We believe we can make a more substantial impact through a unified approach and know universities have a crucial role to play in the fight against climate change.
"We have a responsibility to our students and communities to work towards a more sustainable future."
As part of their commitment, U7+ alliance members have vowed to reduce their own greenhouse gas emissions. Among the actions they're planning:
Measuring emissions from owned sources as well as purchased electricity, heat and steam, and benchmarking energy consumption and greenhouse gas (GHG) emissions to determine where opportunities for improvement exist
Committing to specific targets to reduce energy use and GHG emissions – and publishing plans to meet these targets
Reviewing and evaluating progress toward GHG emissions targets and communicating these results to stakeholders
Estimating, benchmarking and ultimately reducing emissions related to business travel, employee commuting, waste disposal and purchased goods and services
At U of T, for example, President Gertler recently announced a suite of new sustainability measures, including plans to make its St. George campus climate-positive by 2050, meaning it will curb more emissions than it emits. It also committed to divesting from fossil fuel investments in its $4-billion endowment fund beginning immediately.
The alliance also said it will ensure that students have access to courses related to sustainability, climate and biodiversity by:
Taking stock of existing courses with sustainability-related content and making the findings of these inventories more accessible to students
Developing clusters of courses and co-curricular activities with a common theme of sustainability that allow students to explore sustainability from various disciplinary, methodological and practical perspectives
Engage students in discussions about sustainability that recognize a diversity of perspectives and needs
Robinson explained the concept of using universities as practical testbeds for improving sustainability in a recent interview with Annelise Riles, the executive director of the Roberta Buffett Institute for Global Affairs at Northwestern University, for the podcast "Breaking Boundaries."
He noted, for example, that one of the courses he teaches at U of T has 24 students in groups of four addressing specific operational challenges at the university – in facilities and services or campus planning – related to sustainability. They're working on a half-dozen projects, with university staff as their clients.
"[The students] love it because it's real," Robinson said. "[They] get to work on something that has a fairly high prospect of being implemented."
Robinson added that the students also learn about real-world constraints on sustainability planning, including the project mandates and budgets – challenges that can be glossed over in readings.
Ultimately, he said, "we're talking about fundamental transformation of the university. It's time for universities to step up big time … and engage very deeply with society."
UTC