U of T alumnus uses automation, robotics to keep Canadian Tire's operations rolling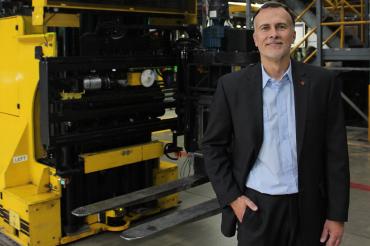 It's Carlos Menezes's job to keep things moving. Thousands of things: tea kettles, barbeques, car parts, sleeping bags, garden gazebos. From his vantage at the centre of Canadian Tire's vast supply chain, he tracks products from more than 2,000 suppliers worldwide. They're shipped across oceans, transported by railway to four national distribution centres and loaded onto trucks that deliver them to 500 Canadian Tire stores, where you lift them off the shelf in perfect condition and take them home.
Like any extraordinarily complex system, the retailer's supply chain benefits from precision engineering – and Menezes, Canadian Tire's vice-president of distribution and operations planning, has built his career on continuously fine-tuning it.
"If you think about industrial engineering happening wherever there's people, systems and process, there's always an opportunity to improve and to optimize," says the University of Toronto engineering alumnus.
"With the Canadian Tire supply chain being as large and as complex as it is, there's no shortage of opportunities to find ways to make our operation run optimally."
The way products are designed, created and moved through today's global marketplace has undergone a seismic shift in recent years. Advanced manufacturing – which encompasses innovations in materials, processes and distribution logistics – combined with escalating transportation costs, has made the retail industry more competitive than ever. And for a company with locations spread coast-to-coast across the second-largest country in the world, even minuscule improvements in operational efficiency can yield big savings and confer a valuable edge.
"When you factor in our inbound transportation costs, outbound transportation costs and the handling of our goods in our distribution centres, we're into hundreds of millions of dollars," says Menezes.
"Even if we could figure out a way to shave a point or two off, we're talking tens of millions. I'm always thinking of ways to make our operations more efficient while maintaining service, quality, and above all, the safety of my workers."
To help hone that competitive edge, Menezes turned to his alma mater and Goldie Nejat, an associate professor in the department of mechanical and industrial engineering and director of the Institute for Robotics & Mechatronics.
Menezes and his team had developed a list of 17 projects they thought might benefit from the introduction of robotics and automation to their workflow. They then toured Nejat through Canadian Tire's distribution centre located in Brampton, Ont. and settled on the ideal place to start: automating the process of unloading shipping containers.
When a 53-foot shipping container arrives at the distribution centre, it's been loaded floor to ceiling, back to front, with whatever else came off the ship. "It might be 6,000 kettles," says Menezes. "It might be 3,000 kettles, in two different models, and 3,000 coffee makers in five colours and a dozen different kinds of exercise equipment."
A human then needs to start removing each item and sorting it into pallets. Forklift drivers move full pallets to the designated section of the distribution centre, where the products are available to be re-packed into trucks and delivered to stores. The distribution centre runs 20 hours a day, with staff working in two shifts from 5:45 a.m. through 1:45 a.m., seven days a week. It's hard, physical, repetitive work.
"The current process is very time consuming, and that costs us a lot of money. It's also tying up a receiving door for probably 20 hours a day – if that container of kettles is tying up that door, guess what: something else can't get in there," says Menezes.
"So what we're trying to do is twofold: one, we're trying to see if robotics could speed up the offloading process; and the other piece is we think there's going to be a big health and safety benefit for our folks."
Menezes and his operations team are no strangers to robots in their midst. Five years ago, they introduced automated guided vehicles (AGVs) into the A.J. Billes Distribution Centre in Brampton, Ont. and, in the summer of 2017, they added them to Bolton as well. The AGVs are driverless forklifts that automatically deliver pallets around the floor along pre-programmed paths. The Brampton distribution centre is also home to an elaborate custom robotics system that receives shipments of vehicle tires and sorts, moves, puts away and retrieves them – entirely without human intervention.
"You can imagine if your role was to be handling tires for 10 hours a day… with all of the SUVs and light truck tires on the road today, the tires are getting bigger and heavier to handle," Menezes says. "We definitely had to find a way to make life easier for our staff. And being Canadian Tire, we handle a lot of tires."
Menezes hopes to have his newest robotic prototype in place in the next 12 to 18 months. And, like a true industrial engineer, he's already considering how to scale and make his system smarter and more efficient – he and Nejat even discussed the potential of integrating artificial intelligence into a robotic packing system.
"I think in the past year here at Canadian Tire, robotics and automation has really taken off, in terms of us thinking about it, being much more open to the ideas." Menezes says. "You've got to continually move with where the industry is going, and continually push the envelope to find better ways to do things, new ways to do things, and if you're not trying that, you're going to be left behind."
Engineering