U of T alumnus Tony Comper establishes professorship of medieval studies at St. Michael's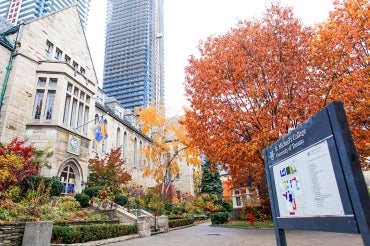 David Sylvester, the president and vice-chancellor of the University of St. Michael's College in the University of Toronto, has announced the establishment of the Comper Professorship in Medieval Studies. 
This newly endowed position was made possible by an investment by Tony Comper, a St. Michael's alumnus. Sylvester also announced that Alison More has been appointed the inaugural holder of the Comper Professorship. More, an assistant professor, is a highly regarded scholar of Latin whose research investigates the intersections of social and religious culture in late-medieval Northern Europe.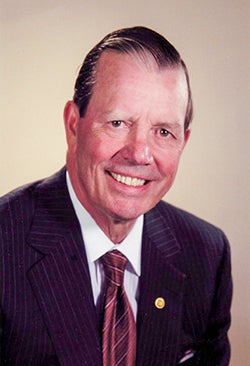 The donation reflects Comper's firm belief that studying the humanities offers invaluable benefits both personally and professionally – and that St. Michael's is on the right path with its renewal as a vibrant centre of undergraduate education at U of T.
"Studying liberal arts, in particular literature, provides significant insight into human nature; (it offers) essential knowledge in interpersonal skills, the most important skill for success in business and indeed in life," says Comper (left), who is the retired president and CEO of BMO Financial Group.
Comper recently returned to U of T to take courses in Medieval Studies, a Faculty of Arts & Science undergraduate program sponsored by the University of St. Michael's College that is available to all U of T arts and science students. This gave him a front-row seat to the revitalization of arts and science undergraduate programs sponsored by St. Michael's. Pleased with what he saw, he offered the university a unique hybrid investment in teaching by funding this position. The gift is comprised of a multi-million dollar bequest and the promise of annual funding, effective immediately, in the intervening years to cover salary and benefits. The faculty position is one of six that St. Michael's implemented in 2017 as part of its focus on teaching excellence in the four undergraduate programs it sponsors: Book and Media Studies, Christianity and Culture, Celtic Studies, and Medieval Studies.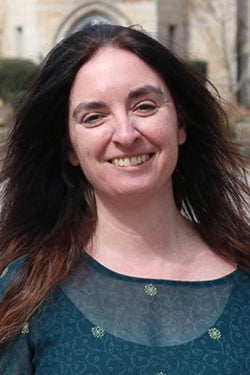 More (left) came to St. Michael's from the Centre for Medieval and Early Modern Studies at the University of Kent, where she designed and taught core courses on Latin and palaeography. She and the other assistant professors who joined the community at St. Michael's and U of T three years ago have become a vital part of social and academic renewal. They have enhanced students' learning experiences through their engaged and creative teaching and research interests, and have contributed a great deal to the culture and community of the college beyond the classroom by supporting student-run initiatives and presenting public lectures for alumni. The Comper gift, meanwhile, represents the first step in a campaign to ensure the professorships remain permanent.
"This generous gift is an extraordinary demonstration of the confidence in the renaissance underway at St. Michael's," says Sylvester. "It's also a model of funding for other professorships, and an ideal example of how St. Mike's continues to renew itself through endowed legacy positions. We're thrilled that an outstanding philanthropist like Comper has demonstrated his dedication to his alma mater in this way."
"St. Michael's and the wider U of T share a long tradition of international excellence in the field of medieval studies," says U of T President Meric Gertler. "Tony Comper's wonderful gift will help to strengthen that tradition for future generations, and to accelerate the renewal of undergraduate education at the college. His generosity also builds on his long record of leadership in the University community, including his previous service as chair of U of T's Governing Council, as well as his and his late wife Elizabeth's support for the Anne Tanenbaum Centre for Jewish Studies. We applaud this latest contribution to our collective success."
With its combination of intensive Latin study alongside explorations of theology, literature, history, culture and manuscripts, the Medieval Studies program invites students not just to study the Middle Ages, but to also join a great tradition of inquiry and discovery that's enlivened by the world-renowned professors who have taught medieval studies at St. Michael's over the years, including Étienne Gilson, Jacques Maritain, Edward Synan, Margaret Frances Nims, Mary Arthur Knowlton and Colin Chase.
The University of St. Michael's College has a long tradition of teaching and research in medieval disciplines and its library has rich resources in the field. The Pontifical Institute of Mediaeval Studies library, which is housed in the John M. Kelly Library, includes rare, non-circulating books and draws scholars from around the world. The college recently signed a five-year memorandum of understanding with PIMS and U of T recommitting to collaborative work in research, teaching and publication.
St. Mike's