U of T alumnus Tijjani Muhammad-Bande elected president of UN General Assembly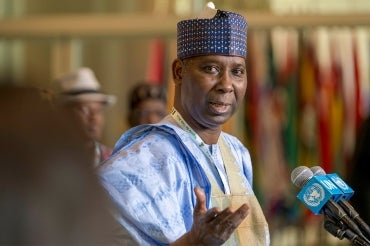 Tijjani Muhammad-Bande, Nigeria's permanent representative at the United Nations and a University of Toronto alumnus, has been elected the next president of the UN General Assembly.
Muhammad-Bande, 61, who obtained his PhD in political science from U of T in 1987, will preside over the 74th session of the UN, which starts in September, according to the Associated Press.
"Peace and security, poverty eradication, zero hunger, quality education, climate action and inclusion will constitute a major priority of my presidency," Muhammad-Bande told General Assembly members.
UN Secretary-General Antonio Guterres hailed Muhammad-Bande's vast experience in diplomacy and public administration, and noted his "invaluable insights" into the challenges faced by the UN in the realms of human rights, security and sustainable development.
UTC