U of T alumnus Mark Crawford back on stage for Harry Potter and the Cursed Child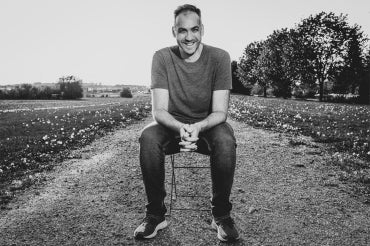 Mark Crawford, an alumnus of the University of Toronto Mississauga, says he's grateful to be part of the ensemble cast for Harry Potter and the Cursed Child, which is currently playing at Toronto's CAA Ed Mirvish Theatre.
The acclaimed actor and playwright says being in the cast of Harry Potter offers some stability in a volatile industry that still hasn't fully recovered from the pandemic (the CAA Ed Mirvish Theatre raised its curtain earlier this year for its first full season since 2020).
"The thing about being a theatre artist is that you're a gig worker," Crawford says. "This means that, most of the time, you're working in five- or six-week intervals, piecing together contracts as you go.
"Apart from the opportunity to work on a fantastic play and as part of a wonderful team, being in Harry Potter has granted me stability, which is something I've learned not to take for granted."
While Harry Potter is sold out every night, audience numbers at other theatres are still down, which affects budgets and creates challenges for those working in theatre arts.
"Many people I used to know and work with have, sadly, left the industry," says Crawford. "That's something that we can't ignore in the aftermath of the pandemic."
The early days of the pandemic were bleak for the theatre industry. A production of Crawford's award-winning 2014 play Stag & Doe was cancelled in early 2020 and future productions were tentative at best. It was just one of many cancellations during a difficult time.
Despite the pandemic restrictions, the actor and playwright kept busy.
In 2020, Crawford wrote and produced Don't Get Me Startered, a podcast production about a sourdough starter that gets out of hand that was commissioned for CBC's Pandemic Chronicles. In 2021, he staged Chase the Ace during a tour across Ontario, playing all the roles in the one-man comedy about a big-city DJ forced to take a job at a small-town radio station during the pandemic.
Then, in March 2022, he debuted a short film Priya Tate: Super Taster, which centered around a picky eater with a unique gift.
Community, connection and understanding
The son of farmers from Glencoe, Ont., Crawford is well known for his observations of small-town life through themes of community, connection and understanding, as well as his skillful blending of drama and humour. His plays have been featured in theatres across the country and internationally.
Being in the cast of Harry Potter and the Cursed Child has brought back many memories from Crawford's student days at U of T Mississauga, where he studied theatre and drama.
"Harry Potter is a highly physical show with a lot of movement in it," Crawford explains. "I've been reminded a lot of my movement classes from 18 years ago at UTM. It's amazing how long those lessons stay with you."
Over the years, Crawford's path has often crossed with others who attended U of T Mississauga. "We laugh and commiserate together about our work and the industry," he says. "We have that immediate connection through our time at UTM."
In addition to attending classes and making connections, Crawford's advice for current students in his field is to cultivate other interests, hobbies and even career prospects.
"It's important to be able to keep busy and be able to make a living when you are between gigs or when faced with something unpredictable like a pandemic," Crawford says. "You must be able to do other things to support yourself at times. There's no stigma attached to that. In this industry, you can feel highly successful at times, but you can also feel the opposite. It is nothing short of a rollercoaster ride."
When he is not staying in Toronto for Harry Potter and the Cursed Child, Crawford lives in Stratford, Ont. with his partner and fellow actor Paul Dunn.
Birds, bees, and drag queens
Since the spring of 2022, Crawford's plays have returned to stages across North America. His play, The Birds & The Bees, debuted with U.K.-based companies and will soon run in North American theatres.
Crawford works with other U of T alumni – including fellow actor Sara Farb and stage manager Jessica Severin, in Harry Potter and the Cursed Child – which runs at least through December. But preparations for his newest play are already well underway. In 2023, The Gig, a play about drag queens and conservatives, will debut in Hamilton's Theatre Aquarius.
"My new play, The Gig, is the biggest play I've written so far in terms of cast and theatre size," Crawford says. "The scale of this project is exciting.
"I just want to keep telling stories and entertaining audiences. That's what keeps me happy and motivated."
UTM