U of T alumni and graduate students part of Layer 6 AI's win in global competition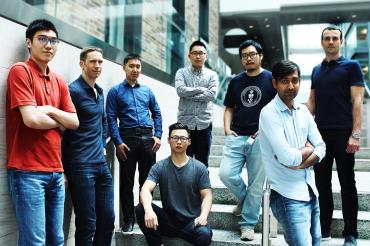 University of Toronto alumni and interns have helped propel Toronto's Layer 6 AI, part of TD Bank Group, to the top of the leader board in a global artificial intelligence contest for the second year in a row.
The RecSys Challenge, sponsored this year by Spotify, asked teams to automate personalized music playlists using the company's music data.
Layer 6 AI says the win is a team effort that included U of T alumni and graduate student interns from the department of computer science's applied computing program, as well as a partnership with Scott Sanner, an assistant professor in the Faculty of Applied Science & Engineering, and his PhD candidate Ga (Wuga) Wu, whose optimization research is in the area of data driven decision-making.
"Creating a playlist from scratch is tedious and time-consuming," says Maksims Volkovs, who earned his PhD from U of T and is co-founder of Layer 6 AI. "We trained a system that can accurately [complete this task.]"
Over 100 teams participated in this year's challenge. Layer 6 AI, which was acquired by TD in January, also won the 2017 RecSys Challenge based on the data from Xing, a European equivalent of LinkedIn, to match a large set of user profiles against a set of job descriptions.
Layer 6 AI is a small team of 25, including four alumni from U of T's Master of Applied Computing (MScAC) program and two interns from the program who are required to complete an applied research internship as part of their program requirements.
Himanshu Rai, one of the U of T alumni and a data scientist at Layer 6 AI, says Spotify's data set was unique for recommendation systems.
"Our winning submission was an ensemble of different methods, from deep learning to statistical methods to classical recommender techniques," he says. 
"The data science field is highly applied," adds Volkovs. "Sometimes it's hard to compare the leading approaches because authors run them on their own internal data sets. This challenge provides a standardized evaluation framework, and then you really see who is leading in the field."
Layer 6 AI's co-founder and AI lead for parent company TD, Tomi Poutanen, an alumnus of U of T's Faculty of Applied Science & Engineering and the Rotman School of Management's MBA program, says data competitions are also a great way for new hires and interns to get familiar with the AI platform the company has built.
"These competitions help us benchmark our capabilities against the world's best. And they present interesting new data sets that let us think more creatively about our day jobs. So we are able to challenge ourselves, really push ourselves, and learn how to approach problems through different lenses," says Poutanen, who is also a co-founder of the Vector Institute for Artificial Intelligence.
 Yichao Lu, a current Master of Applied Computing intern, says the challenge was a great learning opportunity.
"RecSys is a huge data set. You can't just try something simple. I learned a lot from the team, their solutions and ideas."
But RecSys was just one of two phenomenal achievements for the group this year. They placed second, by a narrow margin, in the Google Landmark Retrieval Challenge, which required AI to retrieve a landmark, such as London's Big Ben and or South Dakota's Mount Rushmore National Memorial, from an unlabelled set of landmark images. 
"The challenge of this data set is images from the same landmark might not be similar visually, because some are photos from different angles," says Chundi Liu, a U of T alumnus and data scientist with Layer 6 AI.
Poutanen says the top 10 finishers in the Google Landmark Challenge included university computer vision research labs or companies doing similar work. 
"Students go into the MScAC program because they want to apply AI in industry," says Poutanen. "Not only is the talent superb, the structure of the program is phenomenal, as is the teaching by some of the world's best professors in this field."
The RecSys Challenge code will be made open source for the use of music playlists. Layer 6 AI researchers will present an academic paper at the Association for Computing Machinery's (ACM) recommender systems conference (ACM RecSys 2018), the world-leading conference on the subject, later this fall.
Computer Science