U of T alumnae sisters Stephanie and Erika Savage share insider knowledge of film and music industries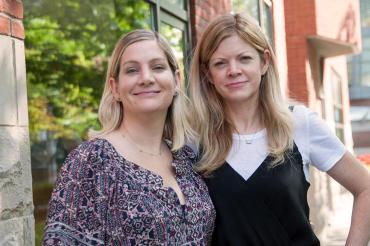 Behind some of the biggest television hits and iconic pop stars are two University of Toronto alumnae – who also happen to be sisters.
Stephanie and Erika Savage, who grew up in Calgary, moved to Toronto to complete their undergraduate degrees at U of T – Stephanie in cinema studies and Erika in women's studies and sociology in the Faculty of Arts & Science.
They've gone on to earn major cred in their respective industries – Stephanie as an executive producer and screenwriter on television shows like Gossip Girl, as well as the Marvel series Runaways and the Dynasty reboot – both airing this fall. Erika is the senior vice-president, business affairs at Interscope Records, a division of Universal – representing some of pop music's megastars like Lady Gaga and Lana Del Rey.
On Friday, the sisters stopped by Innis College to chat with students about their careers and give advice on breaking into the entertainment industry.
"U of T had a huge impact in terms of getting involved in things, taking a leadership role, realizing you can make a difference in your environment, and it also got me really interested in my studies," Stephanie said.
Intent on becoming a film professor, Stephanie Savage moved to Los Angeles to work on her PhD dissertation for the University of Iowa. While in California, she began working for Drew Barrymore's production company Flower Films as an intern – a move that ignited her passion for the industry.
The breadth of the film history knowledge she acquired in academia was a huge leg up for her in that role, she said.
"One of the things Drew (Barrymore) and I bonded over was that she was a huge fan of old movies because of her family and being able to talk about classic Hollywood cinema made me stand out in her mind," Stephanie said.
"The ability to be able to move from different media, to be able to watch something and then write about it – all of that stuff are exactly the same skills you need to pitch something to the head of a studio."
For Erika, U of T connected her with likeminded people and was where she became involved in the local music scene.
"You find your way, you find your people and sociology and women's studies became that place for me," she said.
She went on to complete her law degree at Osgoode Hall, and while doing so, she worked with Phemphat Entertainment Group – an organization that supports women in the music industry.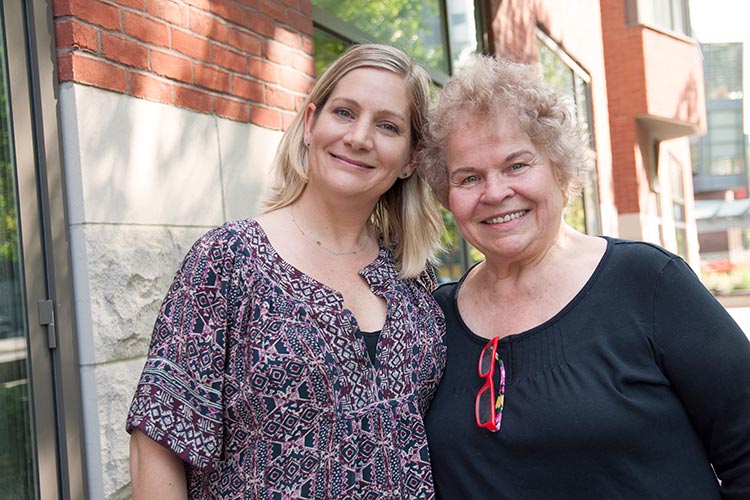 Erika Savage's women's studies professor (now emeritus) Kathryn Morgan came to show support at the event (photo by Romi Levine)
Her budding entertainment law career took her to Universal Music Canada where she was the manager of business affairs – working with the record label to negotiate deals with artists.
In 2006, she made the move to Los Angeles, where her sister already lived, to work at Interscope.
Since the 1990s, Stephanie and Erika Savage have seen huge shifts in the way people consume television and music – from subscribing to cable television and buying records to going completely digital.
Stephanie has had to navigate streaming services, like Hulu and Netflix, which operate differently than traditional television networks.
In the music industry, Erika has to adapt in order to cater to streaming services' playlist culture, where artists are more inclined to release individual tracks before their album comes out.
"We're signing huge numbers of artists," she said. "Business is coming back online and we're starting to see growth for the first time in a long time."
The sisters also spoke of the challenges women still face in the entertainment world.
"I'm working on projects I'm passionate about and seeking out collaborators that are like-minded and we're travelling through the world in this little bubble with gender parity – but this bubble is not being replicated across the industry," Stephanie said.
The music industry has similar challenges, Erika said.
"All of the gender stereotypes are very strongly entrenched and we continue to work in all ways possible to create executive positions, to try and support our female artists in the ways we can."
Students in attendance said meeting successful women in the entertainment industry who graduated from U of T was inspiring. 
"Hearing what Stephanie and Erika were saying about surrounding yourself with like-minded women who can support you since it is more difficult for women to break into these industries – that advice is useful for us," said Paige Burnett, a fourth-year cinema studies student. 
"Talking to people who actually work in these industries and hearing what they have to say about breaking into it has given me a lot of ideas," said cinema studies student Adara Reid. "I feel like I'm buzzing right now –  I'm ready to go out and do something."
Both Stephanie and Erika encouraged the students in the audience to take advantage of Toronto's vibrant cultural scene and get their feet wet.
"There's so much going on here now that you would be able to find an opportunity to intern somewhere or work for the summer," Stephanie said. "That on-set production – it really doesn't matter what you're doing, you're just going to learn so much."
UTC