U of T alumna, women's-rights advocate Sheilah L. Martin nominated to the Supreme Court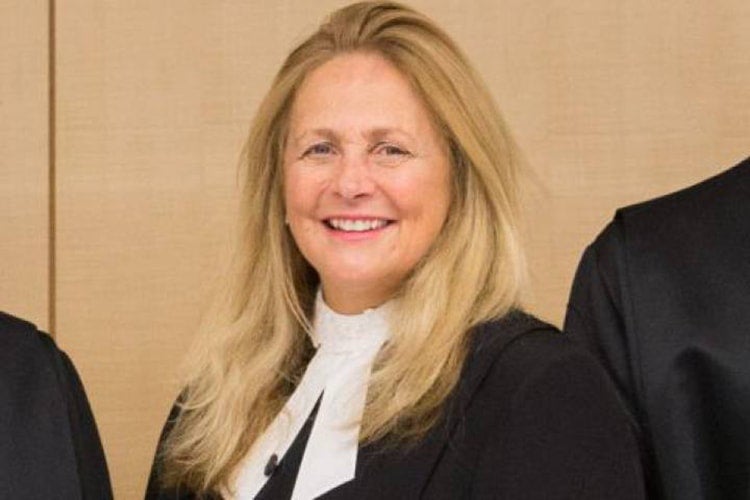 Sheilah L. Martin's nomination means there will now be four U of T Faculty of Law alumni on Canada's highest court (photo courtesy of University of Calgary)
Justice Sheilah L. Martin, an alumna of University of Toronto's Faculty of Law, has been nominated to be the newest justice on the Supreme Court of Canada, Prime Minister Justin Trudeau announced today.
Martin, who received a doctorate of judicial sciences from U of T in 1991, is an academic, practitioner, judge and women's-rights advocate. She was one of the first women to be called to the Alberta bar in non-sexist language.
Her nomination brings the total number of U of T law alumni currently on the highest court to four, along with Justices Rosalie Silberman Abella, Russell Brown and Michael Moldaver.
Martin, appointed to the Courts of Appeal of Alberta, the Northwest Territories, and Nunavut in 2016, pursued her doctoral work at U of T under the supervision of Bernard Dickens, co-director of the international reproductive and sexual health law program and now professor emeritus of health law and policy, and Justice Katherine Swinton. Martin's thesis was titled "Legal Controls On Human Reproductions In Canada: A History Of Gender Biased Laws And The Promise Of The Charter."
"We are so very proud of our alumna Justice Sheilah L. Martin on this prominent nomination today," said Faculty of Law Dean Edward Iacobucci. "She has had a rich variety of experiences as a scholar, practitioner, advocate and jurist, and has earned a glowing reputation as an intelligent and thoughtful leader. The SCC appointment is a crowning achievement in her outstanding career. I extend to her our warmest congratulations."
A Montrealer by birth, Martin graduated with common and civil law degrees from McGill University in 1981, and a master of laws from the University of Alberta in 1983.
Martin moved to Alberta and was called to the bar there in 1989, where she typed in the word 'person' over 'man' in the professional oath, to be more inclusive, as reported in the Calgary Herald.
Education, equality and Indigenous rights were significant passions in her illustrious 30-year career, as was diversity and increasing the number of under-represented groups in law schools and the legal profession.
As an academic in the mid-1990s, she lectured, served as acting dean and then dean of the University of Calgary's Faculty of Law, where she taught courses in commercial transactions, feminist legal theory and advanced constitutional law.
From 1996 to 2005, she moved into private practice in Calgary, working on a variety of critical issues for Canada. She dedicated pro bono hours for the Women's Legal Education and Action Fund and the Alberta Association of Sexual Assault Centres in cases before the Supreme Court of Canada.
In 2000, she was an expert witness in the Thomas Sophonow Inquiry, for her knowledge in the area of compensation for the wrongfully convicted.
At the invitation of the Assembly of First Nations National Chief Phil Fontaine, she joined the team working on remedies for the Indigenous victims of Canada's infamous residential schools system, and her contribution, alongside others, helped to arrive at the ground-breaking and monumental Indian Residential Schools Settlement Agreement.
Her commitment to teaching and education followed her into her career on the bench, and she has been lauded for her advocacy work. She has received the Distinguished Service Award for Legal Scholarship, the Law Society of Alberta's Certificate of Merit, and the YWCA's Advancement of Women Award.
"I am pleased to announce the nomination of Justice Sheilah L. Martin to the Supreme Court of Canada," said Trudeau in a media release. "I am confident that, with the wealth of experience she has gained over a distinguished thirty‑year career, she will be a valuable addition to the Supreme Court, an institution well respected in Canada and around the world for its strength, independence, and judicial excellence."
Martin's appointment, once finalized, will fill the vacancy when Chief Justice Beverley McLachlin retires and steps down on Dec. 15.