U of T alumna Jayna Hefford inducted into the Hockey Hall of Fame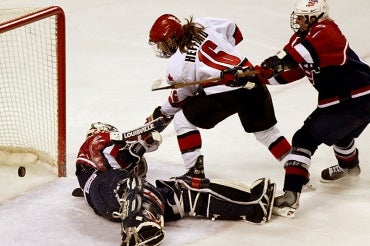 Most Canadians would find it hard to discuss women's hockey without mentioning Jayna Hefford. Consider her achievements: Hefford is among just five players in the world to win a gold medal in four consecutive Olympic Games. She ranks second of all-time in Team Canada history with 267 games played, 157 goals scored and 291 points. Throughout her career, Hefford played in 12 world championships, winning seven gold medals and five silver medals.
That's why the University of Toronto's alumna's induction into the Hockey Hall of Fame this week didn't come as a surprise – except maybe to her. "I was so humbled," said Hefford. "It's certainly one of the greatest honours in my hockey career. It is the result of many years of hard work and it encompasses so many people. I think this is why it is so important and was more emotional than I had envisioned."
Hefford's friend and former teammate Vicky Sunohara was thrilled to hear the news. "It was just a matter of time," said Sunohara, who is currently the head coach of women's hockey at the University of Toronto. "The respect that people have for Jayna speaks volumes. You could interview so many players over so many generations who have played with her and they would only have great things to say about her."
The game came naturally to Hefford. She learned to skate at age six and by 1994 she was a member of Ontario's championship team in the women's under-18 tournament. The following year, she joined Team Ontario as captain to take home gold in the Canada Winter Games. Looking back, Hefford can't remember a time in her life without hockey and she can even pinpoint the exact moment she decided to make it a career.
"The first time I watched the Canadian women's team on television was definitely a pivotal moment for me," she said. "That was when I decided that was what I wanted to accomplish, too."
During her time at the University of Toronto she was an all-star member of the Varsity Blues women's hockey team. She took home the title of Ontario Women's Interuniversity Athletic Association's top scorer and earned rookie of the year. While she admits that being a student and an athlete can be challenging, she says she wouldn't change a thing. "It's such an incredible experience," she said. "I loved my time with the Varsity Blues. I loved being able to complete my education and also play hockey every day. And I admired my teammates for their commitment to both athletics and academics."
After leaving U of T with a bachelor's degree in physical education, Hefford snagged gold in the International Ice Hockey Federation (IIHF) World Women's Championships. The accolades continued to pour in for Hefford. She was the tournament's top scorer in 1999 and 2000. In 2004 and 2005, she won the Directorate Award for Top Forward.
"She's really one of the most mentally tough players I've ever played with," said Sunohara. "She was always very even-keeled. You can't get under Jayna's skin. She was a great teammate and a great leader – she led by example."
When women's hockey was added as an official Olympic sport in 1998, Hefford was asked to be a member of Team Canada. The team brought home a silver medal that year in Nagano. There would be four more Olympic Games – and four more gold medals – in Hefford's future. She and Team Canada took home gold in Salt Lake City, Turin, Vancouver and Sochi. This string of victories made her one of just three women in history to win four consecutive Olympic gold medals in women's hockey.
Hefford had such fond memories of her time on the ice at U of T that she returned as a coach when Sunohara took over the team.  "It was nice to be back where I competed and in a program that strives for excellence in all capacities," she said. 
Off the ice, Hefford and Sunohara were just as well-matched. "I think we complemented each other well," said Sunohara. "We saw eye to eye. I tend to get excited and caught up in the game and she has a much calmer persona."
Now that she has hung up her skates professionally, Hefford is focused on her role as interim commissioner of the Canadian Women's Hockey League as well raising her three kids with partner (and former Olympian) Kathleen Kauth. She is also a professional speaker on the topic of focusing on change and adaptability, resilience and creating successful cultures.
While her busy schedule means she doesn't get to play as often as she would like, she continues to fuel her passion for the game by being involved in the hockey world every day. And if her kids decide to follow in her skate steps, she has some advice for them: "I would tell them that if they have a passion for the game and are willing to work hard, then they will have some of the best experiences of their lives through the game. It has given me so much, I'm very grateful for that."
KPE