U of T alumna on Emmy Award-winning team for work on video compression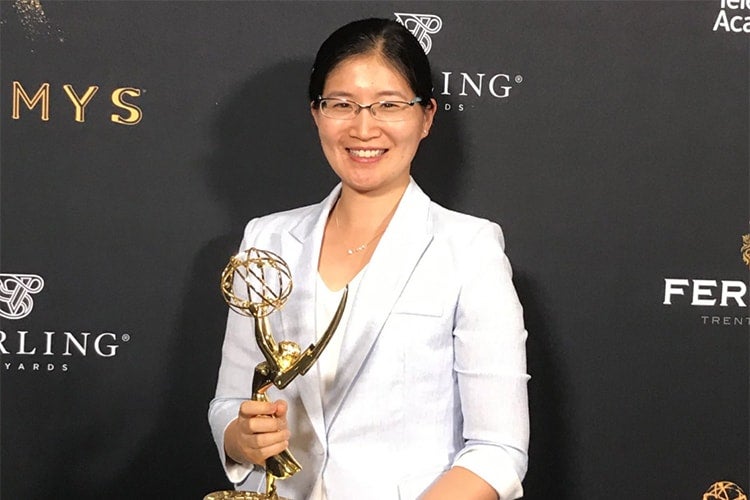 Vivienne Sze holds the Emmy her team won at the 69th Engineering Emmy Awards. The U of T alumna is now a professor at the Massachusetts Institute of Technology (photo by Minhua Zhou)
Alumna Vivienne Sze, who graduated in 2004 in electrical engineering at the University of Toronto, was part of a team that was awarded an Emmy at the 69th Engineering Emmy Awards.
Sze is a member of the joint collaborative team on video coding (JCT-VC) that developed High Efficiency Video Coding (HEVC) – the latest video coding standard that has been adopted, or selected for adoption, by all ultra-high definition television distribution channels, including terrestrial, satellite, cable, fibre and wireless.
"HEVC delivers higher compression than previous standards, while still delivering high processing speeds and low power consumption," says Sze. "It was exciting for the team to be recognized by the television academy with an Emmy – it was such a unique experience."
This Emmy, announced on Sept. 27, was one of seven conferred to individuals, companies or organizations this year for engineering developments that improve the transmission, recording or reception of television.
"It's gratifying to translate the things I learned throughout my education – from my undergrad at U of T right up to my PhD at MIT – into technology that impacts millions of people when they turn on their televisions and watch videos on their tablets or mobile phones," says Sze. 
"Receiving an Emmy is definitely icing on the cake."
She also co-edited a book on the topic, entitled High Efficiency Video Coding (HEVC): Algorithms and Architectures.
Sze – now a professor at Massachusetts Institute of Technology (MIT) – is no stranger to receiving recognition for her work: She received the Jin-Au Kong outstanding doctoral thesis prize in 2011 and NSERC's Julie Payette fellowship in 2004. Her research focuses on energy-aware signal processing algorithms, and low-power hardware design for applications such as computer vision, deep learning, autonomous navigation, and video compression.
"I worked on HEVC as a PhD student at MIT and as a member of technical staff at Texas Instruments," says Sze. "The JCT-VC is a group of world-renowned video coding experts – it was an honour to be part of this team."