U of T alumna and Supreme Court justice Rosalie Abella profiled in Los Angeles Times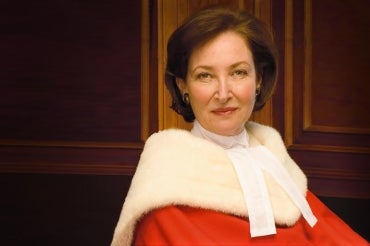 The Los Angeles Times introduces U.S. readers to the "most important Supreme Court justice you never heard of" – Rosalie Abella. 
The University of Toronto alumna, who has served on Canada's Supreme Court since 2004, was the youngest and first pregnant person appointed to the judiciary in Canada. Born in a displaced persons camp in Stuttgart, Germany the year after the Second World War ended, her family came to Canada as refugees. 
She received her bachelor's degree from U of T in 1967, followed by her law degree in 1970. She was one of just five women in her law class.
Her path-breaking work on the Supreme Court bench includes a decision she wrote in the 1990s striking down a tax-law provision barring people from leaving their pension benefits to a spouse of the same sex.
The Times quotes U.S. Associate Justice Ruth Bader Ginsburg as saying she's "proud to count [Abella] among dearest sisters-in-law."
Abella will receive the Rose Wolfe Distinguished Alumni Award on Oct. 2.
UTC